ABOUT
None of the hits, all of the time
KVRX is the student‐run radio station at the University of Texas in Austin. We solemnly swear to bring you the best music that you didn't know you loved, or remind you of your favorite songs that you won't hear anywhere else.
We share the frequency 91.7FM with KOOP radio. KOOP during the day, and KVRX is on at nights – 7PM to 9AM on weekdays and from 10PM to 9AM on weekends. We also stream 24/7 here on our website, kvrx.org.
We love hearing from you, call the DJ or request a song anytime — the number is (512) 495‐KVRX.
Any current UT Austin student can become a DJ. Our trainings are on the weekend, simply email programming@kvrx.org and request a training if you are interested. You can be on the air in just a few weeks. For more contact information, visit our contact page.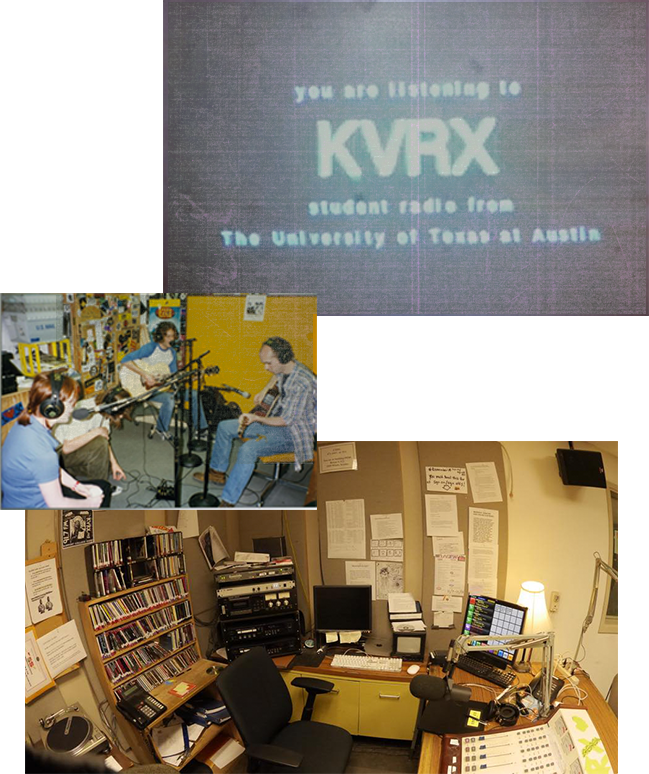 HISTORY
It all began in 1986
KVRX Radio began broadcasting on community and campus cable systems on April 11, 1988, culminating two years of intense effort by a group of committed students to establish a student‐run radio station on the campus of The University of Texas at Austin.
The effort began when the Students' Association created an ad hoc committee, the Student Radio Task Force (SRTF), in the spring of 1986 to identify goals and objectives, evaluate needs, gain support and project technical requirements. Earlier student efforts had failed.
During the next two years, the SRTF worked with students, faculty and central administrators and with such groups as the College of Communication Foundation Advisory Council to develop widespread support for a student‐operated radio station and to demonstrate a need for a second educational FM radio station on campus. Members developed a two‐fold purpose for the station: to provide opportunities for students to receive practical experience in radio news, sports and entertainment programming and in broadcast management, and to serve as a source of campus information for students, faculty and staff as well as an outlet for alternative programming unavailable in the Austin market.
Additionally, the SRTF planned and coordinated fundraising events, wrote grant proposals and raised funds for the first year of operation. Members negotiated with the Texas Union for studio space in the old Varsity Cafeteria, with the College of Communication and Austin radio station KLBJ AM‐FM for donations of broadcast equipment, and with central administrators to find a place in the University's administrative structure. The latter led to informal conversations with TSP officials in the spring of 1987.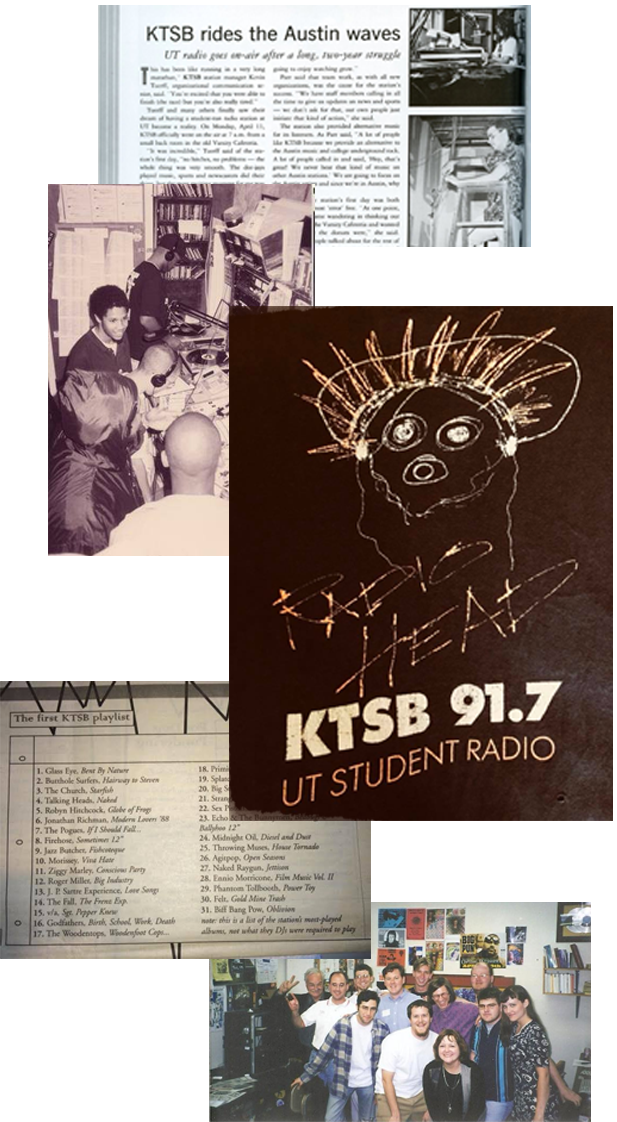 KTSB is born
Eventually, SRTF proposed a formal relationship between Texas Student Publications (TSP) and the planned radio station and, after an extensive review and independent evaluation, the TSP Board passed a resolution incorporating KTSB as a part of TSM on September 17, 1987. Before the relationship became official, however, it was necessary for the TSP Board and the Board of Regents to adopt a change in the Declaration of Trust specifying that "publications" could include electronic media. It was agreed that it could, and with this decision in mind, Texas Student Publications eventually changed its identifier to Texas Student Media.
FM broadcast and renaming to KVRX
In June of 1993, KTSB, along with KOOP (an Austin community radio station) asked the FCC to approve a time‐share agreement that would allow the two stations to share the last remaining non‐commercial frequency in Austin, 91.7 FM. On July 21, 1993, the FCC approved this arrangement. KTSB would broadcast days, KOOP nights.
In September of 1993, the FCC issued the station's construction permit. In January of 1994, KTSB changed its call letters to KVRX, since an FM station was already broadcasting as KTSB.
On November 15, 1994, KVRX began its FM broadcast.
KVRX today
KVRX broadcasts locally on 91.7 FM, Monday through Friday from 7:00 p.m. to 9:00 a.m. and Saturday and Sunday from 10:00 p.m. to 9:00 a.m., and worldwide 24/7 at kvrx.org.
The station has grown from a small task force to over 200 student DJs from across the University. To continue to support Austin music, the station also organizes local showcases, in-studio performances, and artist interviews.