As soon as I stepped into the park for day 2 of ACL, the air of the crowd was quite different: cowboy hats were swapped for fishnets and neon, and the overcast of yesterday was nowhere to be seen, reaching the high 80s as the festival started. 
Spill tab opened the morning at the Miller Lite stage with a different vibe than yesterday, with cheers from the UT v OU game busting in at different points during her set. She sang beautifully and led everybody into the festival with lighter soft indie songs. While Texas still rears its head, today is not so country, showing us the diversity of this festival. She ended her set much heavier than she began, getting an excited Saturday morning crowd shoving in a light mosh. 
Next, I moved to the BMI stage, which would host Aly & AJ later in the evening, to see JESSIA. JESSIA drew a colossal crowd grabbing the attention of everyone walking into the park. Near the end of the set, she played a cover of "I'm with You" by Avril Lavigne.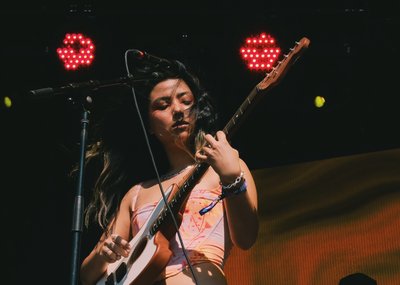 Walking around some of the shops, I heard the sound of what I thought would be the heaviest band of the festival; I was cartoonishly drawn near like the wisps of a fresh pie in a world of Tom & Jerry rules. At the Barton Springs stage, I was surprised to see Lido Pimienta and her multi-instrumentalist alone on a vast stage. Lido Pimienta, with the voice of a haunting angel (you know, the biblically accurate one), blew the crowd away with Spanish language music accompanied by traditional South American instruments. The stage lights reflected the music's beauty as white beams broke through a smoky stage as if Lido was singing at the gates of heaven. Ending the set speaking against the fascist reproduction laws here in Texas, she said she is "proud of South American people for legalizing abortion." However, she is hurt that in the land of the free, "there is an exception to who is truly free." She followed by taking a moment of silence for "the trillions of babies lost in socks."
After being mesmerized by Pimienta's performance, I returned to the BMI stage to see Charlotte Sands. Charlotte Sands rocked the stage in a classic heavy fashion that gets people of all ages pumped. The rainbow-haired band got the crowd jumping, reminding me of the excitement you find at a festival like Warped Tour. It was a flashback to 2009 in 2022, breakdowns and all. Clad in a P!nk t-shirt, she recognizes the legends in her roots as the crowd screams her name. Sands embodies all the classic angst of pop punk to a generation of kids, young and old, at the festival.
Backstage at the Aly & AJ showcase, crowds filled in for a nostalgic set as they adorned their all-denim Wrangler outfits. Here, I met Charlotte Sand's Floridian guitarist as he told me this was his third ACL with a slew of different bands, including his emo solo project, Cowboy Mugshot. Shortly after Aly & AJ's set, I and thousands of others made our way to the American Express stage for Lil Nas X.
Lil Nas X sauntered out, studded in gold. Despite the heat, Lil Nas commanded the audience to dance as he and his dancers took the stage. After a slower song, he took a costume change, and a visual of him as a butterfly appeared, saying that after he gets back, "y'all better be lit as f–k". Two dancers appeared in a Coach-trademarked golden horse as we breathlessly awaited his return, and he came back out with "Old Town Road" with eye-catching visuals to accompany.
Clad in black studded with gold, he played his hit, saying, "y'all better f–ing know the words" men in tight black leather daisy dukes followed him into a remix of Sir Mix-A-Lot's "Jump On It". Shifting into "Pump iIt" by the Black Eyed Peas, he quickly transitioned into another original song to the extreme excitement of the crowd. Act 2 was met with the title "The Transformation," followed by a video. Butterflies filled the screen as the third costume change occurred. Metallic-faced, robed men took the stage, followed by his shirtless return in a black leather skirt. Everyone stripped to a narrative voice-over, leaving Lil Nas in a pink two-piece as he fanned himself to audio cuts of winning awards in a pink throne. Act 3 "The Becoming", opened with crawling men to the hit song "MONTERO (Call Me By Your Name)".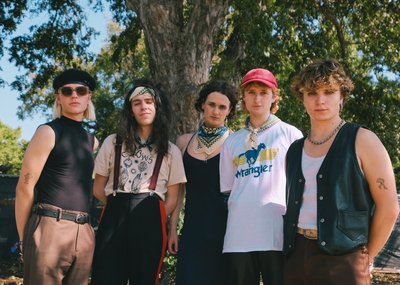 I watched Diplo perform from a screen in the press area as I hopefully asked for a quick word with Disney stars Aly & AJ, but they weren't quite able to fit me into their booked schedule. 
My final artist of the night was P!nk, who I originally wasn't too excited to cover. My mom, however, was incredibly excited for me, telling me that I "finally get to cover a big artist like P!nk!" I came in with low expectations, but she started the show cartwheeling on stage, belting "Get the Party Started" to the biggest festival crowd I've seen yet. She sounded even better live than in her recordings, and I couldn't help but wish my mom could have seen it with me. I am not sure if P!nk just has that many hits or if I underestimated my mother's loyalty, but I found myself knowing nearly every word to every song. She started with her hits and rallied the crowd with her clear passion and excitement to perform rarely seen by stars of her caliber. Paying tribute to artists such as Queen, No Doubt, and 4 Non Blondes, she covered Bohemian Rhapsody, I'm Just a Girl, and What's Going On. "Funhouse" blared with flashing clowns and FU's as I made my way into the funhouse that is post ACL.
I can't wait to share the final piece of this trilogy with you all tomorrow.