photo credits: hannah thomas

As I enter Emos, I breathe in the excitement of having my first concert in Austin. The entire room is nearly pitch black, with hues of blue and purple fading across the room. Everyone is buzzing with excitement. But for me, my heart pounded with fulfilling a dream of mine since 8th grade — seeing DPR perform live.
In the beginning hour before the show was set to start, it already seemed like the show had begun. As blue lights start to turn a soft sea green, the sounds of ocean waves begin to encompass the audience as soft piano notes floated in the background. Suddenly, an abrupt alarm, as if a spaceship was landing, fills the room and floods the crowd in a deep red before going back to sea blue.
As the performance time approached, monologues from DPR's members start to play through the speakers. DPR Live – the main artist for DPR – talks about his old life before music, while DPR Ian – the main creative director and second artist under the label – talks about what his parents have done in his childhood. Simultaneously, a heartbeat starts to thud through the ground. It starts like a small murmur before vibrating throughout the whole room. The heartbeat sped up like it was in a race with my own; I felt like my heart was going to burst out of my chest in trying to sync with it.
Finally, the lights go out before the stage starts to strobe red. Tinny pings ring from the speakers as the flickering gets faster and faster. The members finish their monologues as one wonders what is their purpose as DPR. Before finishing the sentence, DPR's entrance song, Legacy, begins to play, and the concert starts.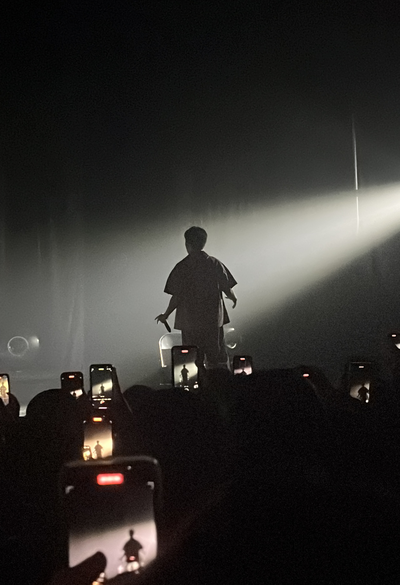 photo credits: hannah thomas
DPR LIVE:
DPR Live was amazing in terms of performance. His songs are more hip-hop and rap based, however, he did have some ballad adjacent songs. His most popular songs, Jam and Butterfly and Martini Blue were filled with singing from the crowd and excitement that just bubbled from everyone. From the bright rainbow lights in his performance of Hula Hoops to the intergalactic color scheme and soft visuals of Kiss Me, DPR Live managed to keep the crowd interactive and excited. There was not one moment where I felt a lull in his performance and it was amazing to watch the amount of style he brought into his songs. He had some of the best intros into his songs, like asking the crowd, "Who wants to be my Venus tonight?" before starting his song, Venus. To say I had partial hearing loss from the crowd around me going insane is an understatement. His set was probably the best planned in terms of musical flow, ensuring that the crowd would maintain and even overcome the amount of energy they were putting out.
DPR Ian:
As DPR Live exits the stage, the room goes dark. It's silent for a while until the ethereal and menacing sounds of MITO start to play in the background. Lights start to flash around Ian as he begins his introduction, his silhouette horned as a backlight illuminates his shadow. It flashes black until a yellow light illuminates him again but large, black wings start to encompass the entire stage. While DPR Live's set was filled with excitement and energy, DPR Ian brought his artistic vision through his set. With most of his album surrounding a character named MIITO, Ian brings out elements of R&B, pop, and soft rock to continue this beautifully laid-out storyline.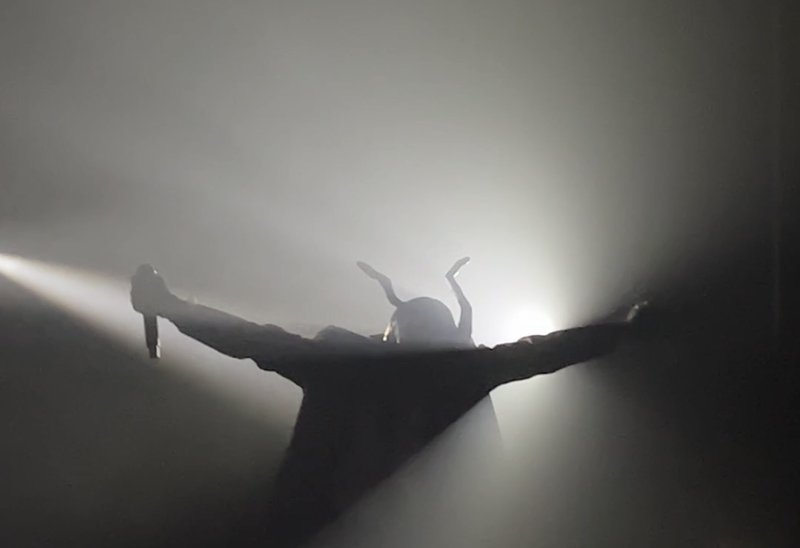 photo credits: hannah thomas
In my opinion, DPR Ian's set was one of the best visual performances I had ever seen. Throughout Dope Lovers, a beautiful hue of purple and blue surround the stage as lights move around in circles, illuminating Ian in a soft moon of white, matching the song's beautiful ballad pop composition. Or in Winterfall, soft snow would fall over the crowd and stage as he sang.
However, my favorite performance from DPR Ian was Ballroom Extravaganza. The song's strong rock backtrack combined with Ian's soft, almost painfully sorrowful ballad created a beautiful contrast. As he would reach the chorus -- bright, white lights would rapidly strobe on the stage.
In my eyes, everyone looked like they were in stop-motion — stopping and starting in their movement as confetti rained down in an animated way. Yet, Ian's figure was backlit the entire time, moving fluidly against a room that seemed to be breaking apart in front of my eyes.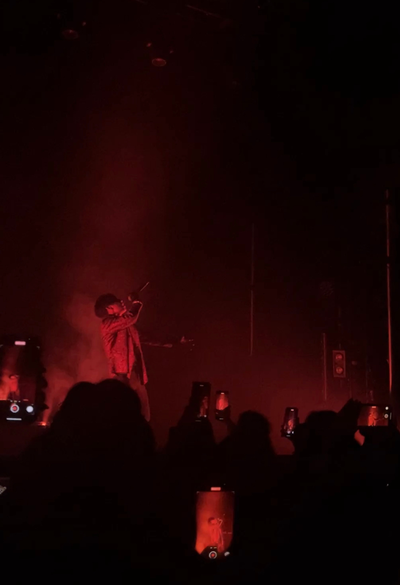 photo credits: hannah thomas
This was the one song where despite having my phone up to record, my eyes were absolutely glued to the stage. I felt this insane amount of unexplainable excitement well up just from watching this performance. There was nothing else that could distract me from that moment, and it looked the same way for everyone as no one was moving, but instead, they were shocked still.
In hindsight, I noticed a lot of the visuals presented — such as the black wings, red hues, and flashing lights — were homages to the actual music videos/films he directed for each song performed. To see what he filmed in the digital space translated in a way that could physically be seen and felt by the audience was amazing.
Closing:
The two left the stage after closing remarks. The crowd started jeering, leading to the beginning of their encore, To Myself.
As the crowd starts to become louder and louder, you hear off-stage DPR Live adlibbing to the crowd's yells before the entire crew of ten come onto the stage. The room is once again flooded with rainbow lights, covering everyone in a gradient of colors. This was probably the most energetic song as everyone was just vibing and dancing. Hearing the crowd yell and jump — there was no way you could not be infected by the contagious excitement and joy of being in the hall.
This entire concert was not just a performance, but an entire experience. I knew DPR as a label had a very clear artistic concept, but this concert just showed how deep their desire to show the crowd how they view music and artistry was to another level. From the purposeful usage of colors to dictate the song's flow, to the way each performer outsold themselves in both stage presence made it obvious how important music and creative mediums are to their brand. I highly recommend checking them out if you want to see some amazing visual and musical talent!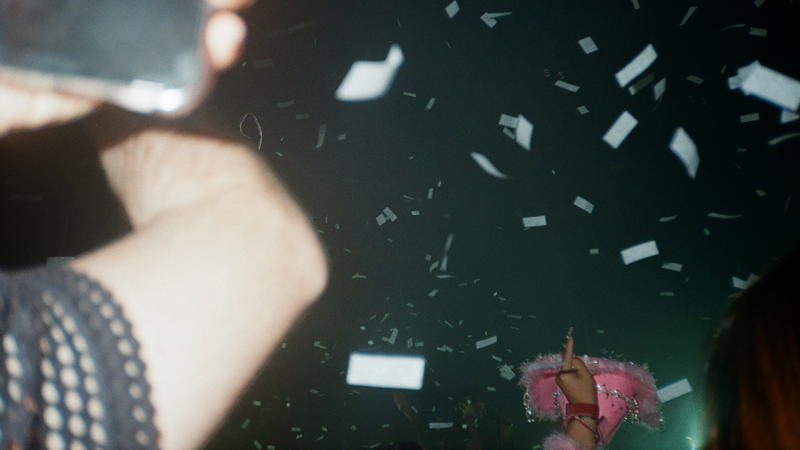 photo credits: hannah thomas