Gorillaz uncaged at Moody Center
For most of my conscious life, aka since I was 12, I've always wanted to go see Gorillaz live. As a kid I'd always blast the 19-2000 Soulchild remix as I'd play in my backyard, screaming every "la la la la la" every single time. And to finally see them as a 19, almost 20-year-old, it was as if the child within me felt a slight bit of fulfillment. I had missed many chances to see them over the years, so seeing the confirmation email in my inbox was euphoric.
Two months later, early October arrives and I'm awaiting the first Friday of the month. Not only because it was my first show (5-6 AM Fridays, go tune in), but because of the concert. Cut to later in the day and I'm walking over to Moody Center, the new shining blight on the side of the highway. I bought extra nice tickets, so I got access an hour early. I was supposed to get in at 5 PM, but the line didn't even start moving until about 5:30. I baked out in the heat staring at all the Harry Styles imagery that plastered the center. His little British teeth stare me down as a pang of dread sets in. But, I push on, picking up my wristband and little merch pack that I got with my ticket.
We were then subjected to a half hour of nothing as we spent time on either food or merch, I got food and water. My plan was to have two bottles of water on me so I wouldn't get dehydrated and have to leave the pit. We were then told to line up--"Single file," our host demanded. We were in a line of nearly 200 people and were told by a woman only about a year older than us to become completely single file. It was about fifteen minutes until we were allowed to start moving. Where to you may ask? Another line! This time we spent about forty minutes in boredom. And then finally, FINALLY, we started to move. The excitement began to bubble up in my as I walked by the employees, slowly entering the seating area. And then, there it was. I saw the stage, the empty floor, the lighting, everything. I nearly teared up realizing that after years, I was finally able to see Gorillaz live. The childlike wonder was at max as I walked down the stairs. I saw people filing over to the barrier, but still plenty of nearby space for me to snuggle into. Everything felt perfect. But within my ecstasy was an interruption. "Everything goes into the cup!" Yelled an employee who put a cup in my face. Everything in a bottle now goes in a cup. A cup with no top. My cup only fit a bottle, so I had to chug the other. There went my non-dehydration plan. This is apparently done so that you won't throw bottles, which sounds fair, but hey, if I died in the pit, at least Damon Albarn didn't get caught off guard by a Dasani bottle.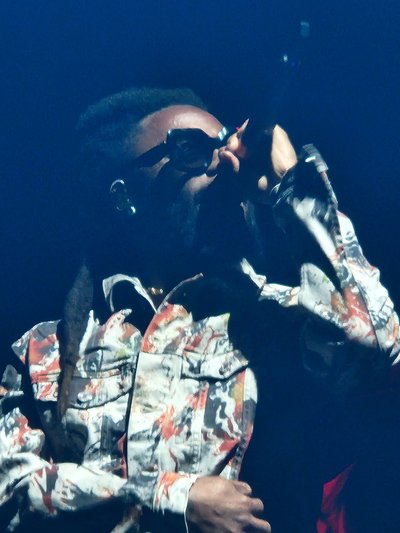 After a good bit of good ole concert waiting, the crowd was more than excited to hear the thrums of Earthgang, the opener, coming on. Now, for an opener, Earthgang was an absolute highlight of my experience at this concert. I hadn't listened to a lot of their music beforehand, but this has since changed. They had such amazing energy, and such insane crowd work skills, everything about them was absolutely amazing. They had everyone in the stadium absolutely moving, grooving, and soothing. Their positive message rap rock was exactly the pick-me-up I and probably most other people needed, and combined with their overall presence, the set was something else. It's hard to say it wasn't near perfect. There were no setbacks, no moments where something was awkward, weird, or anything like that. It was an absolutely excellent set. And I've become a proud listener of Earthgang ever since. Seriously, they are now a group I most certainly recommend if you even remotely enjoy Gorillaz or just hip-hop in general. They are truly something to behold.
After Earthgang's earth-shaking set, there was a lull in the crowd, which was expected. Everyone was tired after jamming out for so long. So as the Gorillaz fans settled down, awaiting their British goblin to hit the stage, it seems that nobody could realize that Moody Center was an indoor venue. Why? Because about 7-10 people around me were all absolutely smoking like they were gonna die the second the show started. I get that this is Austin, but dear lord, I was getting nauseous from the smell before the Gorillaz set even started. But, despite everything, I couldn't have been more excited for the band to come on. It was a joy like no other. And eventually, the lights dimmed. Everyone began to cheer as the background screen jolted to life, playing old television clips. This was it, it had all come to this.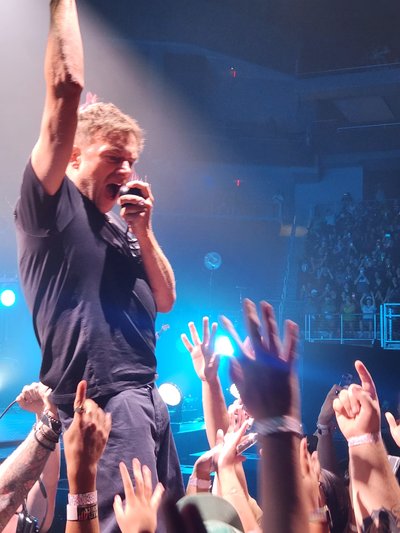 The clip came to an end and the bassline of M1A1 began to hum up. The crowd went wild, including me. The various "hellos" echoed through the stadium, mixing with the roars of the crowd to become this cacophonous stream of pure, unbridled noise. A noise I wish I could still hear now. And after what felt like an eternity of euphoria, Albarn and co entered the stage and began to rock the house. They all played on, the crowd chanting and singing in unison with Albarn. It was electric. Though, as quickly as it had begun, it was over. And we were left in silence again. Now compared to Earthgang who was on not even an hour before, Damon and really everyone onstage as a whole didn't interact with the crowd a lot. The most you'd get out of him was an exasperated "AUUUUSTIIIINNNN!". But besides that, the band really just played song after song, with only a few seconds in between each. From M1A1 we went onto Tranz. A song that is absolutely made for live shows. A loud, insane, gorgeous song and it mixed perfectly with the crowd. Damn came up and stood on the barrier, bending over into the crowd as security guards held him back. It fits with the current theme of the band as Damon looked quite like a cult leader, with hands raising up around him as if he was a deity. It was another magnificent moment. Something you never forget. Especially to those hands he touched or whoever's record he signed.
Now, as a reporter, I did a bit of a bad job not remembering or even writing down the setlist. A lot of the concert is a blur of jumping, screaming, and nearly sobbing at every other song. But, the tone of the concert did change after Tranz as the band slipped into Tomorrow Comes Today. A much quieter song, something to bring the crowd back to a normal level after the near moshing of Tranz. It was beautiful as the calmness of the crowd mixed with Damon's lack of movement onstage. After that, the next I remember is White Light, the complete opposite of Tomorrow Comes Today, once again jacking the crowd back up into overdrive as the blown-out addiction anthem blasted through the center. Now that was REALLY close to becoming a mosh pit but thankfully didn't. Then came Cracker Island, their most popular song as of late (I'm really emphasizing as of late), which was also a crowd favorite. Then after that was O Green World, a highlight of the show as Damon went on the piano to play it in a much more unplugged sense, letting the crowd cover the backtrack (the "ah-ah-ah-ah-ah-ah-ah-ah-ah-ah-ahhhhhh-ahhh-ah"), again a very beautiful "I feel like I'm the only one in the world" kind of moment. Then was Empire Ants, a song I had a lot of personal attachment to, and one I did tear up to live. I forgot to mention, throughout this set, amazing, awesome graphics were displayed on the screen behind the band, almost like small music videos. This is typical of most big-name bands nowadays but is still something not only caught me off guard but impressed me every time. Other songs played included Rhinestone Eyes, Up on Melancholy Hill, and more. The highlight for me was a completely new song. As far as I can tell, it's called "Skinny Ape" but that might be an unofficial title. Hearing a song you've never heard live before makes it pretty hard to discern lyrics or meaning. But as far as I can tell, the song was about changing yourself for others and why that isn't good…or something like that. I now mainly associate this song with Damon making the crowd chant "APE, APE, APE APE APE!" Over and over, which was both hilarious and empowering, weirdly enough. It was after that song that I went to get water and sit down for a bit. As I left, I heard Kids With Guns being played. A song I was sad to miss, but was sure I'd see even better ones when I came back. Little did I know, that was the last song of the night I'd hear.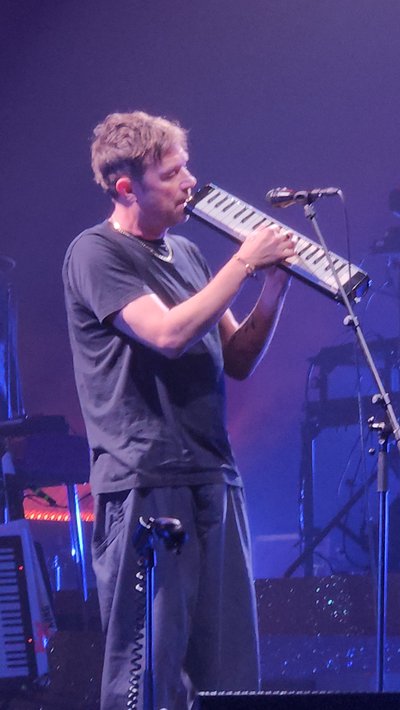 After about twenty minutes of sitting down and cooling off, I decided I was ready to get through the rest of the set. I walked back in and an older woman sat in front of the stairwell. As I went to approach, she blocked me, yelling out "No re-entry after nine!" I was confused and went on to show her every ounce of proof that I had access to the floor. My tickets, wristband, emails, everything. But she didn't budge. The concert started AFTER nine, keep in mind. Also, I was precautious and made to ask both attendants at the top and bottom of the stairs if I could go back down if I left (there was a different attendant when I left, it was not the same woman). I was dumbfounded and went over to find someone else to help. The entrance she was at was also the only entrance to the floor that was open, so I couldn't just sneak around. Eventually, I found a security guard and he followed me back to the woman. The woman didn't change her story, even after the security guard told her to let me in. She eventually pulled out a faded, dirty piece of paper from her back pocket and pointed at it, once again yelling that I couldn't get in after nine. I was quick to realize that the paper she held had the name "HARRY STYLES" at the top and in many other parts of the paper, but not one mention of "GORILLAZ" I pointed this out to both the guard and woman, but I only got the response of "I need to go check with my superior," from the security guard. I was promptly kicked back out and didn't hear or get any more help from anyone during the entire show. I just sat outside, waiting, desperately hoping someone could help. Yet, nothing. I heard song after song being played, muffled behind the walls. Eventually, people were funneled out of the stadium after what I think was Feel Good Inc and Clint Eastwood. And that was it. The concert was over, and I walked home unsure of how to feel. I had wanted to see this band since I was in middle school. They probably wouldn't be back in Austin for a while. I had missed half of the concert I paid nearly $300 for because of some ignorant old woman.
It's a very bittersweet feeling now. I've accepted Gorillaz will be back at some point. But I've also realized how stupid that incident was. I've reached out, but to no avail from really anyone at all. So, I sit here, writing this scathing review of Moody Center while also writing about how amazing and perfect the concert I got to see was. Will I be seeing Gorillaz and Earthgang again? Most certainly. Will I ever go to the Moody Center again? Probably not. There are a lot of other nitpicky issues I didn't go over here, but the center itself seems slightly unorganized. This is somewhat expected, seeing as it is still a new venue. But still, when it's at the cost of someone's experience and technically money, that can't be excused. That being said, I've heard that all of my friends who went to the Harry Styles concerts had either a similar or just absolutely amazing time, so maybe I was just unlucky. But either way, just be careful. Don't lose your paycheck to a crotchety old lady who can't read. Either way, what I saw at the concert was life-changing and I'd give anything in the world to see it again.
Oh also, someone got married or at least proposed at the concert on stage. I couldn't get a good shot because a giant Vin Diesel-looking security guard was in the middle of the stage for the ENTIRE thing. Congratulations to the happy couple! May you forever bond over a British man and his funky cartoon band!