I try to make a point of not listening to the opening acts unknown to me of the performers I go to see, in order to experience the excitement of the realization that this new band or artist's music is something I love. Haiva Ru was no exception . I was happy to discover that I stumbled upon an album that would quickly become one of my new favorites to sip some coffee to and relax to the heavy reverb. The delicate and airy layers of Allie's vocals leave you wanting more as it provides you a sense of peace. Close your eyes and mull over the idea of self-love with Oh, But Lover. Her music is a cozy place of solace and rest for your soul.
Accompanying Flipturn on their Warmth In the Rain Tour, artist Haiva Ru, left a lasting impact. During her live performance, I was drawn to the mellow treatment of the artist's dreamy vocals which were very fitting for the intimate setting of Empire Control Room and Garage. The Santa Barbara-based indie-pop artist is comprised of vocalist and self-taught producer Allie Merrill. However, for her live performance, she was also backed by guitarist Noah Rubin and drummer Devon Vonbalson. The ethereal layered vocals, acoustic guitar, and overall folk-pop backing with her raw and personal lyrics lent themselves to a very intimate concert experience. Even opening each song of her set with what personal experiences inspired the lyrics, Haiva Ru performed with raw honesty. Her only album on Spotify Bloom Baby Bloom (see below) was greatly featured in the set highlighting her calming treatment of surf rock guitars and ability to create a soundscape. Her single "All The Time" was produced with ROMES and provided a change of pace. It consisted of a more upbeat electronic-pop sound and displayed her incredible ability as a producer.
Allie's work began when she released a worship album but later her pseudonym Haiva Ru was born when she debuted her single "Work It On Out" in 2017. The artist's entrance into the celestial sounds she tends toward today lean into self-acceptance and self-love.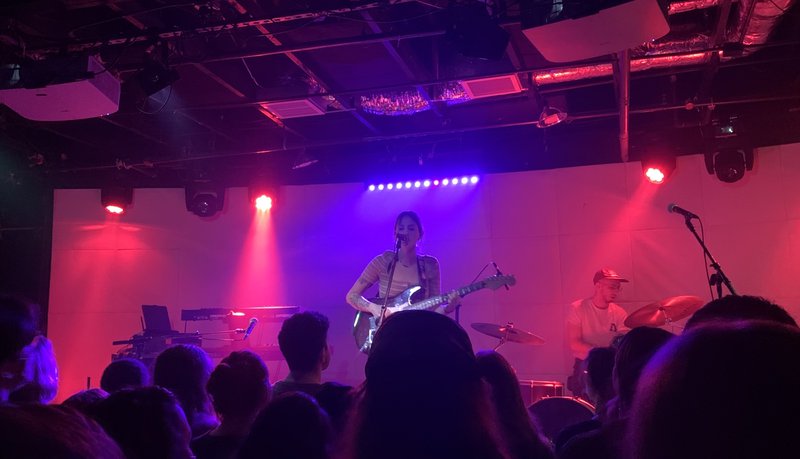 Meaghan Rossignol
The performance wasn't high energy or in your face, rather it invited a swaying crowd to connect with her lyrics and feel free to release your anxieties. Following the performance, I spoke with Noah Rubin about how they were fairing on the tour, the local restaurants they were trying to visit in Austin and he gave a little background on his own journey from Alabama to Santa Barbara where he started performing with Allie Merrill.
Haiva Ru created a space for open honesty in her performance and greatly summoned an environment of calm.