The week preceding Julia Jacklin's ACL Late Night show, I was able to watch her fill Zilker park with lucid, vocal magic during her early Sunday show at ACL Weekend One. After a full introduction to the Australian-native's raw vocal prowess and effortless solitary command of one of the biggest stages at the park, I was highly anticipating how her music would transform inside the intimate setting of a late night show.
The late show was set at The Parish: a lesser-known, second-story venue placed in the middle of Austin's most rowdy bar district, 6th Street. She appeared in front of her anxious, 20-something year-old crowd, casual and honest, immediately glowing under the shimmer of a revolving disco ball suspended above the stage.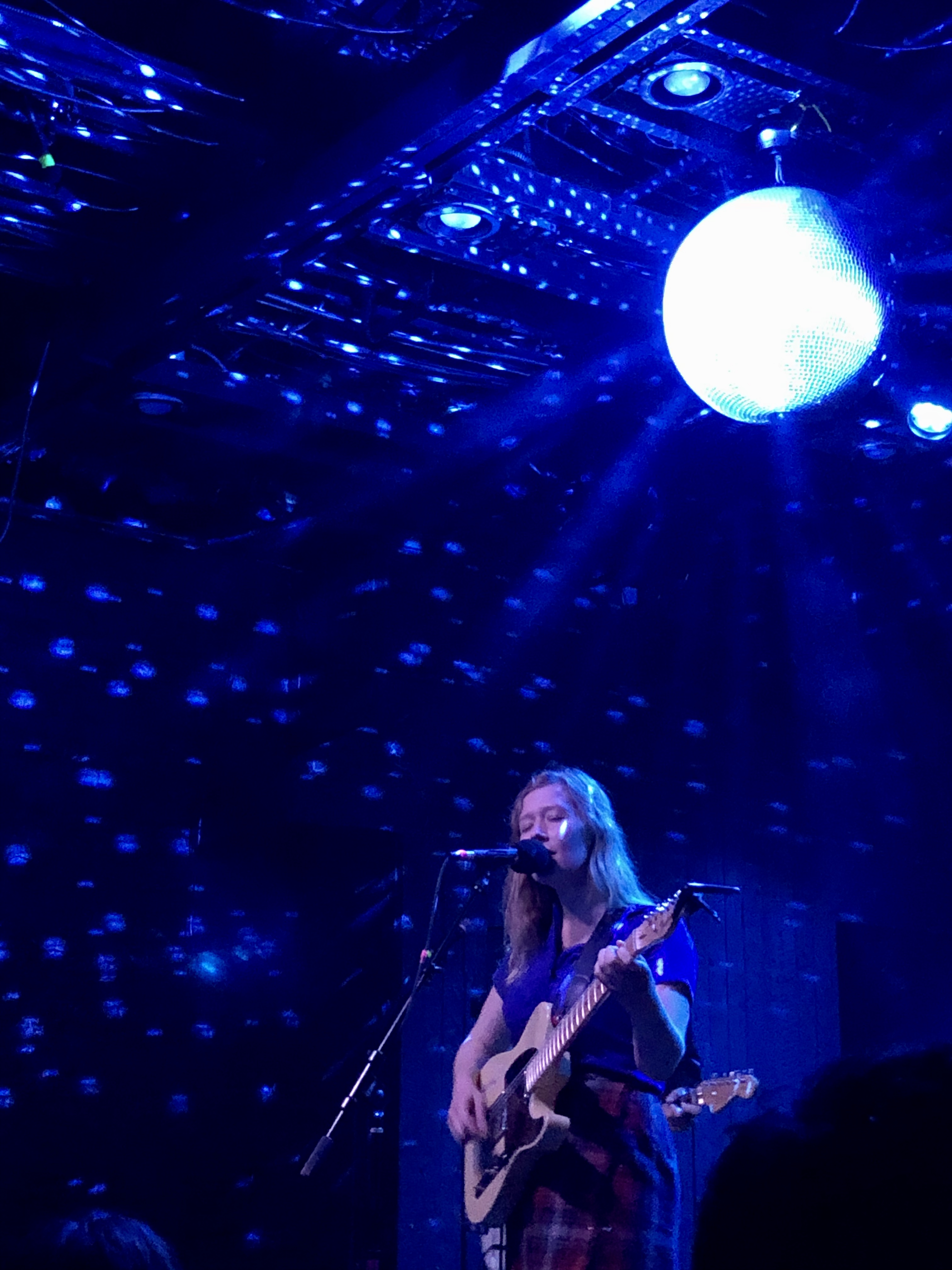 Beginning the set with a resonating tribute to physical independence, "Body" Jacklin immediately captivated her audience, with the shuffles of the bar's venue quickly hushing to make way for the distinctly commanding character of her careful vocals. As the following songs urged the audience to dance, sway, and sometimes cry, her humility and poise brought each emotion down to a grounding, unintimidating level. Whether through the longing of "Don't Know How to Keep Loving You" or the eclecticism of "Pressure to Party", Jacklin & her three-piece male band waxed & waned in accordance to the energy of each song, immediately creating and diminishing an entire world of emotion through the anthems. Her incredible vocal talent was showcased especially during "Turn Me Down", as her voice crescendoed along with the admiration of her awestruck audience. The vocal flourishes were always well-placed, simply offering emotional tugs that added to the delicacy of songs from her two albums, Don't Let the Kids Win and Crushing. Jacklin's candor similarly shone through the anecdotes between songs, as she shared simple and sweet stories of middle school talent shows and her first job at a bland mall pharmacy.
Jacklin's vocals do the work of haunting, as any young, vulnerable and awe-striking female artist may accomplish, but more than this – she sends her audience with packaged pieces of her own heart. After returning to the stage for a final encored song, she sang the conclusion of Crushing, "Comfort". While the audience tempered down to silence, Jacklin began a painstakingly vulnerable ballad, a farewell song to a recently-parted lover. The energy in the room froze, paying a certain reverence to her ache. With the words, "Are you thinking of me too? I was so happy all those years with you," tears began streaming silent down my face. I know I wasn't the only young person guided by a sense of belonging and tenderness that was brought to tears during this show.
In conclusion, Jacklin's stripped Late Night ACL show was seamless, transformative and brave. The performance was in a way, an act of self-emptying. After delivering a myriad of emotions and movements, she allowed her words to ruminate in the hearts of her listeners, sending them back to the flare of 6th Street with an authentic sense of compassion and longing.