I refused to look up what Lingua Ignota's performances were like before seeing her. I let my imagination run wild. I imagined projections of imagery similar to the second half of David Wojnarowicz's A Fire In My Belly. Even before going, I knew it was going to be performance art. Close your eyes, listen to any of her songs and try to imagine a standard performance. You can't. Her music inspires more.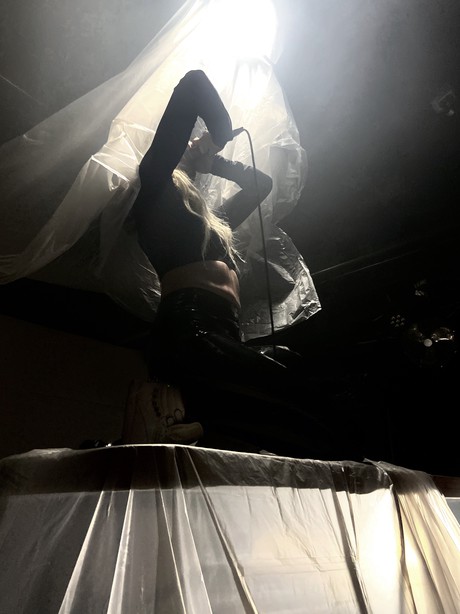 Lingua Ignota's performance at Levitation was transcendental. With one light, Kristin Hayter, Lingua Ingnota, created an atmosphere that united everyone in the tightly packed room. Survivors understood. We were all connected.
Hayter's harrowing screeches and haunting vocals over her elegant piano playing transported me from the small Empire Control Room to give me the closest thing to a religious experience I will ever have. Her creative use of the one light was fascinating. At some points in the set, we could only see her outline as her face was replaced by one lamp shining back at us, screaming at us. Other times we could only see her shadow from being a plastic sheet hanging from the rafters. Her shadow being so much larger than her small frame- constantly transitioning in size and shape, between clarity and blurriness.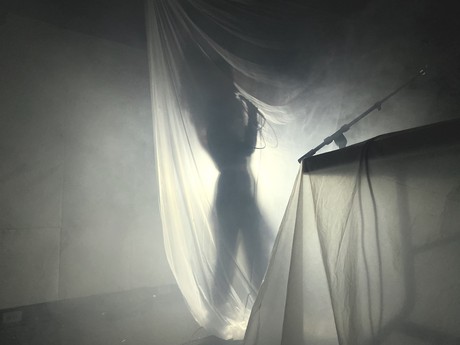 I felt as I was outside of myself and that myself no longer existed. I was a viewer, a small part of a larger audience, and no more. I stood there, letting the sound waves enter my body, slowly changing me. Rebuilding me. I don't believe I'm the same person I was before I saw this performance. Even though I was already a performance major in the theatre department before I entered, I have a deeper respect for live performance and what can do for both the audience and the performer.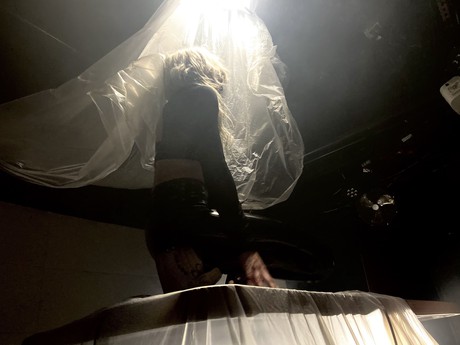 Everyone in the audience was either staring at Hayter, mouth agape and eyes wide, or humbling themselves by swaying as close to prostrating as they could in the packed room. We were all fascinated. Hayter climbed onto a small white folding table covered in a thin, white plastic sheet, threw her small light across a bar in the ceiling and screeched "HOW CAN I BREAK YOU BEFORE YOU BREAK ME?" We stood in silence between songs. Speaking would be rude. Lingua Ignota was kind enough to grace us with this performance. In the end, the applause was replaced by Thank Yous by those who all knew what it meant and whistles and cheers from those who didn't. I don't believe I will ever have the words to explain what it really felt like being in that room, so close to the stage. I would only say to do what you can to be there next time.
---