Austinites gathered at Beerland on an overcast Tuesday night to send off local industrial act Street Sects on their nationwide tour. An outlier in the Austin scene, Street Sects specialize in aggressive, noisy electronics with a flair for theatrics. Their apocalyptic sounds are uniquely suited for this odd moment in Austin history where the water is dangerous to drink. Filled with boiled water, the crowd was ready to have their minds melted.
The evening began with two stellar local acts that showcased the variety of underground talent within the city. Noise punks Burnt Skull brought serrated rhythms with piercing force. The genre-bending, post-hardcore of Exhalants shifted between Big Black-styled noise rock and transcendent crescendos.
As Street Sects began to set up, plumes of thick, chalky fog began to flow from the stage. After a few minutes, the stage and the crowd was obscured in fog. Strobe lights began flashing to barely reveal the fog-shrouded body of vocalist Leo Ashline. Like a creature emerging from the depths of some unholy pit, Ashline began to sway menacingly to pulsating beats. Suddenly, Ashline began thrashing around, his voice fighting over the hostile, industrial atmosphere created by multi-instrumentalist Shaun Ringsmuth.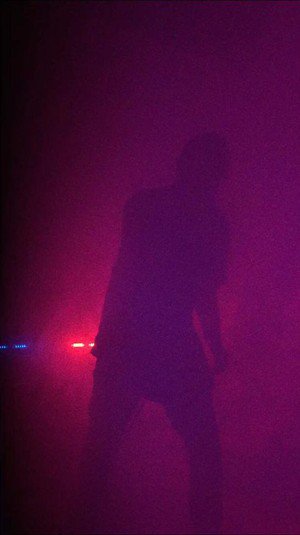 Leo Ashline immersed in fog.
Their set moved across the duo's discography. The moody pieces from their new record, The Kicking Mule, blended seamlessly with their earlier, more volatile material. Destructive peaks like "Blacken the Other Eye" and "And I Grew into Ribbons" roiled with ferocious intensity. To enhance the claustrophobic, shadowy ambience, Ashline would occasionally walk out into the audience and sing directly into the faces of his listeners.
While the tone of the concert was certainly grim, the audience was obviously eating up every second of it. Playful exclamations of "more fog!" erupted from the crowd as soon as a song ended. Throughout the set, the duo displayed complete mastery of conjuring a distinct aura that perfectly melded with their sound. Then, just as suddenly as they began, the set ended and the crowd was left with darkness and fog.