An eclectic evening of Indie, Jazz, and Surf music in North Campus
Where do you go on campus for live music?
Among our staff at KVRX, this question has an obvious answer: the co-op circuit. Pearl Street, New Guild, 21st Street, and House of Commons have all delivered great shows over the past 2 years, with huge crowds always coming out to see our best bands and DJs.
But where do you go for something other than Rock and Electronic? Unless you're catching the occasional themed event (like the jazz-punk crossover at Pearl Street Co-op this past February), West Campus's existing venues don't often showcase other genres. This is how Swamp House, UT's newest DIY venue, distinguishes itself.
How do you convince students and Austin music junkies to make the north campus trek to the opening of a brand new venue? Free yerba mate and Jazz. Turns out, that's all you need.
But Swamp House also got the details right—the people running the show had all the proper equipment and were clearly experienced, which is a surprise for any house venue's first event. The attention paid to lights was especially appreciated by me and my assistant photographer, Xayda Garza, who started off the night with the first band...
Photo by DJ bugs (Xayda Garza)
Willy Steg
Austin's very own Willy Steg matched the high energy of Swamp House's debut with an enthusiastic opening set composed of unique originals and witty covers. After just a few of their songs and some banter, they transformed what was once a cozy living room into an intimate venue, brimming with riled up fans for the first time. Showcasing his style of self-described 'garage pop,' Willy Steg gave a lively performance leaving the crowd drenched in sweat and pumped for the upcoming artists. —DJ bugs
Follow Willy Steg: linktree.com/willysteg
Photo by DJ bugs (Xayda Garza)
Modern Sophia
Coming in grooving with the only wah pedal I've ever seen on a keyboard, Modern Sophia brought a great set of bedroom pop tunes and a couple unexpected Latin jams, complete with Sophia herself dancing among the audience. Highlights included Sophia's glimmering synth embellishments drifting dreamily over a tight-knit rhythm section and her Modernettes being the only act of the night to feature live on-stage meowing—no doubt a tribute to the feline dedicatee of Modern Sophia's recent release, Muddy Demos 4 Boo.
Follow Modern Sophia: linktr.ee/modernz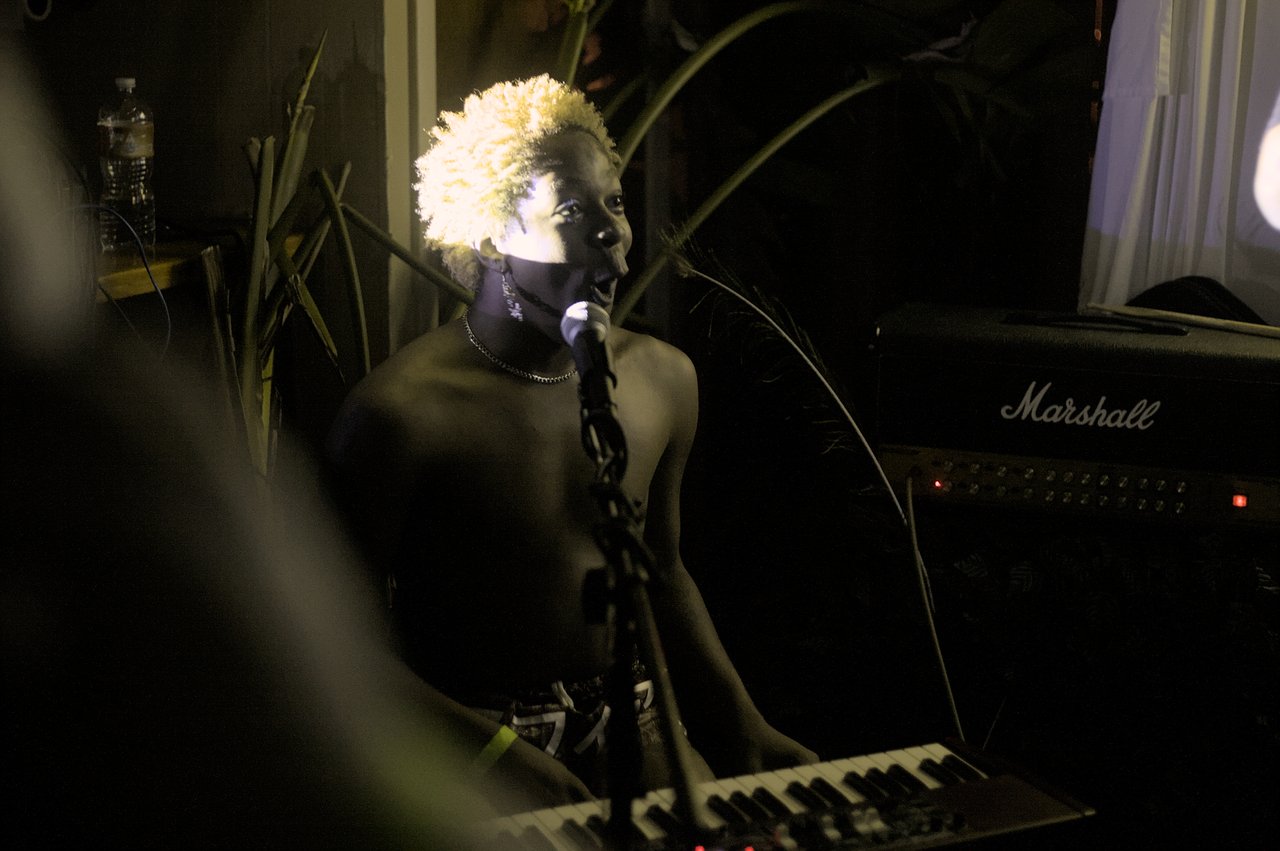 Mockjaw
This set was my baptism as a born-again Jazz believer. Mockjaw is absolutely bursting with talent, charisma, and visible love for the music they play. Trance-inducing solos and funky hooks flow through this quartet as easily as their stage banter about whether Chick Corea is in Heaven or Hell. Their ability to exchange their musical ideas so freely inspired me to go home, get on my drum kit, and immediately start learning how to play Jazz. I hope, and I think it's possible, that Mockjaw's shows will inspire musicians to venture outside the bounds of Rock and create a more diverse live music community on campus. Be on the lookout for their next show and upcoming single.
Follow Mockjaw: instagram.com/m0ckjaw/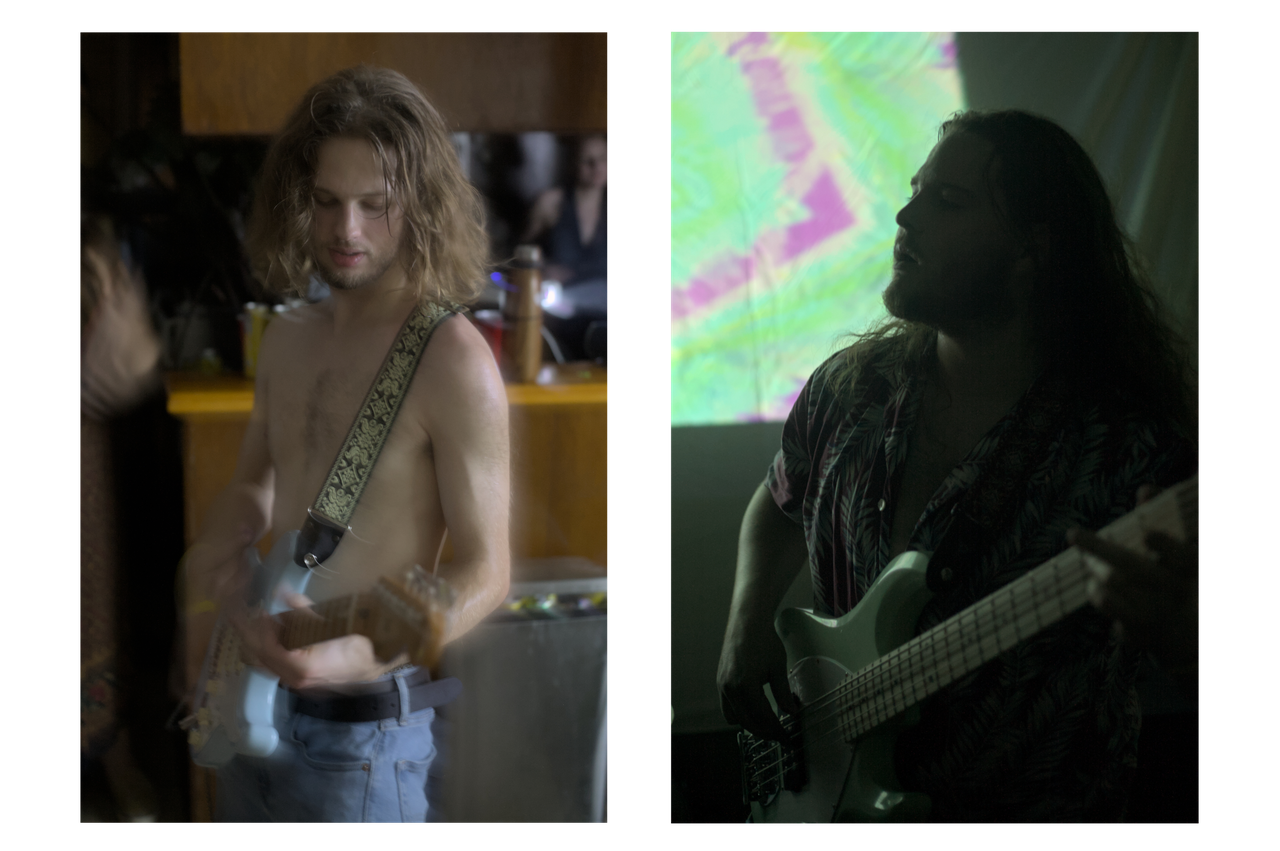 Crystal Shit
There's not too many Surf Rock bands kicking around Texas these days as far as I know, but Dallas shredders Crystal Shit carry the Surf banner with conviction and add their own six-shooter psychedelic flair for good measure. The guitar solos rocketed off with a generous helping of reverb while the drums and bass continued to strike at full power in a display of endurance and focus (surely achieved through extensive gigging). Loud and in your face—Rock, for sure, but a kind of Rock you don't usually see. I think they will likely make another trip down to UT this year—for a co-op party, perhaps?
Follow Crystal Shit: instagram.com/crystalshitband/
Swamp House's first show was a great coronation of my new favorite venue on campus. If you're a fan of a wide variety of genres and like to see a mix of different styles in one set, be sure to catch Swamp House next show on September 15th.
Follow Swamp House: instagram.com/swampatx/