On November 12, the first truly cold day of fall, I took the bus down to Mohawk to see Voxtrot's last concert on their Hello New World reunion tour. Voxtrot, an indie rock/pop band, played their first show at Emo's almost 20 years ago and cemented their status as Austin legends over the seven years they were together. At the completely sold-out venue, the massive crowd of people generated more than enough body heat to keep me comfortable despite standing outside. Opening for Voxtrot was Finally Punk, an absolutely electric Austin-based all-female punk group who said they'd known Voxtrot since 2006. They had disbanded in 2009 and also played this show as a reunion of sorts. Every member took turns singing and playing bass, drums, guitar, and less conventional instruments like a recorder and a squeaky mouse toy. Funny, frenetic songs like "Johnny Depp vs. Gator" and great chemistry between members made for a wonderful show and a really strong opening act that raised the audience's energy in preparation for the main event.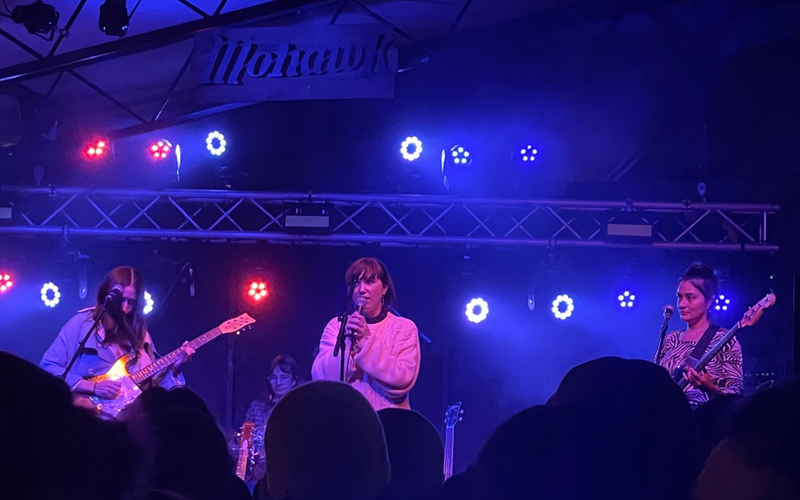 Finally Punk
Voxtrot's combination of raw yet well-crafted lyrics and supremely catchy instrumentation blew me away from the second song they played, "Raised by Wolves." You might think it is difficult for lead singer Ramesh Srivastava, now 39, to recreate the energy he had when making a song whose chorus ends with "we are young and stupid and raised by wolves" 17 years earlier. However, he put on a veneer of youthful ardor as if slipping on an old sweater. At times he poked fun at his younger self's naivete, like how he wrote a song he thought sounded just like a Smog song which in retrospect was not true at all, but he, and the band as a whole, maintained a genuine love of the material. They cracked jokes with each other, including playing a "jazz odyssey" as Srivastava moved over from guitar to keyboard, and kept up a high level of energy no doubt fueled by the animated audience.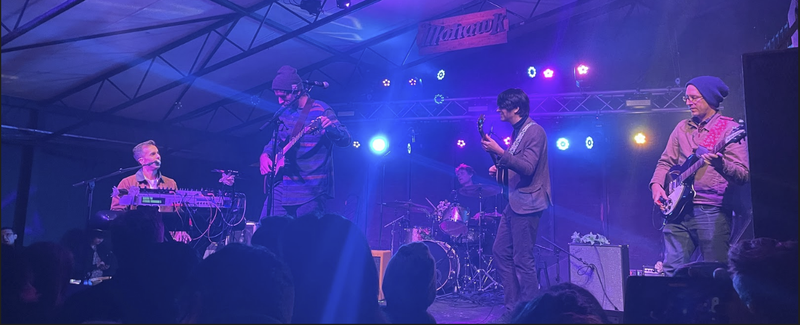 Voxtrot
Throughout the show, the tight hooks kept me dancing while the piercing lyrics cut me to my core, making for an incredibly cathartic experience. Srivastava talked about how he wanted to give himself up to something bigger than himself, and he definitely achieved that by writing and performing songs that resonated with so many people. As an Indian person, seeing another Indian guy as a rockstar coming home to a sold-out venue like a hero at the end of his journey meant a lot to me. By the end of the encore, with "Missing Pieces", they had played all of my favorite songs of theirs, and I was left with a profound feeling of satisfaction.