Vinyl-collecting is something I've always done casually. My collection is smaller than the average record enthusiast's, but I like to think that it is quality over quantity. With millions of LP's sold yearly and constant limited-edition album releases, it's no secret that the vinyl industry is ceaselessly growing to remarkable heights. I've been aware of vinyl's prevalence in the music world, but my first time participating in Record Store Day made it more apparent than ever.
Record Store Day (or RSD) is an annual event that originated back in 2007. On this day, labels drop a plethora of exclusive/limited-run records that bring sizable crowds to indie record stores. In addition, some artists participate by doing things such as shows and signings for the event. In fact, Metallica performed in California for the first ever Record Store Day in 2008. This is a very watered-down description of the event, but the main takeaway is that this day is a big deal to music enthusiasts and artists alike.
via shoptherock.com


This year's Record Store Day, like most things in recent months, is a bit different than previous years. Due to the virus and stay-at-home orders, it has been a bumpy road for RSD 2020. RSD had consistently taken place in April since its first occurrence and was expected to continue that tradition in 2020. This, however, wasn't the case as RSD had faced two postponements in April and June. What makes this year's RSD especially unique is that instead of being one day of the year, the event is split into 3 "drops" in August, September, and November. Each drop will contain completely new releases from various artists, making this year's event exciting but a bit bizarre.
As previously mentioned, I'm not an avid vinyl collector. Consequently, I hadn't participated in this event until this year. I think the main reason I decided to purchase a record this time around was that there was an emphasis on online purchasing as an option, making things quick and simple. Sure, I didn't get the full experience of waiting in line and having the record in my hands right away, but it still felt nice to be part of an event that many music lovers like myself indulge in. There were many options for the first drop, but I was fixated on one record, "G-Sides" by Gorillaz. On August 29th, I logged into my computer with haste as soon as the drop was available and started to browse the selection from my local record store's website. One thing I had noticed was that only a few minutes after the records dropped, some had already sold out. Keep in mind, some of these drops are limited to 1,500 or 2,000 copies, so it's understandable for some albums to run out so quickly. Luckily, the record on my mind was limited to 15,000 and I was able to order it right away. I retrieved my record the next day via curbside pick-up and it now hangs proudly on my wall.

Okay, I bought a record online, so what? Well, taking part in RSD 2020 made me reflect on how important music, and more specifically vinyl, is to many around the world. Even in a pandemic, organizers, labels, store owners, and many others did their best to make this beloved tradition continue, despite the odds against it. As a result, music lovers and collectors were still able to take part in the day they've waited over a year for. Record Store Day is a celebration of vinyl and the culture that surrounds it and I'm happy that I finally got to be part of it. I look forward to the next two drops and hopefully will attend one in person when the time comes.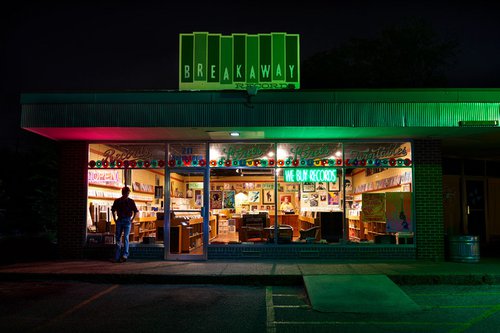 via whiskeypreachin.com




AUSTIN AREA RECORD STORES
1. Piranha Records
1208 N I-35 Suite 200, Round Rock, TX, 78681
Website | Pinterest | Facebook | Instagram

2. Waterloo Records
600A N. Lamar, Austin, TX 78703
Website | Facebook | Twitter | YouTube | Instagram

3. The Sound Gallery
4930 South Congress Ave, Austin, TX, 78745
Website | Facebook | Twitter | Instagram

4. Breakaway Records
211 W N Loop Blvd, Austin, TX 78751
Website | Facebook | Instagram

5. Antone's Record Shop
2928 Guadalupe St #101, Austin, TX 78705
Website | Facebook | Twitter | Instagram

6. Turntable Records
1903 S 1st St B, Austin, TX 78704
Facebook | Visit Austin

7. BLK Vinyl
2505 E 6th St Suite F, Austin, TX 78702
Website | Facebook | Instagram

8. Groover's Paradise
6550 Comanche Trail #213, Austin, TX 78732
Website | Facebook | Instagram

9. End of an Ear
4304 Clawson Rd, Austin, TX 78704
Website | Facebook | Instagram | Spotify

10. Big Henry's Vinyl and Gifts
305 E 5th St, Austin, TX 78701
Website | Facebook | Twitter | Instagram





Graphic By Vic Garces