I joined because I truly loved music. I'd never heard of college radio before, so I couldn't wait to be on-air. I was also at my wits end on making friends at UT because everyone seemed to be finding their place except for me.
Where are you from? What did you study here at UT?
Grand Prairie, Texas. Right next to Dallas. I was a Government and French double major.
How did you learn about KVRX and why did you join?
It was a complete accident! One of my FIG friends knew a girl who did KVRX and we became friends. I thought it was the coolest thing ever that she played music on the radio!! I joined because I truly loved music. I'd never heard of college radio before, so I couldn't wait to be on-air. I was also at my wits end on making friends at UT because everyone seemed to be finding their place except for me.
What was the artist that got you seriously into music?
The Killers' Hot Fuss changed everything for me. I still have the CD I got for my 13th birthday and the vinyl I bought in college. It was the springboard for me as I seriously got into indie rock and new wave. I also learned Mr. Brightside on guitar and bass -- I know that song like the back of my hand. Their existence is partially indebted to one of my favorite bands of all time, New Order, which is kind of meta.
Who were your favorite artists growing up, and who are your favorite artists now?
My interests have always been pretty scattershot and nowadays I've just come to accept it.
I definitely had a scene phase growing up and high school was very 'indie'. Growing up, some of my favorites were MCR, Taking Back Sunday, Death Cab for Cutie, Sleigh Bells...Right now I'm super into pop and hardcore. Really great stuff coming from Charli XCX/the PC Music camp and young hardcore bands like Turnstile (Baltimore) and Amygdala (San Antonio).
What are your most "music-nerd" habits?
I read an ungodly amount of music stuff. I check Stereogum everyday because the writers are HILARIOUS (Hello, Tom Breihan!!). I also have a hobby of reading books and articles about music and politics, like punk from Yugoslavia, East Germany, and France, or Cambodian psych rock.
What albums have shaped you as a person?
Spoon - They Want My Soul
Sunbather - Deafheaven
Psychopomp - Japanese Breakfast
Body Talk- Robyn
In short, these albums have made me a better person and taught me how to deal with life's rollercoasters.
Music Hot-Take?
Albums longer than 50 minutes are a stretch. Can we stop calling albums 'projects' or 'playlists'? Please.
What positions at KVRX have you held?
DJ, Music Director, and Station Manager. I wouldn't have even been an MD if it weren't for Eli suggesting I should be a Music Intern since I showed up to every single rotation.
What shows on KVRX have you had?
Mercury in Retrograde (freeform), French Kissin' (specialty about french music), and Tales from the Pit (specialty about punk and hardcore).
I loved that I finished with TFTP; I wanted to do a hardcore show because KVRX hadn't had one on the schedule for a while and I really admired the hardcore shows that came before me, like The FBI's Most Unwanted.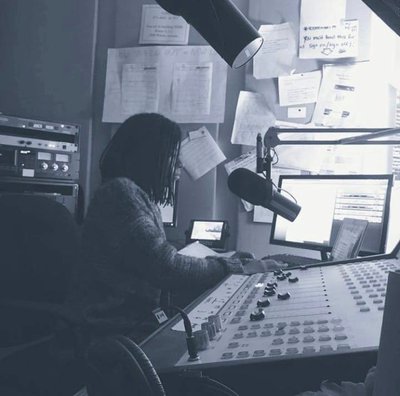 Favorite KVRX memory?
This semester, my co-host Avery and I played an all-vinyl show for Tales from the Pit. We went through the boxes of 45s in the booth and pulled out our favorites. A couple of years ago, the former Station Manager and a former Music Director played a bunch of the punk and post-hardcore records on-air together towards the end of their senior year. I always wanted to try it myself. I spent nearly every day of Summer 2019 sifting through KVRX's vinyl collection, playing records on the queue, and even spinning a few LPs during the first few episodes of Tales from the Pit. The show wasn't perfect -- a couple of times we played records at the wrong speed and they sounded like chipmunks or chopped and screwed. It was really funny and fun and I enjoyed sharing the trials and errors with my friends and classmates who were listening in.
How has KVRX changed you?
The friendship and community I've found in KVRX is invaluable. I've always felt sort of lonely, so interpersonal relationships are very important to me. I could have never dreamed that the quiet and shy college freshman that I was would have found such an amazing group of music lovers and friends to go through college together. I also learned what it feels like to have a job that I truly enjoy. Being a Music Director was one of the greatest things to ever happen to me. I'll cherish this experience forever.
I met everyone I'm closest to through KVRX. I learned my words and ideas mean something. I never felt like they did. KVRX is for people who love to talk about what they're passionate about.
Where are you from? What do you study at UT?
I'm from Edinburg, TX. It's in the Rio Grande Valley. I double major in Neuroscience and Theatre and Dance.
What shows have you had on KVRX?
I've had the same morning show, Cup of Jane since I joined. I know the name is silly, but my name is Jane and I can do a lot of silly things with it. This semester, Alexader and I also had Cowboy Bebops. We played songs from anime. It was really nice. I hope I can find a co-host for it next semester.
What was the artist that got you seriously into music?
I used to think that my five-year Beatles obsession was what got me into music, but I was making mixtapes as gifts since I was 4. I didn't see my dad as often I would've liked growing up, he was always busy working. But I had one of his songs on my iPod, one my Grandpa gave me. The song was called Crash. You can listen to it here. For years I would stay up late listening to this song. I know every word. Every note. That level of attention is something I continue to give to music.
How has joining KVRX affected your college experience?
I've felt lonely, but I was never alone. I could loiter in the station, maybe hang out with my friends, maybe even make new ones. I love it here. Everyone is so different and passionate. I've never had this many friends before.
What positions have you held in KVRX?
I've been a DJ, Booking Intern, Music Intern, Music Director, and I'm now Station Manager. Oh, I also stage-managed the Symphony Square stage at KVRX Fest.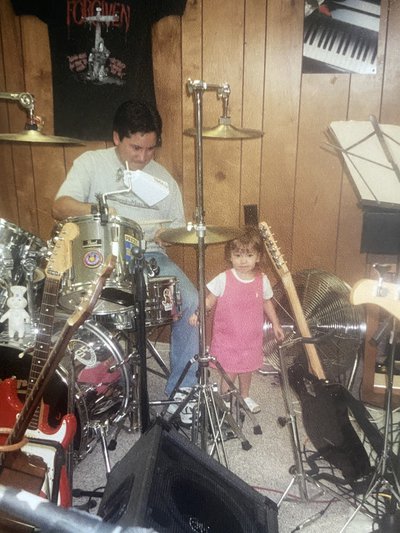 What role does music play in your community? (ex: family, friend group, ethnic background, etc)
It's everything. Music for my family started with mariachi. My dad played guitar. My great-grandma was a singer. In college, I joined UT's Mariachi program for a while and learned so much. It was amazing. My dad had been trying to get me to play mariachi guitar since I could hold a guitar. Also, when I was a kid, we went to a church that my dad founded with some of his friends. It was based on the idea of worship through music, and the idea that everyone should be allowed to take part. So, that's where I spent the first couple of years of my life. That church didn't work out for us, so my mom had us be Catholic for a while. I really liked the songs and theatricality. Music is everywhere. It's never not been around.
If you could make any music-related wish, what would it be?
All I want is enough money to buy albums without feeling guilty. I would love to buy the Japanese release of Zombie-Chang's Petit Petit Petit. The UK release isn't as strong, but it's the only version you can listen to in the US.
What is your favorite Austin music venue?
I didn't go to shows very often until recently. I get really anxious and I'm pretty short, so if I want to see anything I have to push my way up to the front. But that hasn't happened at Barracuda. I can usually see at some of the performers. And once when my sister was using a Rollator, they let her sit right up close but away from the crowd because concert crowds don't respect mobility devices. Long way to say Barracuda.
Unpopular music opinion…
A song has got to earn being over 4 minutes. Otherwise, cut it off. We got the idea.
Favorite KVRX memory?
There's a lot of good ones. I've met everyone I'm close to because of KVRX. Here's one that always makes me laugh. It was a Friday in March after rotation and I was waiting around because I was going to hang out with Alexander. But he was helping shelve in the Library. Bored, I went to go help. The librarian, Grant, was playing amazing music. I told him I never heard it before, who was it? It was The Magick Heads, a group from New Zealand in the 90's. He heard them during a Grouper set a month earlier at Midwinter fest in Chicago. He went with Aaron Martinez, my older sister's high school friend, and the reason I joined KVRX. I was completely fascinated by the group we were listening to and this person who seemed to know so much about everything. Well, while I was totally enthralled in this conversation, Alexander walked up, farted on me, and walked away laughing. And I didn't notice. Alexander is my best friend. He tells that story with pride. I think it's ridiculous and encapsulates our friendship. I always laugh when I think of it.
How has KVRX changed you?
I met everyone I'm closest to through KVRX. I learned my words and ideas mean something. I never felt like they did. KVRX is for people who love to talk about what they're passionate about. Last semester, I talked at length to Hope and Alison about how Ke$ha deserves more respect for making Hyperpop almost a decade before Hyperpop became a thing. I love knowing that my ideas have meaning and that they are actually interesting. It's nice. Makes me feel confident.