1. Artist Review Written by Logan Powell
2. SXSW Coverage Written by DJ Hierba Malita
Your Mother's Favorite Mutha
Tennessee-based rapper BbyMutha has been making waves in the underground hip-hop community for years. Using experiences from her Chattanooga upbringing, Bbymutha began writing poetry and rapping as a teen. What began with making recordings on her cell phone, Bbymutha first instance of widespread recognition was with the track "Rules" and the subsequent music video. "Rules" success and later releases propelled Bbymutha onto the main stage and her career has only blossomed further since then.  All this achievement while being independent of a major record label.
I was first introduced to BbyMutha through the dark comedy 'Rami' where her song 'Rules' blared over Rami and his friend, Stevie, in a slow motion sequence. The overall absurdity of the scene was immediately overshadowed by Bbymutha's salacious lyrics. I had never heard such direct, yet sincere words in a song before. The beat, humor, and wordplay had me enchanted and wanting to get a notepad and pen to take notes of this impromptu lesson being given. "You can't give your p*ssy to a n*gga who' not used to getting p*ssy cause that p*ssy gon be everybody's business, me, myself a witness" was the perfect song choice that only compounded the outrageousness and weight of the scene. Rami, especially season 1, had an amazing soundtrack, introducing me to one of my all time favorite bands Al Massrien, so I immediately saved the song and did a deep dive on Bbymutha to find out more about her discography and persona. On first listen through her discography, I couldn't pin down the 'type of rapper' Bbymutha was aspiring to be. The shifts between "Indian Hair" and "Plug" (featuring Swerzie) had my head swimming. Bbymutha shirks all preconceived notions of who she is and what she is supposed to be. It was this varied and confident music production that I fell in love with and kept me engaged, following every move Bbymutha made in anticipation for what was in store for the next project. 
Since then, it has been a joyous ride following Bbymutha's career and progression. I often reflect on why I feel so drawn to and connected to the work of Bbymutha and have come to the conclusion that it is the personal and raw storytelling that keeps me coming back. When BbyMutha raps, it feels as though a close friend (or mutha) is kekeing with you about their experiences, the good and the bad, with a side tight bars, of course. The lyrics can be scathing at times, denouncing stereotypes and cultural norms, but it reinforces the passion with which Bbymutha creates music and the emotion that goes into it. After listening to a project it feels as though you are growing with Bbymutha. Although Bbymutha's raps are extremely personal to her experiences, ranging from being a mother to two sets of twins, past and current relationships, and sexuality, the experiences are so human, it is almost impossible to not be impacted by a bar or two. And at the end of the day, the music is fun, empowering, and sure to be the focal point of your day.
Bbymutha will always be on the top of my lists for favorite rappers due to her propensity to cover difficult topics, such as teen pregnancy, sexuality and queer identity, toxicity within the Black Community and more. By using humor and slick wordplay, BbyMutha removes some of the stigma surrounding these topics and helps open up introspection in the audience. The memory of watching the 'Rules' music video for the first time, and seeing unambiguosly queer Black people in the forefront of the scenes, will always be important to me because it made me realize how rare it is to come by this exposure in hiphop and to treasure it when it occurs. It was extremely validating to see that I, specifically, am included in the demographic Bbymutha creates for. From then on, I always go out of my way to seek out and support other similar artists that create art that I can relate to and take up space in music to speak their truths. My current obsession is the artist Backxwash, if you are looking for a metal artist with kindred vibes. 
Bbymutha's use of family and friends in her music adds warmth and familiarity. She owns all aspects of her life and feels as though she is also inviting others to share in it as well. A common theme referenced throughout Bbymutha's discography is the struggle against being palatable to people and being commodified and reduced to a one dimensional trope that can be more easily digested by the masses. Songs such as "Not For Caucasians", "Bbymutha This, Bbymutha That', 'Heavy Metal' recount those frustrations and the struggle to dispel them. All too often, one (I am "one") can be confronted by the decision to either compromise in order for financial, career, professional gain or risk not being appreciated, but time and time again Bbymutha proves that one can be authentic to themselves and their background and have a strong following because of it.   
To this day, I will always bump a Bbymutha song whenever given the aux to spread one of my favorite rappers to anyone with ears within my vicinity. In my opinion, everyone can benefit from her art, so the next time you listen to Bbymutha, get your pen and paper ready to absorb the message of your mothers favorite Bbymutha! 
---
Logan Powell

CHECK OUT BBYMUTHA'S DISCOGRAPHY HERE:
First and foremost, I would like to thank Logan, for introducing me to BbyMutha's music. It was years ago and I remember thinking "maybe this isn't for me," but I kept listening and truth be told, BbyMutha genuinely has music for everybody. I got to see her perform 3 times as SXSW 2022, and each time I had a smile growing from ear to ear. 
To begin with, I saw her perform at the Container Bar on March 17, 2022, presented by SXSW DAY PARTY X DR MARTENS. THE venue? FULL. The fit? PHENOMENAL. It's giving Classy French Cat. LOOK!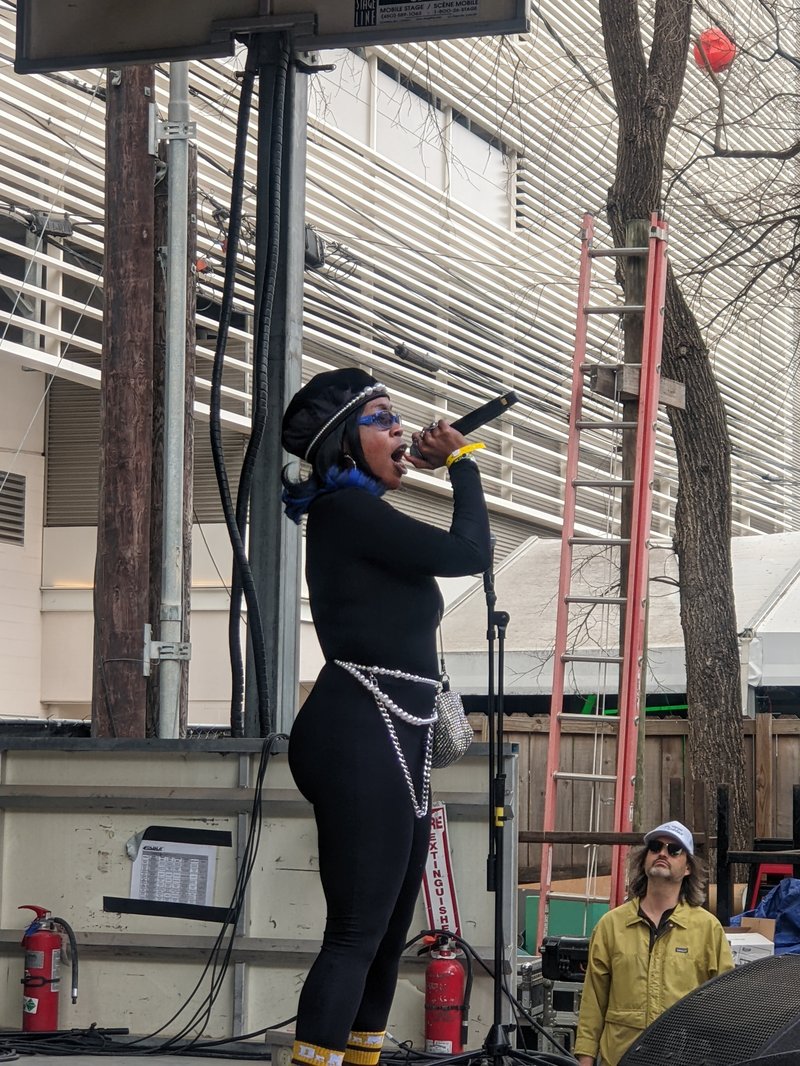 Her performance? FIRE. I was able to weasel my way to the front row, in a corner but I got to see her walk around the stage, laughing, and just giving the crowd some of the best energy ever. After this performance, I knew I was gonna go to more.

The next day, I went to Empire Control Room presented by Kosha Dillz: Oy Vey. This was a smaller venue, but everyone who came to see her was so nice it did not feel like we were fighting for air. We all huddled super close and enjoyed the intimate performance like the good kids we are. Her fit? THE CUTEST!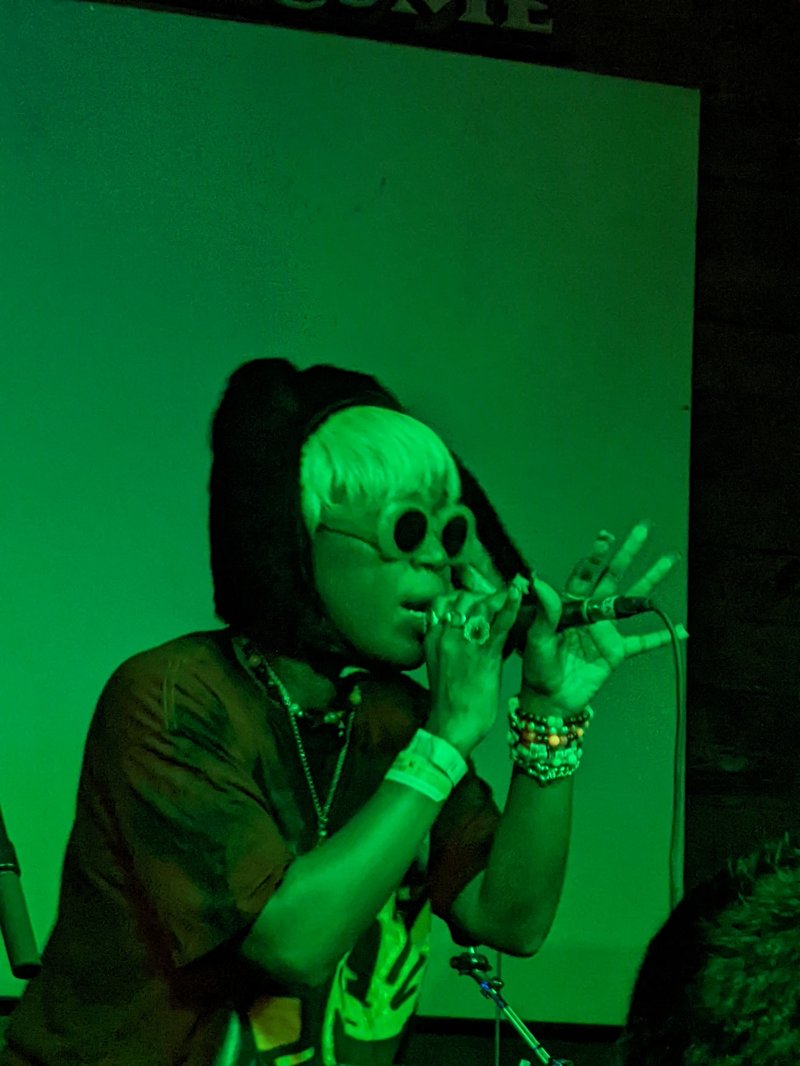 Those bunny ears and the sunglasses were definitely giving playful diva energy. I loved everything about it. When we thought the performance was over, she blessed us with a couple more songs. Truly a great mother, keeping us fed <3

Lastly, one of my favorite performances that I got to see by BbyMutha was that same day later that night at Creek and the Cave Backyard, presented by FORT Agency & Lex Records. SO MANY GOOD PERFORMANCES! Ugh, I was in awe every single time. This time BbyMutha was giving Angel Fairy looks. It was magicaaaaaaal.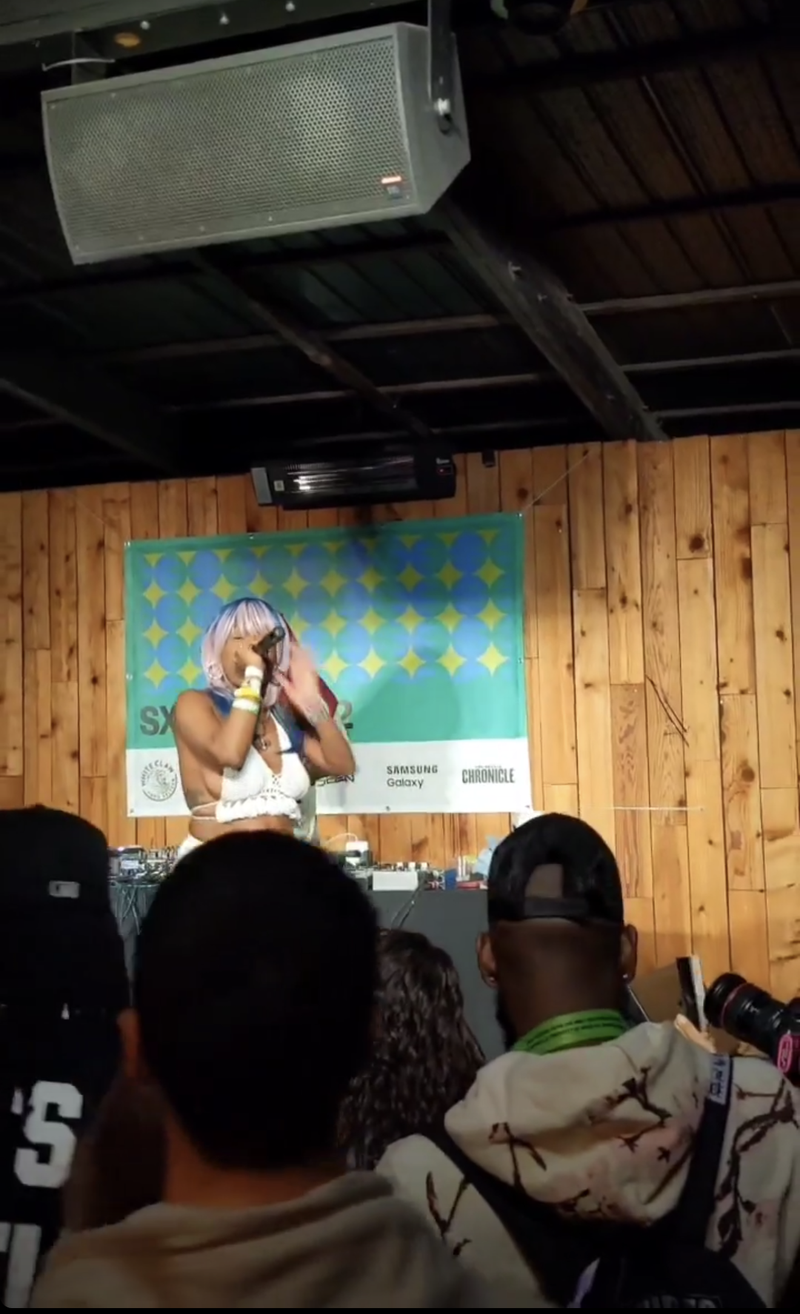 By the end of the night, everyone was drunk and dancing. That last showcase was definitely one for the books, and I am very grateful to have attended it, truly! I feel very fortunate to have seen Bbymutha perform multiple times in 1 week. BLESSED.

---
DJ Hierba Malita
SENDING LOVE TO YOU AND YOUR FAMILY, BBYMUTHA!!

YO! BTW BBYMUTHA RELEASES STUFF EVERY YEAR, CHECK OUT HER BANDCAMP HERE