Ovrkast. is an experimental Hip-Hop artist from East Oakland, California. His songs are what I consider real music. Ovrkast.'s style of Hip-Hop is not commercial, it is original and authentic to his own style of storytelling, lyricism, and even the beats he produces. It all flows together so well. A product of Bay area, with influences hinting at icons such as Knxwledge and Earl Sweatshirt.
I first heard of Ovrkast. in 2020, when he released his album called Try Again. My personal favorites being Face, Interlude, and AllPraise.
One year later, he drops his deluxe version of the album with 3 more songs, including my radio-repeat favorite Love Somebody.
Honestly, such a great producer, writer, and person overall. Ovrkast.'s music is so vulnerable and incredibly intentional, its healing.
Dirty Looks Presents: The Authentics
March 17, 2023 @ Shangri-La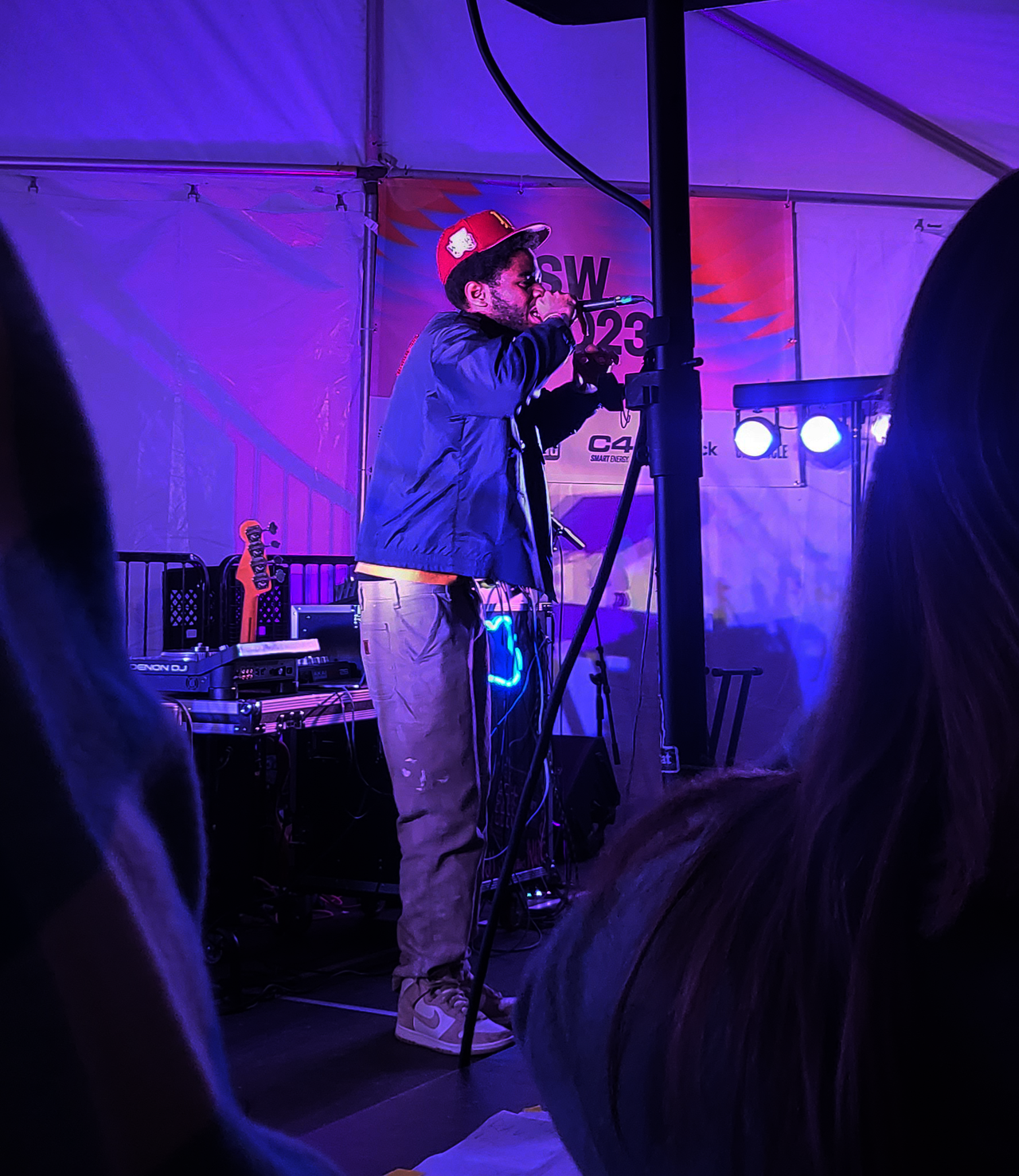 Luya Moreno
I am Ovrkast., I am from Oakland, California. I turned 25 in January, and I'm happy to be here in Austin, Texas, for the first time ever in my life at SXSW.

Are you an Aquarius?
No, I'm a Capricorn. You can see that? Is it the stoicism?

Capricorns are more serious, they're trying to just work on their shit -
Literally. Yeah, that's me. To the bone. Yeah. 100%. That's why I'm here in SXSW.
Brought to you by SXSW.

Lessons you have learned during music this music journey:
I have to be open and intentional. Open because if I'm closed off, I'm closed off and I don't get to experience shit. But if I want to experience shit, I have to be open, you know? I'm an introvert, so I'm learning to be a social person and be out here and do this shit. Open, but intentional with it. Not just like open and doing whatever, you know, I'm here for a reason. I'm still building my shit up. Once my shit is good though then I'll wild out, and do something crazy.

Thoughts on Austin, Texas
This kind of reminds me of the Bay Area a little bit, on a fire ass night in the Bay.
I want to come back. Austin, Houston, wherever.

Video Games:
Skater XL. I've been playing that one. It's a PC game, a skateboarding game. That game is fun. GTA 5, that's my shit. I like a lot of the zone out, you know, the brain numbing games just tune out for a second. There's not many games that I'm into where I do the story. It's very hard. I'm ADHD, so it's very hard for me to complete it. I don't think I completed a vide- [laughs]. I get halfway, and then if something is too hard, I'm like bruh, next game. Oh, Call of Duty, though! I have beat those, which is crazy. I got pretty good at COD Modern Warfare. I used to be ass, but now I can smack some - I'm pretty nice with that shit now, so yeah.

Weapon of choice in COD:
Oh MP7, or the stinger I think or somethin… might have a stinger. It was this gun I got. I was getting gun silver, I never got a gun silver, I got gold. Yeah. That's, that's embarrassing. I don't know why I'm admitting that shit. You caught me in 4K. I was getting guns, gold and silver. But yeah, COD, that's a fun game.

How do you ground yourself when feeling overwhelmed?
I live in the Bay Area, so there's a lot of greenery and a lot of water. So if I'm really feeling it, "Bruh, I need to get out of here." I will take my ass to the water, and just relax. Check out. I meditate, I'll leave my phone in the car and just kind of like, you know, be without it. I people watch, I watch dogs catch Frisbees, you know?

Do you have pets?
My dad has a dog, but I don't have a dog, but he kind of counts as my dog, kind of. My dad has a dog. My sister has one now, she just got a dog. My brother has a dog. So we all got dogs, except for me. So I think once I get my place, I got to get a dog. Then we can all meet up and just bring our dogs. Dog party, yeah.

Somewhere you want to go but haven't been to
Aruba. I want to go to Aruba. I want to vacation in Aruba at least one time. I'm thinking it's going to happen forsure forsure. This year is going to be amazing. I almost didn't come here, yo. It was some complications, but I'm glad I came. I almost did not get here, but we here. Thank God.

Anything your fans should be looking out for?
I just put a song out today called TBH. But I got more, I'm working on an album. I'm working on just slaps. I've been getting better on my slaps, and my slaps is slapping. So they comin, they comin.

Is there anyone that has really helped you throughout your journey?
Of course, I had much, much, much help. My mentor, when I first made beats, Holiday, he showed me how to make beats. He guided me. He kept me in school after school, making beats. Of course, my best friends, Michael, demahjiae, my friend Xavier, my girlfriend a lot. Everybody always lets me know how special and how incredible and like, how important what I'm doing is. So of course, those people. My parents, my mom, you know, my family. My sister Danielle, I can call her right now, she'll want to rant about everything like I love her. So yeah.

Favorite meal:
My favorite meal that I'll just fall back on is… I don't know how to pronounce this. It's a Puerto Rican dish. Pescado Frito. It's fried fish, beans, uh, rice and greens. With some pickled onions. Shit is fucking amazing. Pescado Frito, mmm. That's the shit right there.

Advice you would give younger you:
Fuck bro, It's worth it. Um, and go outside a little more. Go to the park, and do some push ups. [laughs] That's all I would say.
---
Thank you for letting me interview you right after your set!
STREAM OVRKAST. !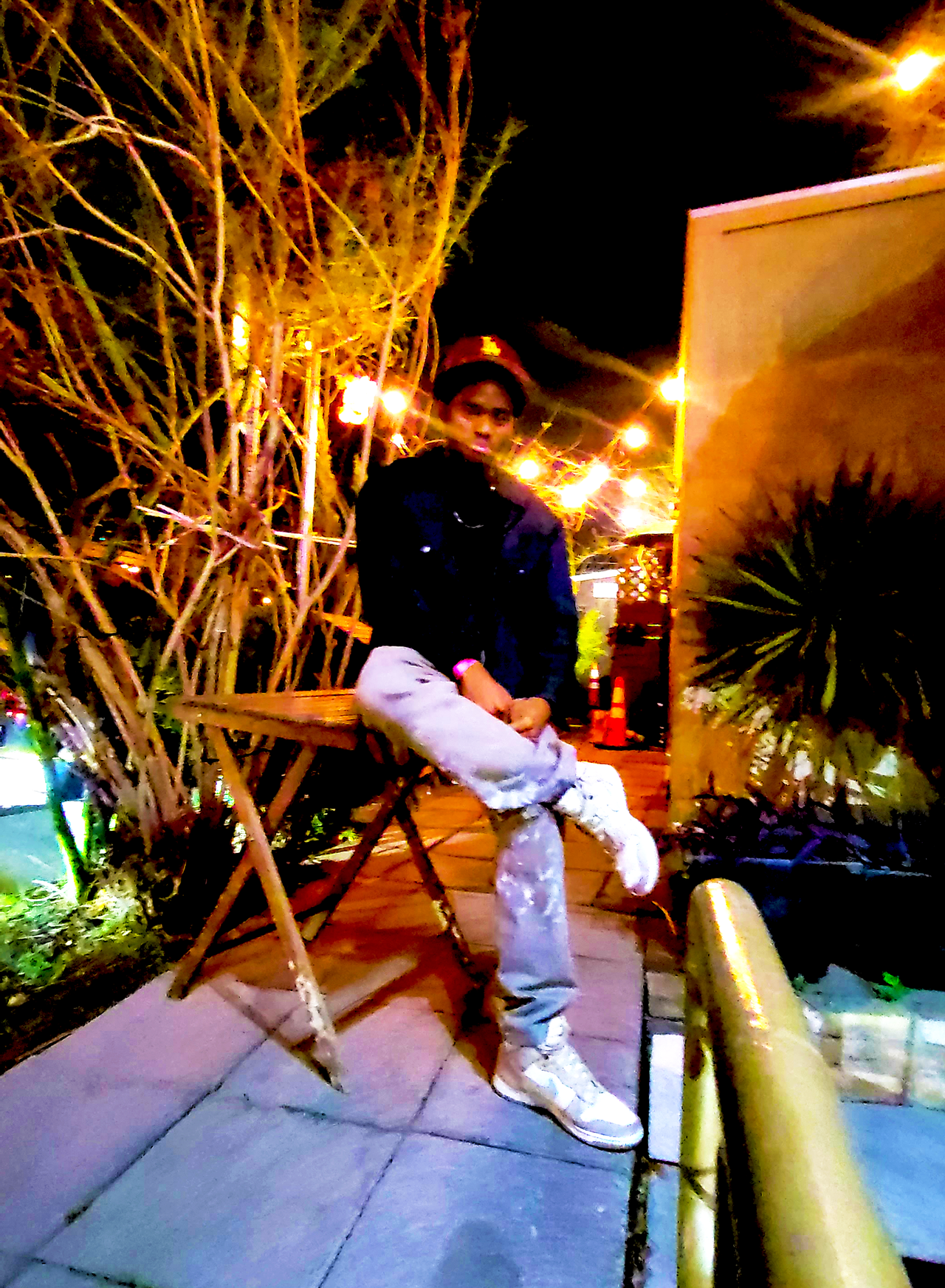 Ale Luya Moreno