Within Austin's sound, which has been bloated and defined by indie rock acts, exploration is welcomed and needed. Tarela, a Nigerian Afrobeats artist understood that demand.
Saturday, September 2 Afrobeat fans marched to Mohawk for seven hours of food, vendors, and a diverse lineup of musicians from all over the world.
Festivalgoers not indulging in the food of The Palatable or perusing the black-owned vendors on the upper levels of Mohawk were witness to these talents assembled by Tarela. These acts took the stage through the hot summer afternoon and into the still-hot Austin nights on the outdoor stage of Mohawk.
Remixes of popular soul songs, rock ballads, and of course, Afrobeat or Afropop dance hits grooved Mohawk to levels not seen in Red River before this night.
Afrobeats didn't just introduce itself to Mohawk, much of Austin is yet to tap into the percussion heavy sounds of Afrobeats – a genre that has been growing rapidly in the US in cities like LA, NYC, and Houston.
Of the many rising Afrobeat stars in Houston, DeanKelly has garnered a growing fanbase due to his creative mind and a catalog of catchy tracks.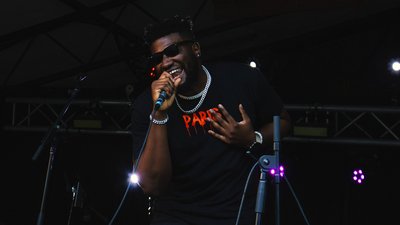 DeanKelly at the Austin Afrobeats Festival | DJ Clandestino (@vidaltgs)
DeanKelly's entire family made the move to Houston from Nigeria for better opportunities. A common trend recently as Houston has seen an influx of Nigerian immigrants over the past 10 years.
"Houston is turning into Lagos," remarked, DeanKelly. "I'll be on the phone talking to my friends in Nigeria and they'll be like 'Bro where are you? Are you in the US?'"
The artist has developed his craft, creating a unique and captivating sound through his performances on the stage. His love of music has come from years of listening and sharing online.
"I've been making music for a long time. I started by downloading music back in Nigeria. Then I started to upload my music online for free and people started listening."
DeanKelly has just recently ventured into the bright lights of Austin venues and he is excited by the growing support he's seen for Afrobeats.
"Events with 50 plus people – that's not normal. It's growing and I'm happy to be a part of it."
https://deankellyworld.com/About
Unlike DeanKelly, rapper Pop Stunna has been around long enough to see Austin's growth as a music hotspot.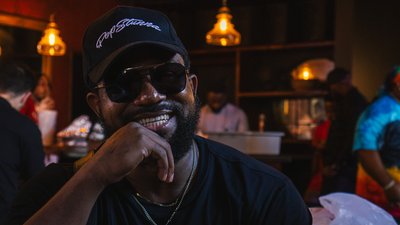 PopStunna talks about the Austin music scene| DJ Clandestino (@vidaltgs)
"We started making music in theMusic Lab – we started from the ground," said the energetic lyricist.
Pop Stunna the Austin Texas rapper, has garnered a massive amount of attention with his fourth album, Youth, released in February of this year. The success of his latest album has opened new doors for the rapper, including some in Tokyo.
"It's a great crowd in Japan. – I love music. They love music," said Pop Stunna recounting the surreal experience of traveling abroad to perform. "I feel like music is a universal language that everyone understands. It doesn't matter where you're from. They might not understand the language but they know a melody."
No matter where the MC performs, he always showcases his love for Austin crowds and the scene that he grew up in.
"I was wearing my UT socks while performing in Tokyo and when I shot the music video in Nigeria."
The combination of West African musical styles and American soul was alive and well in Mohawk's maroon "green" room. A diverse collection of artists reminisced and met for the first time.
Photos and ideas were exchanged and a live jam session broke out as musicians of different genres came together.
"A lot of these artists are not from Austin It's cool to be around African artists, I have never been in this kind of space before," said rhythm guitarist Incognita. "To have something like this, dedicated to this genre of music – it's amazing."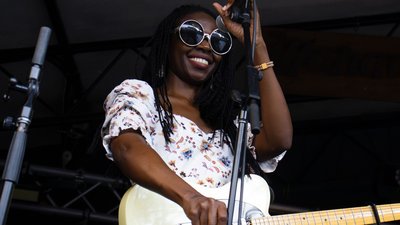 Incognita at the Austin Afrobeats Festival | DJ Clandestino (@vidaltgs)
Incognita has been in the music scene for many years working solo at open mics and in different groups.
Her dedication to improving has continuously pushed her to try new things and perform on bigger and bigger stages, leading her to Austin.
"As a community of musicians and songwriters, everybody's very supportive. As a musician, the next step is doing more – being out there. That's the next level for me and I'm still kind of working on it."
Incognita is still working every day to improve -- even joking that despite a decade of playing the guitar, she still needs to be better.
After seven years of not releasing anything new, Incognita is excited to be working on a new sound and to be more hands-on with her music.
"I got this song in my head, If other people interpret it for you, it becomes another thing entirely. But, if you interpret it for yourself, it's yours completely. This is the rhythm, this is the cadence I want. This is mine."
The debut of Tarela's vision, came to fruition as Afrobeat serenaded an Austin crowd that is fully embracing the new unique sound.