Luna Luna: Pets, bets, and video games.
The first song I heard by Luna Luna was in the Summer of 2019 when they dropped a single called Feelings in Me. It gave very dream pop indie Latinx, pero pop in the cool funky dance way, indie in the way they be making cute tunes that sound like a sunny pink day, y Latinx pues 'cause you can hear it in the beat. There weren't a lot of Latinx artists going into this genre as a band when I first hear them, so to see it implemented by kids from Texas around my age - was inspiring. I love when lil communities come together, make each other family, and create something beautiful together. THEY SILLY TOO so I know they're a family fr lmao.
Anywho, let us speed back to 2022, when I got my press pass to SXSW (my first time ever going !) - Let us return to the night I got to MEET these people in person. On March 17, Luna Luna performed at Hotel Vegas, and I was there to witness their magic. Their manager is so cool, btw! Shouts out to her <3. Luna Luna brought the PARTY. Had everyone in the cloud dancing and jumping and singing along. It was huge. They even brought out Pretty Boy Aaron on stage to perform with them. I was starry-eyed watching them play their instruments together.
This was my view: LOL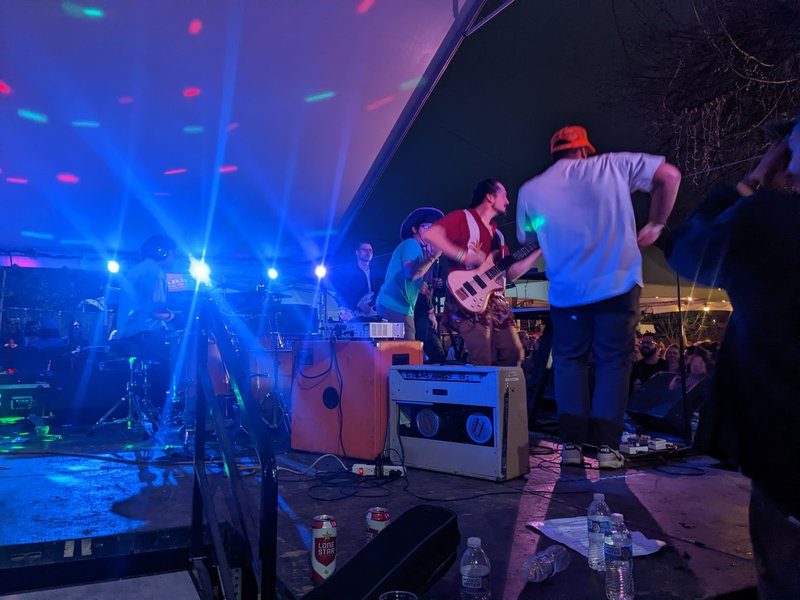 Interview:
[Gordo]: I'm Gordo, on the bass. I'm from Dallas, Texas.
[Kavvi]: I'm Kavvi, from Colombia. I grew up in Dallas.
[Kaylin]: Hi, I'm Kaylin, and I play drums. I'm from Lufkin, Texas.
[Danny]: I'm Danny. I play the keys.

How long have you guys been in Austin?
We've been in Austin since late September or early October of last year. It's been great so far. I'm glad we made the move. Yeah.

Describing Austin in 3 words:
[Danny]: Big, fun. PSYCH. >:D

What's your favorite song to perform?
[Kaylin]: I really like performing Feel it Now. It's off of our newer album, Flower Moon.
[Danny]: We do this medley for For Lovers Only, and that's probably my favorite right now.
[Kavvi]: My favorite song to perform is still For You. I don't know, right now, I've been filling it.
[Gordo]: I think my favorite song is 80's Tune. They get hype.

Dream Collabs?
[Gordo]: Tame Impala. Kanye. Frank Ocean. But, it has to be all three of them. Orale
[Kavvi]: Yeah, all three of them at the same time, in the same room, on the same song.
[Kaylin]: I think Kevin and I want to collab with CMAT. She's from Ireland. Yeah.

Astrology:
[Danny]: I'm a Leo.
[Kaylin]: I'm a Virgo. My moon is Libra. My rising is Scorpio.
[Kavvi]: I'm just a Virgo.
[Gordo]: I'm a Leo. All I know is my moon is a Sagittarius. So do with that what you will.

Somewhere you really want to travel:
[Gordo]: Oh! Latin America. Everywhere in Latin America. Maybe Brazil, but Mexico City, for sure, though. Yeah.
[Kavvi]: I really want to go and play in Colombia and travel there just because I was born there. And I haven't been back since, like 13 years. So it'd be really great to go back there.
[Kaylin]: I want to play in Asia, anywhere in Asia, mostly Japan and Korea.
[Danny]: Canada. *evil laughter ensues*

Are we pet lovers?
[Kaylin]: Yes, I have a weenie dog. Her name is Evie. She's a Gemini, I love Geminis. Her birthday is June 16th. She's going to be six. Yeah, she's my baby.
[Kavvi]: I have a doggy, too. It's a brown shnoodle, His name is Binky, like from the show Arthur. I don't know what his sign is. He was born in February.
[Danny]: I thought you said bets, and I was like, I love placing bets. I got the over-the-spread, the parlay, but…. [pause] We bet on, like, video games to see who wins. Shit like that.

Fav Video Game?
[Danny]: Smash. [When choosing characters,] I'll do random, I'm that good like I don't try because if I try really hard then no one has fun cause I'm like the skill gap is too big. I'm that good.

Is this true?
[Kavvi, reluctantly]: Yes.
[Danny]: No one is [gonna beat me]. No one in the band. It would have to be all of them against me.
[Kavvi]: We caught up to him on Mario Kart, though. He was like that at first. But now we can hang.
[Danny]: With Mario Kart? No, that's also not true.

Shout Outs:
[Kavvi]: Shout out to my mom serving beans and tortilla.
[Kaylin]: Oh, yeah. Honestly shout out to my mom. She's taking care of my dog right now.
[Gordo]: Shout out to getting my tax return because that helped a lot. No more rice and beans for a while. Well, yes. Shout out the family. Yes. Mom, Dad. Love you. Miss you. And we'll see you soon.
[Danny]: Yeah. Shout out, my parents for moving to America. That's cool. That was a cool thing they did.
---
Thank you, Luna Luna and management for allowing me your time! It was sooooo fun meeting, interviewing, and watching y'all perform. Yurrr <3 Wish y'all saw my face when y'all were up there, lmao. STREAM LUNA LUNA!