Brad Stank is from Sheffield but has lived in Liverpool for the past 10 years to continue his music career, "Liverpool is home." He was originally an official SXSW artist in 2021, but COVID-19 changed his plans. While the virus changed in his original plans, he is finally an official artist for 2023. Though Stank has been making music for over five years, this is the first time in America, let alone Texas. Stank had a busy SXSW week and definitely made some waves in Austin. With a mix of official showcases, unofficial ones, and late night surprise shows, he was making SXSW 2023 his.
Stank had just performed the night before at the well-known unofficial showcase House Johnson, and was later performing at The Ballroom, while also having an official showcase at Hotel Vegas on 3/17. I asked him if he was nervous about all these performances, especially considering this is his first time in the states and his response was very confident, especially after such a successful show the night before
"I don't know should I be? I think I'd be good. Yeah, I think it'd be fun. I mean, last night, we were like kind of jet lagged. And we start drinking at like 1pm, maybe even earlier. And then we played at like 1030. So that was kind of weird. But we're gonna try and take it a bit more easy for the other shows."
Despite starting out as an "indie/alternative" artists, Stank has branched out genre-wise and is leaning his interest towards country music, especially with his most recent EP that was released in 2022, "Hank Stankovic". As someone raised around country music, I was very intrigued to find a UK singer interested and inspired by this genre, so I HAD to ask about it.
"Yeah. Honestly, it's so exciting. We've been like playing country out of our like Bluetooth speaker in the house all day today." "It just was like, it was just for fun. Really, to be honest. I didn't know I just like was making these little songs. I didn't know whether I was actually going to put them out or anything, you know. But then, yeah, we just decided to do it as like a little fun thing, but it was kind of like locked down madness taken over a little bit. You know, I think it was just a nice bit of escapism because it was kind of stressful thinking about careers and stuff you know in lockdown. So I was like, let's just do the country thing for fun."
Country music definitely played a role in the production of his most recent project and we will definitely be seeing it in more music from Stank. While it wasn't planned for Brad to be inspired by the style of country music, during lockdown he couldn't help but be intrigued by what country music by him would sound like.
Combining genres is nothing new to Stank, though. In every song of his, you can always hear at least two genres fused together. While the main contenders are jazz, blues, country, he doesn't shy away from trying new things and instead of getting intimidated at the idea, he actually gets excited at the idea.
"I mean, the new stuff is a little bit different. It's still like, I guess you would say like Brad stanky or something. It's got that sort of vibe to it. But it's a bit more like, going to like piano and stuff on there. So it's a little bit more like Barry White or something. More like 70 sounding or something, I guess. But then of course, like, I want to do another country thing too. But go like even more country with it, you know? Call it like stank Williams or something?"
Mr. Stank is of course not done with making music, he still has so much to do, make, and explore. When discussing future projects, he is very confident in the music he is producing, and is excited to see where it leads. Over the course of his career, he has released 2 EPs and 2 Albums that are all amazing and all sound a bit different from one another. The change in Stank's music over time does a great job at representing his growth as a person and creator, and I look forward to seeing everything he produces in the future.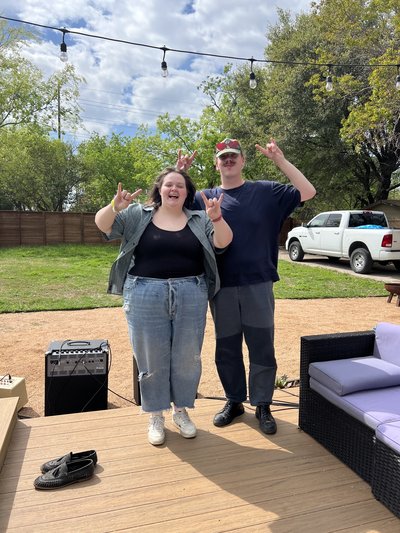 Me, Mary Dougherty, and Mr. Brad Stank.
"I mean, I'd kind of take a long time to write like, stuff, I'm kind of slow. Most of time. So it's kind of like, I don't like forcing stuff too much, either, you know. So it's like, you kind of just have to just sort of wait for the all sort of comes together, I feel that you have to, like live your life a little bit as to like, subconsciously, like, make something in like your heads or whatever, you know. And then it all sort of comes out into one little project sort of thing."
Keep an eye out for Brad Stank on all platforms and check out his newest EP "Hank Stankovic"! Thank you so much for chatting with me, and I am SO happy you enjoyed Whataburger and Lonestar! ;) Visual version of this interview will be out SOON!