---
A far cry from the modernized nation we know today, South Korea in the 1960s and 70s was recovering from the Korean War and focused on building a strong national identity. This involved the promotion of a "healthy" cultural palette and the suppression of music with foreign influences. However, not everyone abided by these principles.
Among those artists whose music broke the government's rules was the godfather of Korean rock: Shin Jung Hyun. This is the story of his rise and fall, and the lasting influence he's left in music.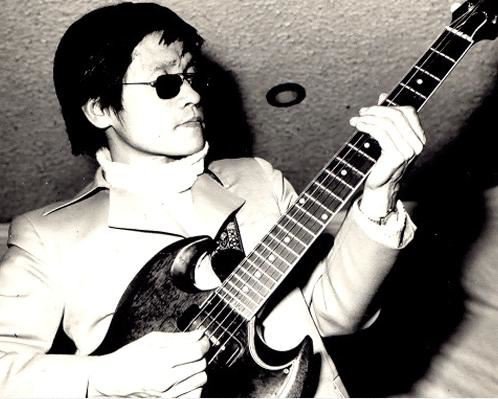 Shin Jung Hyun, Credit: Gwangju News
Shin was born in Seoul under the Japanese occupation of Korea. In 1953, the Korean War ended, and resources were scarce. He began working at a pharmaceutical factory as a teenager, hoping to save up enough to pursue what he believed was his destiny in music.
He first saved up to buy a violin from a local music store but found it too difficult and later traded it in for a guitar. Shin continued to work at the factory while attending school and teaching himself guitar, up until he was fed up with work.
"I hated working there so much that I just grabbed my guitar and ran away," Shin told the Korean Herald.
The end of the Korean War left many American military bases stationed throughout the country. These bases had clubs to entertain American soldiers, which gave Korean musicians a consistent place to perform. According to Shin, they were the birthplace of Korean rock.
At age 19, Shin successfully auditioned to play at a military club alongside other Korean musicians. He gave his first public performance at a US Army base in Seoul, playing standards and show tunes on a rhythm guitar.
During his performance, Shin recalls hearing shouts from American GIs asking for a guitar solo. Not knowing what to do, Shin approached his bandleader, who went to the club promoter. The promoter gave Shin records to practice for his solo, and he listened to them all night.
"The next day when I was supposed to perform my solo, I was so embarrassed and so nervous, I couldn't even look at the audience. I kept looking down at the floor. The contra bass player behind me started kicking me, telling me to look up, to look at the audience," said Shin in an interview. "Then I looked up and opened my eyes and saw that everyone was standing and clapping."
The solo was a hit, and Shin's wage went up by 50%. Promoters asked him to pick an American stage name, and he became "Jackie Shin." Soon after, Shin's popularity on the bases skyrocketed, and soldiers frequently requested him, shouting "We want Jackie! We want Jackie!"
Meanwhile, Shin was also developing a love for western music through the American Forces Korea Network, a US military broadcast for troops overseas.
"It had poor reception and terrible static, but I was just happy that I was able to listen to music," Shin told The Guardian. "I thought jazz was simply amazing. But, honestly, I enjoyed any music that was played on AFKN."
In the early 60s, Shin decided to form his own band inspired by the Beatles, Jimi Hendrix, and other foreign acts of the time. His band, Add4, was the first Korean rock band ever, and although they failed to find commercial success, they laid the groundwork for his future projects.
Several years later, Shin performed the Jefferson Airplane song "Somebody to Love" on a Korean television station with his new group, Club Date. The performance was a hit, and it led local singing duo Pearl Sisters to approach him for creative guidance. Shin produced an album for them, and their single "Nima" topped the Korean charts.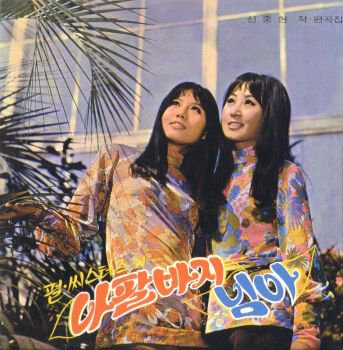 Pearl Sisters, Credit: Ponycanyon Korea
After his success with the Pearl Sisters, Shin gained a reputation as a producer who could churn out hits. He went on to work with musicians like Kim Jung Mi and Kim Chu Ja, turning them into Korean psych-pop stars. By the late 60s, Shin was Korea's top guitarist and producer, averaging sales of around half a million copies per album.
As Shin rose to fame, Korea's military dictator, Park Chung Hee, began to closely monitor his activities. Park's cultural policies focused on "national morality" and opposed music considered to be overly sentimental or having excessive foreign influence.
"Sitting in front of the radio or the TV, the dregs of filthy decadence penetrate into our homes. These strands of decadence are an imitation of the lethargic backstreets of foreign countries. Instead of sonorous choruses to lift our spirit and to encourage the advancing and building of tomorrow, songs unqualified as songs, shows unqualified as shows, decadent melodies of foreign popular songs, to which we shake our bodies yet which we cannot even pronounce well, corrupt our vision." - 1965 excerpt from major Korean newspaper, Kyunghyang Shinmun
One fateful morning in 1972, Shin received a phone call from a government official asking him to write a song in praise of Park Chung Hee. Shin politely declined, but he then received another call.
This call was directly from Park's political party, and the caller demanded he write the song. Again, Shin, who had little interest in politics and a strong distaste for the military dictatorship, refused.
In protest, Shin chose to instead write "Beautiful Rivers and Mountains," an eight-minute ode to the natural beauty of Korea.
After his refusal and protest song, the Korean government labeled Shin as unpatriotic. According to Shin, this led to targeted police harassment and his eventual imprisonment for drug possession.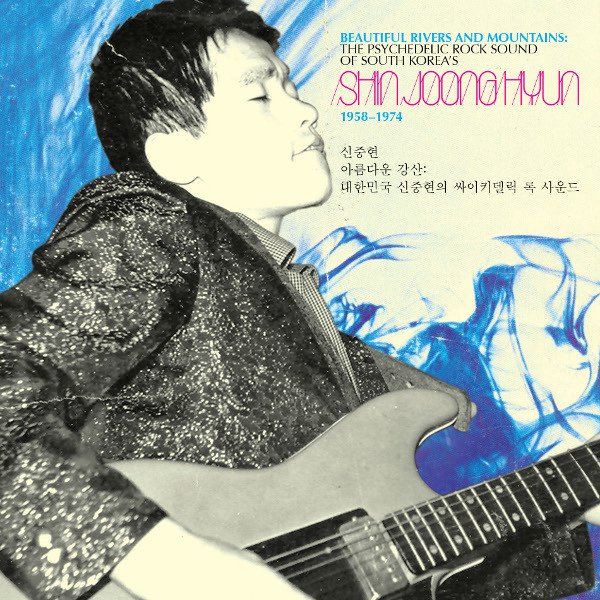 Beautiful Rivers and Mountains has been re-released on Light in the Attic Records. Credit: Light in the Attic
Years earlier, Shin had taken a break from music to learn what was going on in the West. He invited over many American hippies who were in Korea protesting the country's involvement in the Vietnam War.
"I became friends with them, and they taught me what psychedelic music really was," said Shin. "They also gave me LSD."
Shin experimented with marijuana and LSD but quit after a year because it interfered with his work. The hippies eventually went back to the US, leaving a large amount of marijuana at Shin's house.
In 1975, several Korean musicians went to Shin because they were interested in experimenting with drugs. Although Shin was no longer a heavy user, he still had a marijuana plant in his house. He gave them the plant, and not long after, word got back to authorities of Shin's drug possession and he was arrested along with many other musicians.
During his four-month prison sentence, Shin was tortured and committed to a psychiatric hospital. Journalists took pictures of him in prison and touted him as a deranged drug addict. After his release from prison, Shin found the government had banned his music from public performance and radio. For years he was exiled from the music industry, completely blacklisted with no audience.
However, the year 1979 brought an end to Shin's exile when Park Chung Hee was assassinated. Three months after the assassination, the Korean government rescinded its ban on Shin's music.
"God took Park and opted to save me," said Shin.
Clubs gradually began offering Shin gigs again, but by the turn of the decade, psych-rock was out, and disco was in. South Koreans had a taste for pop music and love songs, no longer interested in Shin's distorted, experimental sound.
"It was all… 'Let's be happy' kind of stuff. It was completely physical, with no spirit, no mentality, no humanity," said Shin. "That trend has carried over all the way to today."
Shin's music shrank to relative obscurity in the 1980s. Shin himself opted to stop putting out records, but continued with his passion for music, instead managing music clubs.
In the 1990s, South Korea had a rock music boom, and Shin's records were rediscovered. He is now heralded as the godfather of Korean rock, having paved the way for generations of musicians to come.
In 2009, Shin became the first Asian musician to receive a Fender Custom Tribute guitar, and in May of 2017, he received an honorary Doctor of Music degree from Berklee College of Music.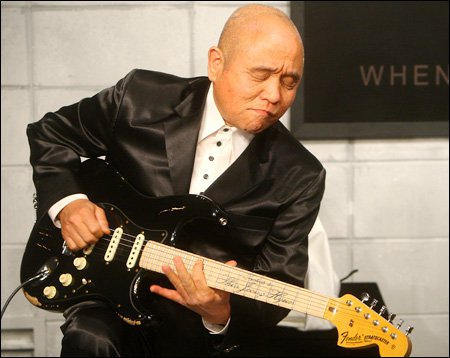 Shin Jung Hyun with his custom guitar. Credit: Korea Times
"American music is what started my music. I love it and I know it well," he told the Korean Herald in 2012. "I am so thankful to all those fans who understand and accepted my music."
---