Interviewing DEETRANADA: Astrology, Rituals, and more
Welcome to NADAWORLD. Today you've entered the universe of DEETRANADA, and for that you should feel blessed - elevated, even. This young rapper from Baltimore, MD, has been making waves these last couple of years with her hard-hitting bars and beat that makes you wanna rage. The first song I heard from DEETRANDA was HIGHS AND lows! from her 2019 project DEEvsEVERYBODY!
She caught my attention as well when she dropped visuals for the DON DADA freestyle on Twitter. Sooooo good, bro. Played her on the radio, and eventually was blessed with a SXSW Press pass that allowed me to interview her :D She's so nice y'all. Amazing performer, like literally took a hold of the stage and made the crowd feel her energy. Her fit was fire too, let's give her credit. That shiny orange looked GOOD.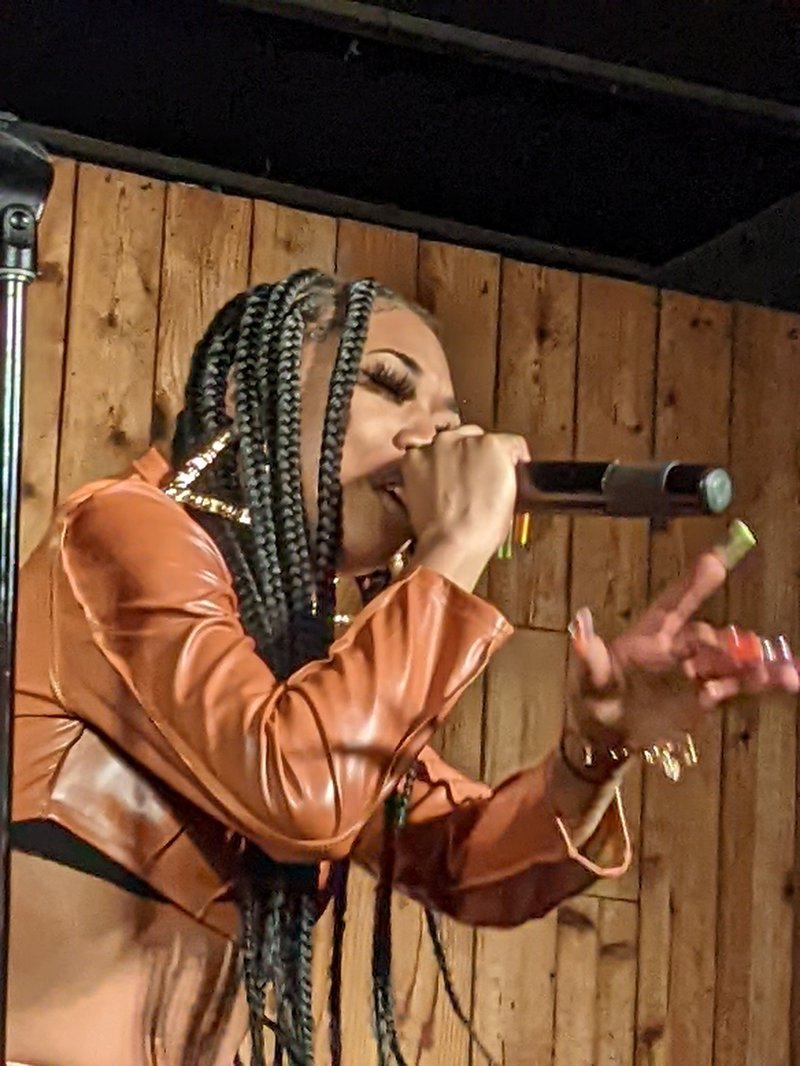 Interview
My name is DEETRANADA, I'm 20 years old, and I'm from Baltimore.

Is this your first time in Austin?
Yes, This is my first time ever. Everybody's so nice. Everybody's really nice compared to back home. Everybody's smiling, and oh, my gosh, like love and hugs and tacos and barbecue. I've been to a lot of places, but this is probably the farthest I've been down south.

Dream location:
I want to go to South Africa. Nigeria.

Dream Collab:
I would love to collab with Nicki Minaj, Brent Faiyaz, and Rico Nasty.

Love performing:
I love GET PAID. I love I'M THAT. BREAD TALK was cool. I wish they played YUH YUH!, which y'all heard at the end because that's really my favorite song that I love to moshpit to.

Fun Music Video To Make:
Honestly, the most fun music video that I made was my BEEP BEEP! visuals on YouTube. It's like a crazy video. You'll hear the song with your eyes closed and won't think that the video will go to it. So the video is just a really fun experience to watch.

Do you do anything to prepare before performing?
So I smoke marijuana, I meditate, and I just pray. I look up at the moon because usually my performance is at night. I say "I see the moon, the moon see me. Wherever the moon is, God bless the moon, God bless me. The world is yours." And I just. Yeah, I do my shit.

Astrology:
I'm a Canceeeeerrrr. I think my Moon is a Cancer, again. And my Rising… I believe - don't quote me. I believe it's, uh. Oh, my God. I forgot. I can't remember whether it was Taurus, or Sagittarius.

People helpful to your journey:
It's the man standing behind me. He doesn't like being on camera or nothing like that. But yeah, my manager is really helpful. The love of my life is really helpful. He keeps my head in the game and make sure that I stay on my shit. And, my mother, you know, cause that's who I got all this beautiful essence from. And she always supported me before everybody else. And she definitely keeps me going.

How do you stay grounded?
I definitely just make sure that I keep a mentality that I'm just going to conquer the world, not even on no narcissistic shit. Just like, own the room that you step in. Every room that you step in, demand attention. Not even on some "Hey, everybody, look at me". Just the essence.

Manifestation Rituals:
My favorite stone to hold with me is Citrine. I like citrine. I like having clear quartz to amplify that and black onyx. So I make sure that I stay true to myself. I recommend you lapis lazuli. I don't know. Something's just telling me lapis lazuli. Its blue, its pretty. It protects you from negative energy as well. My favorite color is blue too, so we definitely best friends for that.

How to cleanse:
I love Florida water. I love how it smells. I put that in everything. Like I put that in my bath, I wash my clothes with Florida water, I spray myself with Florida water. I wash my house with it. That citrusy smell just calms me down.

Day or Night?
I love the nighttime. Oooh, look at the moon. That moon is huge. I'm definitely a night person because shit like that. The moon is beautiful. It's just looking at me. Oh, yeah.

What is something your fans should be looking forward to?
Yes, to my fans: Look forward to new music. Yes, new music. Even after my album that just dropped, we're not stopping. New music videos and just prepare to hear my name everywhere. Thank you. Thank you for the support, forreal. You're so nice and kind. Your energy is really appreciated.

What would you consider a perfect night?
I would consider this a perfect night because everybody's so nice. I had an amazing performance. The night isn't even over. The night is still young. I'm going to try to catch a couple of my favorite performances, get some good food, *whispers* smoke a bluuunt. I'm going to try to catch Babyface Ray. Yeah, I love Babyface very much. Try to catch him and I'll try to catch Rolling Stone.

Any final words?
NADAWORLD out now. And just remember, the world is yours. Love you all. Bye.
---
Thank you Dee, for letting me interview you!
READERS - SHE IS COMING BACK FOR SXSW 2023.
I recommend y'all check her out once she's in Austin!


See you there! <3