Whoever said less is more obviously hasn't heard Ariel & The Culture. Born from the musically rich Denton, Texas, the eight-piece neo-R&B ensemble is composed of University of North Texas students. Singing guitarist and frontman Jason Bowadea (Ariel), conducts "The Culture." With only one year as a band under their belts, the cool cat collective blends together jazz and funk accents with smooth lyrics and dynamic vocals. We sat down with Ariel & the Culture before their Local Live set to talk about what it's like living in a musically minded city, their creative process and hopes for the future.
The band decorated our studio with hundreds of string lights. Photo by Erin Eubanks.

RUBE: We're sitting here with Ariel & the Culture from Denton, Texas. We're about to hear the Local Live set tonight. Um, or we just did it. Go ahead and tell me about yourselves. Each. Everyone say your name and what you play, uh, in whatever order you'd like to.
Jason Bowadea: I'm Jason, Bowadea from Garland, Texas. I play vocals and guitar.
Nat Marie: Yo, what's up? I'm Nat Marie and I sing also.
Brandon Conley: Hey, my name's Brandon Conley and I play trumpet.
Eric Stein: I'm Eric Stein and play the saxophone.
Sam Macareg: I'm Sam Macareg played trombone.
Nick Woodhouse: I'm Nick Woodhouse I play bass.
Blake Lindstrom: I'm Blake Lindstrom. I play drums.
Kyle Hasson: And I'm Kyle Hasson. I play keys and backup vocals.
Facebook has a list of members that don't match up with the bio that's on Spotify and it also says that you formed in 2017 when there's stuff on Soundcloud that dates earlier. So what I'm asking you, who are y'all? How did y'all meet and when did y'all started making music as Ariel and the Culture?
Jason (vox/guitar): So that's a great question. Who am I on the this earth? Many of us are students at the University of North Texas, or are past students at the University of North Texas in Denton. I did a lot of acoustic music, like Ed Sheeran, depressing music for a long time and I was like, maybe it's time to move on from this, chief. And so (one day) I got asked to play something like, "yeah, do you have a band?" (I was) like, "yeah," (but had) no band.
And so I texted this guy, Blake, that I didn't even know. And in three weeks we performed our first awful show. The video is somewhere on Youtube, I'm not going to tell you where, but it's there. And yeah, it was, supposed to be a one time thing and it just kept getting bigger and bigger and bigger. I started sort of like an alias, like I'd write this stuff and just have people play it. But now it's been like, it's grown to like everyone puts in, puts in their two cents and stuff. So yeah, some of these guys have been here for almost a year now. Some of them have been here for two months.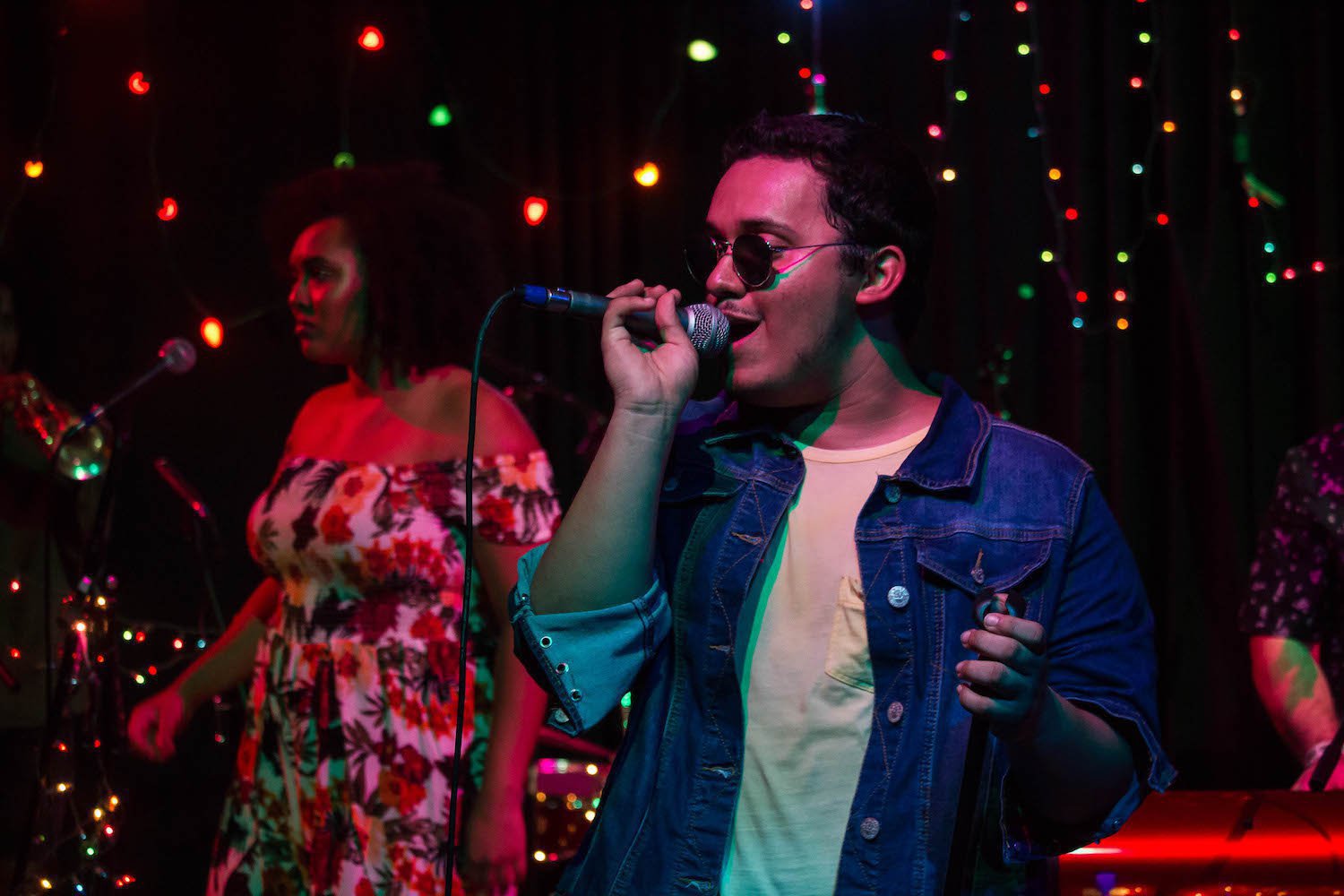 Jason and Nat, the band's main vocalists. Photo by Erin Eubanks.
Who is the newest and who was the oldest to newest members?
(The newest), Mr. Sam Macareg.
And the oldest besides you?
These two, (gestures to Blake and Nat). My children.
Nat (vox): Blake was first, but then I came shortly after so I was still there for the first show.
You guys are all students or were students at UNT. Denton has such a great music scene, it's one the best music schools in the country. How does living there and being students at that university affect your music?
Brandon (trumpet): I think you didn't really, you don't really realize how much of a music scene it is until you just, you go and you experience the house parties and the bars with all kinds of live music.
I was actually kind of not really expecting it to be as great as it was and I actually learned a lot about like just being a musician. Not necessarily the music side of things, just how to carry myself when I'm going to gigs and stuff. That's a lot of stuff you learned at at UNT. I think aside from music, [...] your professors are dope, but some of the things you learn aren't just music. And so I think that's really important.
Absolutely. That's awesome.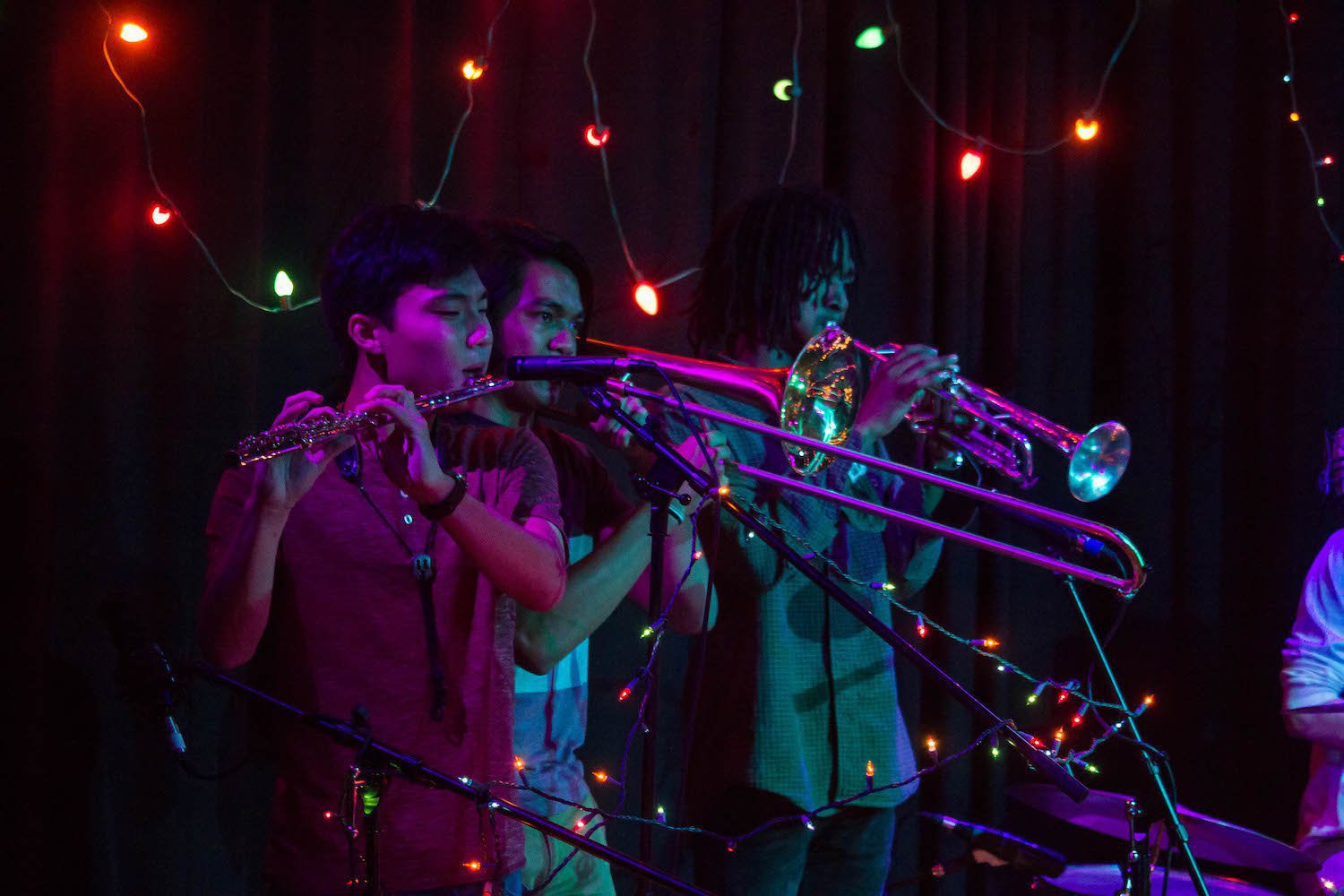 Brandon, Eric and Sam acting as backing vocals during their cover of Jorja Smith's "On My Mind." Photo by Erin Eubanks.
Kyle Hasson (keys/vox): I also kind of have an interesting thing about UNT. Right now I'm living with four other jazz guys in my house. It's appropriately appropriately named The Jazz House. We have a whole assortment of instruments there so we have jams there and everything. That's kind of the scene there: you go to school, you go to class, but then later you go and jam. I also like to call my house the House of Knowledge because there's a lot of people there that just know a lot that you just don't. So I mean it's vice versa, you know stuff they don't and it's just a collection.
I live with another keyboard player so we'll have what we like to call court talk. It's just this little niche time where you go and you sit at a piano together and you talk about different stuff that you've been picking up on. We're like, "hey, check out this one thing" and you're like, "oh, I never thought of that." It's really nice because you learn a lot from that and it's nice knowing that there's another guy in the same house as you that's just in the same boat. I think a common misconception about UNT is that everyone there is a monster, you know?
What do you mean by monsters?
So like you think, The University of North Texas, this jazz school and the music school are absolutely astounding, which they are and they have astounding faculty and everyone there is great. But when you're a freshman going into it, you think, every player here is going to be absolutely insane. It's not like that. You get there and you realize there are people in the same degree as you and don't know how they got in.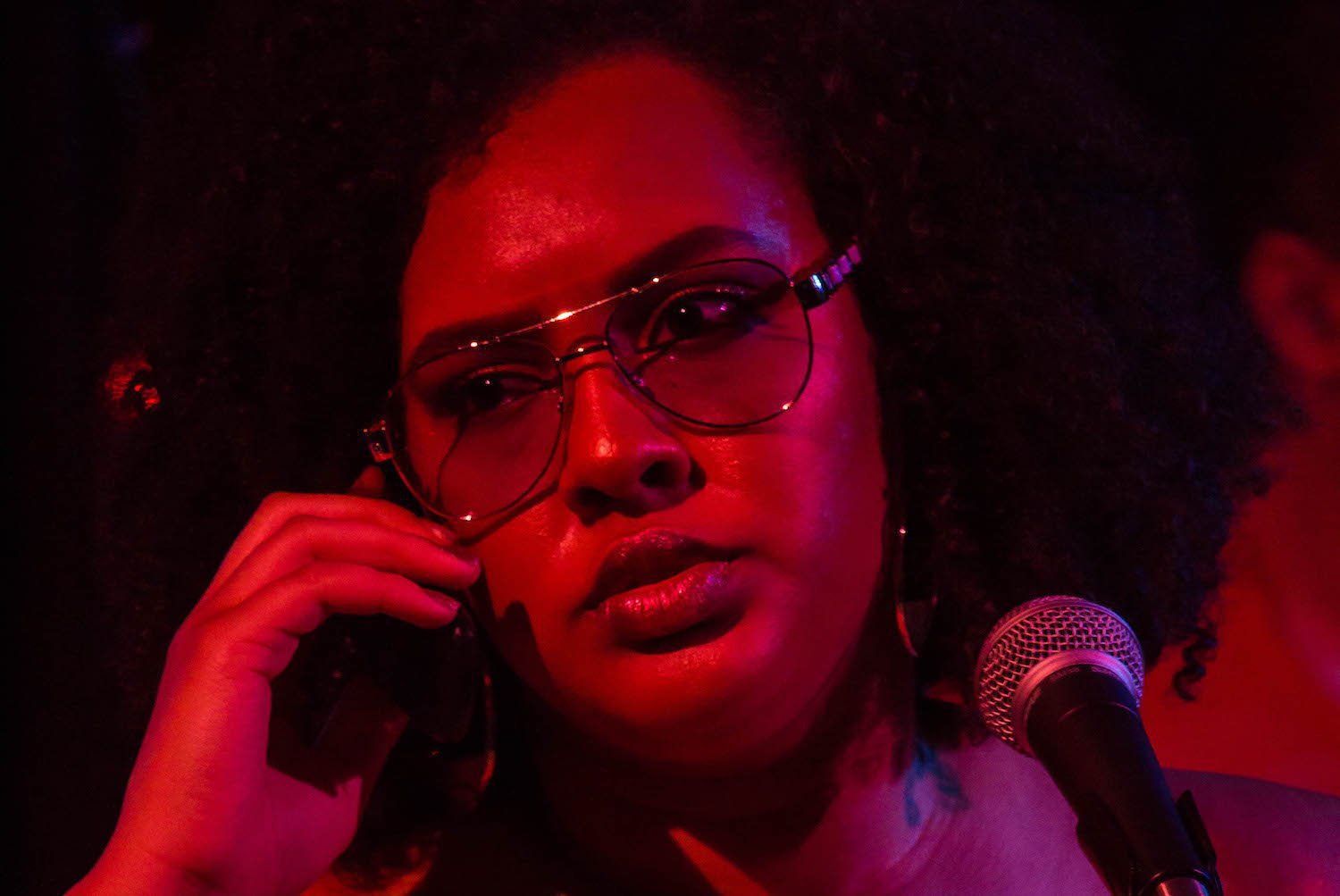 Nat's cool glasses. Photo by Erin Eubanks.
What would you say inspires your sound and where it comes from? What's the creative process? Do you write all the songs or do you guys all collaborate?
Jason (vox/guitar): I write probably 85 percent of my songs in the car, like right when I'm about to go into my house and I sit there for three hours. That how I wrote walk out. I usually just get a rough idea, write out the lyrics, like it hits me once and I don't write a song for a month. It's usually just how it goes. It's kind of depressing. It's not a wild moment. But when they hit, they hit.
I bring an idea to (the band) and they're like, "no, I hate that, let's do this." One of our songs will be doing tonight is called to "Go Off" and we started it as a hip hop beat. Then Mr. Blake, the drummer, is like "I do not want to play that." I'm like "play it!" and he's like, "nah, let's put it this way," and I'm like, "that's stupid."
Kyle Hasson (keys/vox): That was one of the first days that I was part of the group. That was the newest song that you had just made and Blake and I were saying, why don't we just kind of do this as a samba?
Jason: The beat was like a Tyler, the Creator beat. I was like, "that's not going to work." But then "I'm like, God, he goes hard." It worked.
Brandon (trumpet): I think what Jason is trying to build here as far as the culture is like we got a lot of really great musicians in here and so when he brings something to us, it's not necessarily him saying here, this is what you play this more of like a sketch. He allows us to kind of inner weave our ideas in between, and then if the drummer is going to do something, horns pickup on. It's more like everybody's making the music instead of just one person. So I think that's really cool about our group.
Nat (vox): Yeah. One of the things that did also happen with that song "Go Off" is I think is two days before practice he sent me the beat and was like, "hey, come up with a verse." I was like, "okay!" You just bring it to practice and we all work on it together
Jason: I think the funniest thing is that Natalie and I aren't even school music kids. I never auditioned the school of music. I was too scared. Who knows now. When these guys talk I'm the worst musician in this group.
(everyone awws)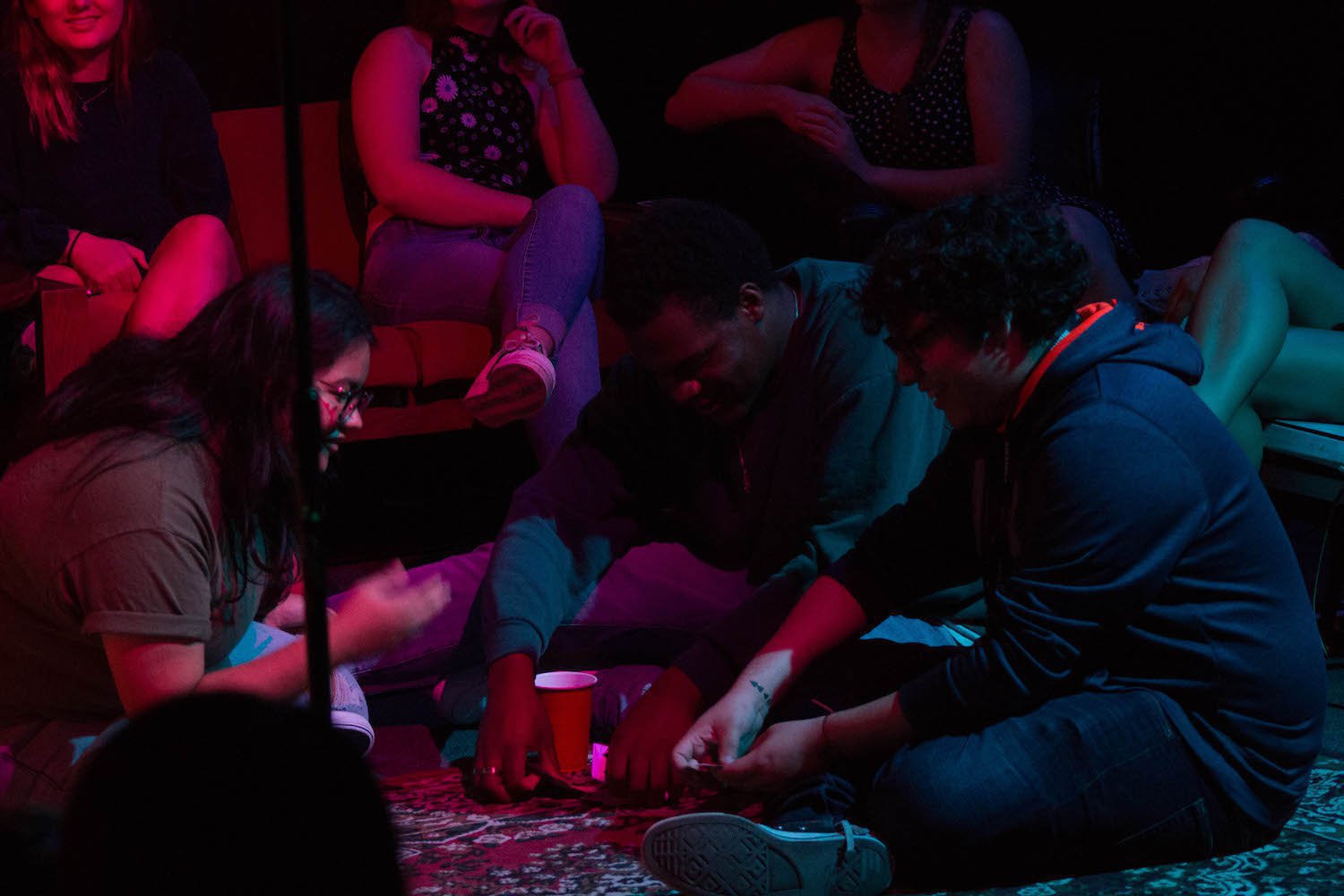 The in-studio audience hanging around. Photo by Craig Casler.
It's okay because I got the best bars. It's all right. Just dumb blind luck and confidence knowing that. I can't play like these guys, but they'll take my ideas to the next level. It's just like you ain't got to be the best musician. You got to surround yourself with the best musicians.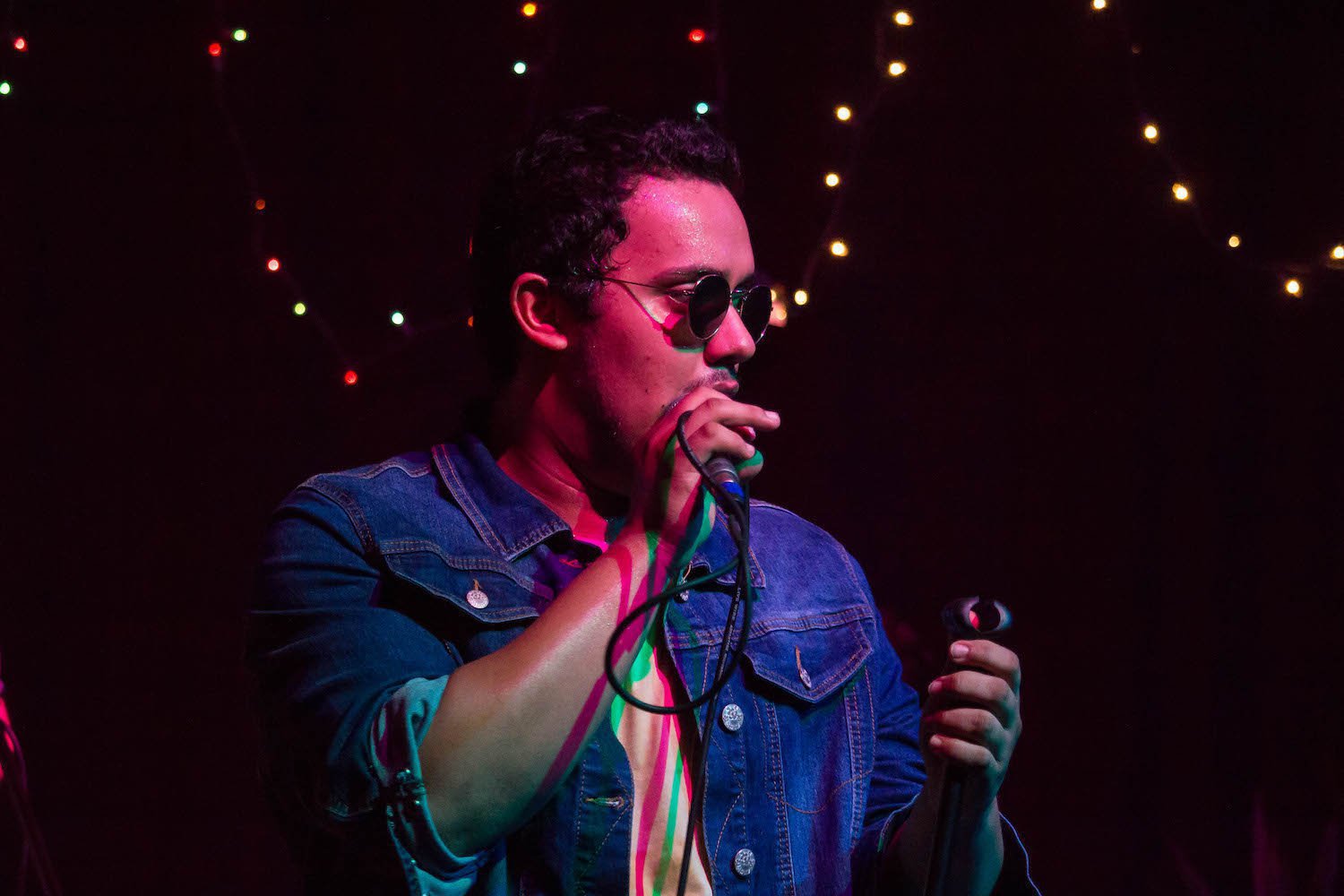 Jason on the mic. Photo by Erin Eubanks.
So you guys were talking about this sone "Go Off," I don't think saw that recorded anywhere.
Yeah, It's not recorded.
I read that you guys are having a project hopes to be released, will that be on it? What can you tell me about the project?
When I first started writing, when I first started writing music for this group, one of the first songs was called "Downtown," and it's about the 1985 Mexico City earthquakes, which my parents went through. They told me that there very vividly what happened, and I was like, "wow, that's deep." So I started writing a for a complete project about that and all the songs we have now work in that sense, but I decided to scrap (the theme) and now we're just working on it.
We literally just dropped the studio version of. this new song called "Walkout". We dropped it like three days ago on SoundCloud and we're just gonna work on getting that everywhere else. That's the first thing. Hopefully by the end of the year, everything will be recorded because "Go Off" is gonna be a monster to record. But yeah, that's what we're working on. Something.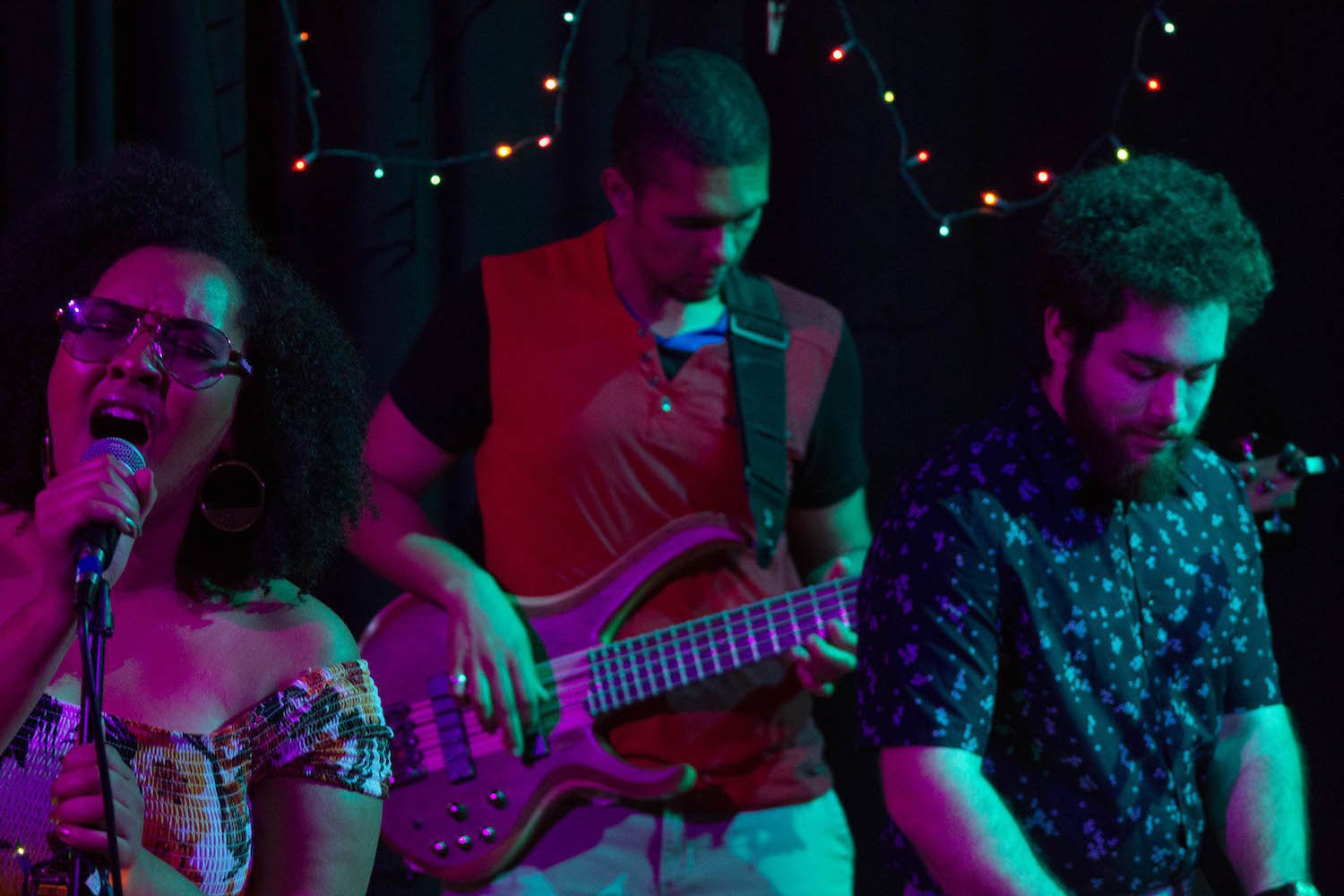 Kyle, Nick, and Nat. Photo by Craig Casler.
So just to be clear, it's not going to have the earthquake theme anymore?
Naw. If you took all the songs and applied them in that it still works. All of the songs have a double meaning. I don't even think these guys know, all the double meaning for each song. They all have a double meaning. But hopefully one day somebody will hear it the other side.
You guys are on tour right now, once you get back, what's next for the band besides this album you think?
I think just getting bigger and better dates. Like I said, the band isn't even a year old yet and it started like in my dorm room at UNT and now we're in Austin. So in the grand scheme of things, it's moving rather quickly, so who knows where we will be from a year from now. There's this music festiva at the end of next summer in Los Angeles that I've been talking with someone about, but we're gonna we're gonna see. Just bigger and better dates, better gigs.
Blake and Nat performing. Photo by Erin Eubanks.
Well Ariel & the Culture, thank you for talking to us and we look forward to seeing you grow.
We look forward to seeing you grow. Thank you.