We're sitting here with Moving Panoramas, Austin's favorite dream rock act. I'm here with their two front women. Go ahead and introduce yourself and tell everyone what you play.
Leslie: Well, hello, my name is Leslie Sission and I play guitar and sing and I'm sitting next to the lovely Cara Tillman. Cara, what do you do?
Cara: Hi. I play auxiliary keys and Percussion and guitar and I sing background.
Thank you for coming and taking the time to play for us.
Both: Thanks for having us. Jinx!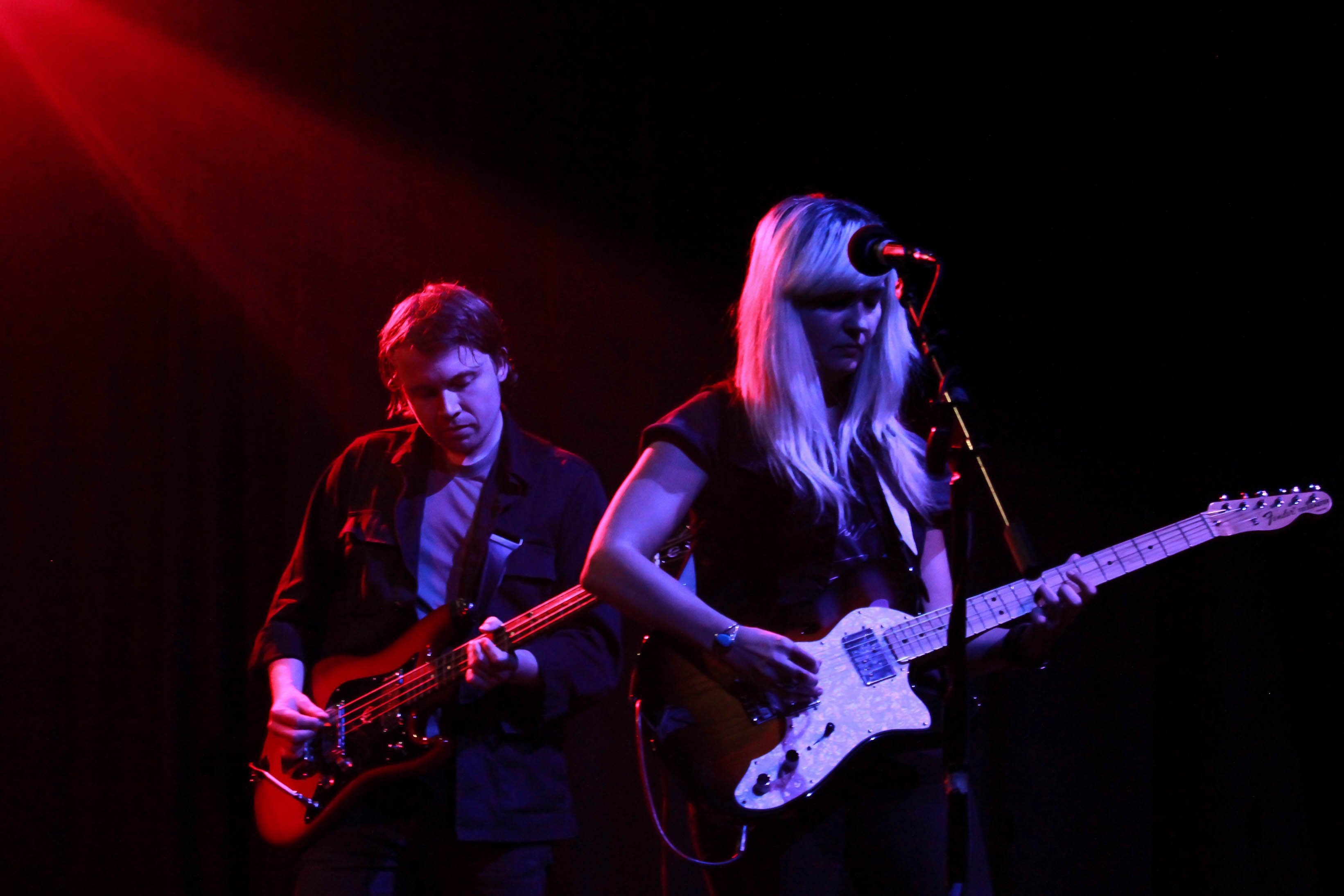 Jordan and Leslie in pure concentration.

Photos by
Erin Eubanks
.
So the band has started off all female trio, it has since changed in roster. Who composes the current lineup and how did the current one come to be?
Well, I'll say this, this is the fact that nobody knows. I mean, nobody's really asked us about it because we were always just three chicks and people just ask this about that. But the band actually originally started as a guy and two girls in New York City. I was living there at the time and Rosie, the ex-bass player. She came out there and we were actually working with a drummer out there that worked on my solo record back in the day and we were going to start the band in New York with him. But then he had this crazy job, long story long, he couldn't be there for the recording. So we ended up coming to Austin and Karen, the ex-drummer, swooped in and it'd be all of a sudden we were a girl band. But now we're not again, but I'll let Cara talk about it because she's been part of this.
Cara: Well, what I remember is at the end of 2016 we were having dinner and you were talking about going on a tour and we were booked. There was a tour with a Matt Pond PA and the ladies, Karen and Julie, had other projects going on and weren't available for the tour. So at first Leslie was like, "Do you want to just go and do a thing?" And I was like, yeah! I even thought, we hadn't played together before or anything like that. Then, I don't know what the story is, but then she found two other guys and so we rounded out, we rented it out and we had a four piece and yeah, just really gelled really quickly. So yeah.
Leslie: Yeah. Jodie broke the seal Jodie, is the drummer now, and he and I played in a band called The Wind Birds together and we toured all over Europe and the United States together years ago. He really, really, really wanted to be in our band. He even offered to shave his beard and wear a dress and a wig. I was like, all right, all right. You know what? Screw it. Come on in Jodie. And then of course Jordan, you know. Then the rest is history. I guess.

Leslie and Cara shhhreddden.
Around what year was that?
Leslie: 2016. End of the year. Winter tour.
Now we know, we've got little scoop that's a Local Live exclusive. Given that it's been a couple of years since your last recording, would you say that the band sounds has evolved at all? What has influenced the change, if at all?
It's definitely evolved with more instrumentation. You know, originally we were just a three piece. The first record I played keyboards on it to help fill things out, but it was very subtle. And now, definitely having Carrie here, we're filling out that a lot more. We also have added a pedal steel. Unfortunately he couldn't be here tonight for this, as you can see, we're four piece tonight.
But that happened because I actually have another band that's a country band called The Rated X's and some of the people in this band are also in that band including pedal steel player. So, it just happened as an accident. We were supposed to play, a country show and then suddenly at the last minute one of the guys couldn't do it. So Moving Panoramas played it and we just played our songs country. Having that pedal steel in there, it was like Mazzy Star on country drugs, so we just added it and it just became part of the band and anyway. It was an accident but it's expanded and I just want it to keep growing one of these days I'd like to be like Broken Social Scene with a lot of people, you know? So the more the merrier. Anybody wants to come on down? Just jump up on stage with us.
So next time we talk, we'll be talking with 12 people.
Maybe, I hope so!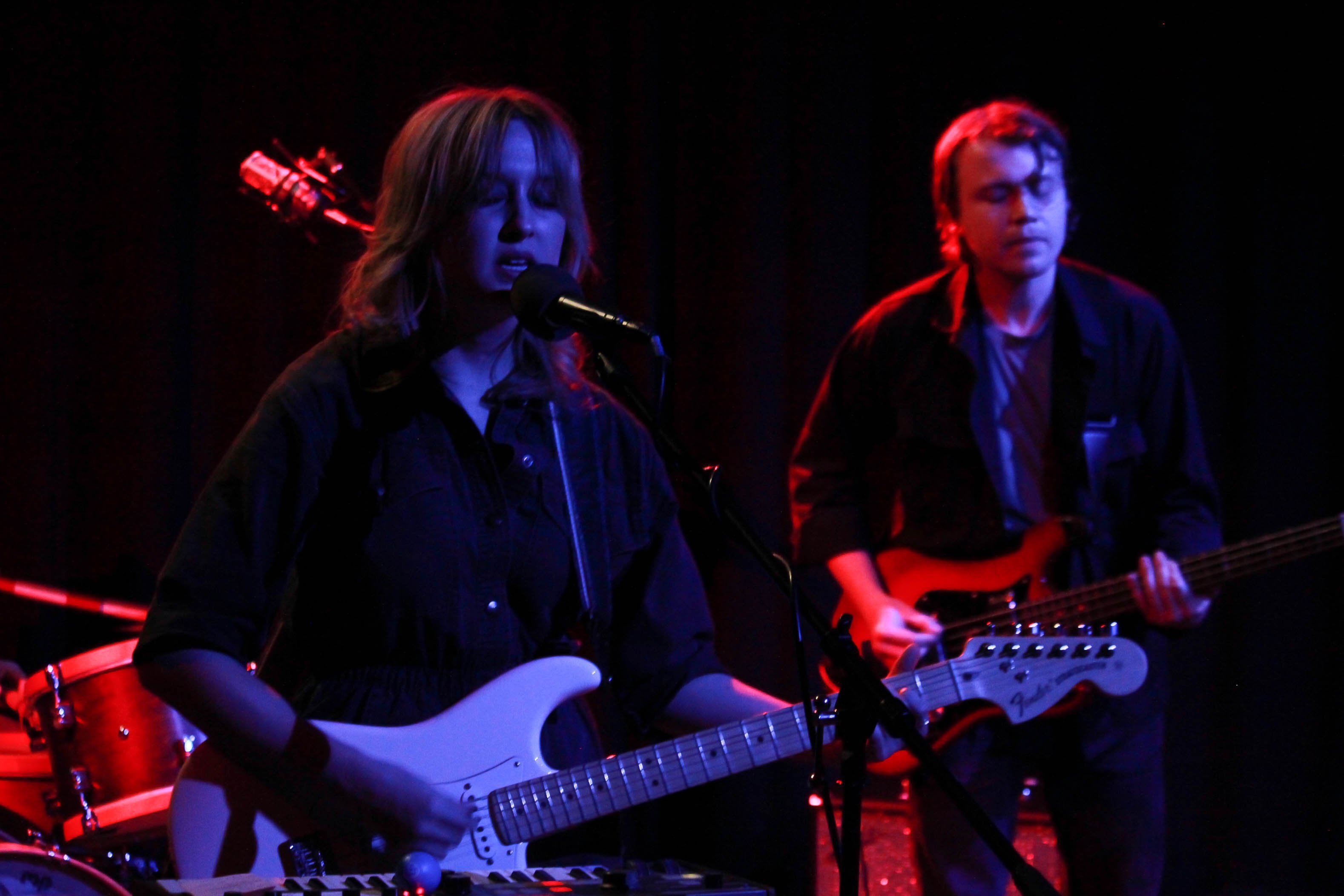 Cara and Jordan.
You're, sophomore album that's about to come out, In Two, is set to be released February of next year. What can you tell me about the record? You said before that One draws from pivotal and traumatic life experiences, is In Two any different?
Cara: Well, It's pretty much a sequel to One, which is why it's called In Two. One has one title songs. A lot of that record is about being alone. In In Two, all the titles of the songs are two words and it's about breaking that 'one' in two, and expanding. Just like we were just talking about how this band is expanded. The sound has expanded. My heart has expanded.
It's even about a little bit of heartbreak, when you break your heart in two. It's about division and instead of dividing and disintegrating, it's about dividing and multiplying. So I think that when you hear this new record, when it comes out, you'll see what I'm talking about because everything is a lot bigger, brighter. More singing, more harmonies, or instrumentation... pedal steel.
And, the contents a little bit more diverse. I still touch on a lot of the traumatic things that happened. I wasn't done talking about it, but I'm also talking about a lot of things that are fun and happy. I could sit here and detect every song that's on. There is some heavy stuff, but it's also some really light stuff too, so I'm hoping that the next record will be the rule of threes. Just keep expanding. So anyway, something like that.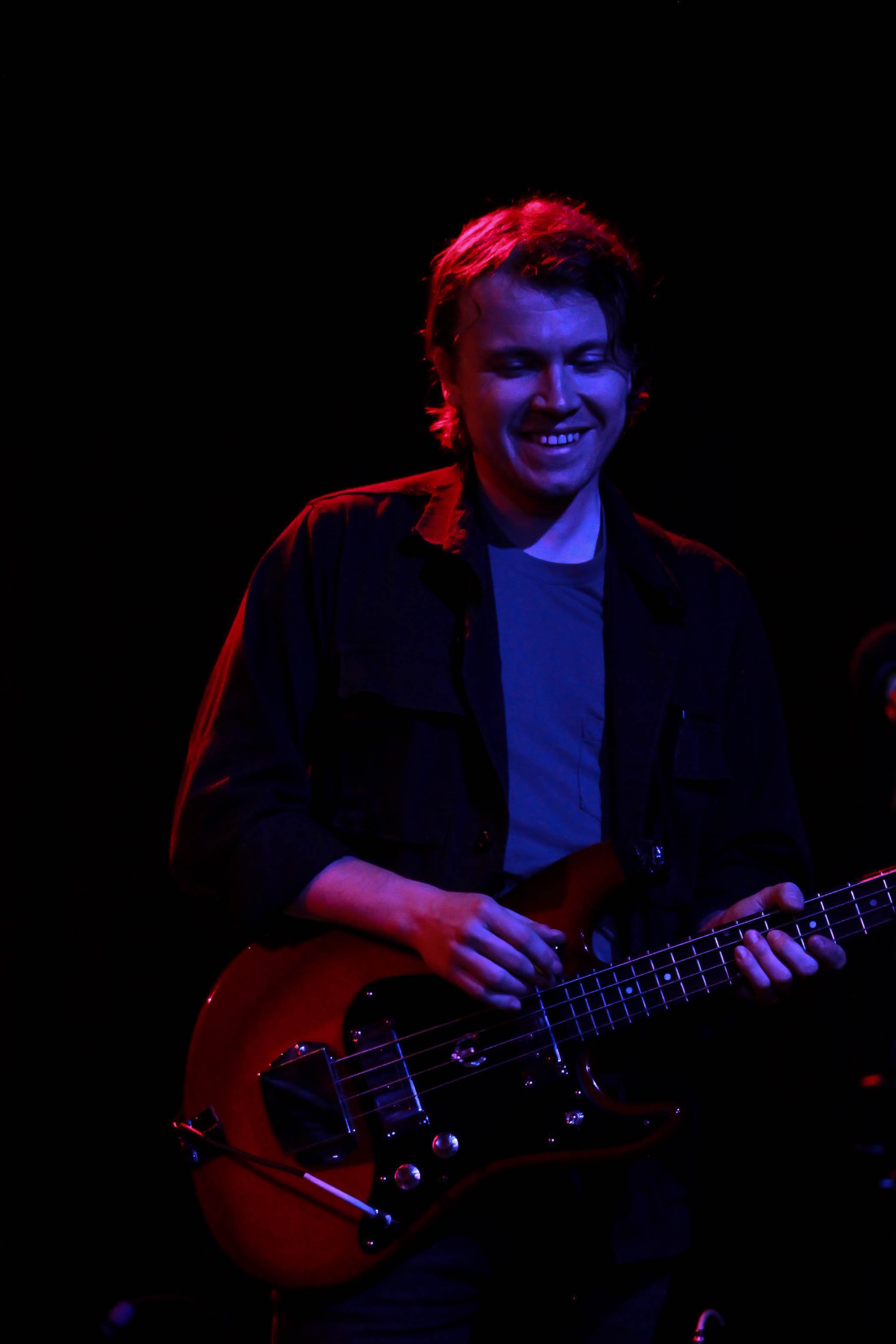 Jordan and his bass.
I'm really excited for that. After your release the album, what's next? Did you guys plan to stay in Austin and the big toe in the works or is it going to be on to the next project?
Cara: I don't have any plans to move. We love Austin, but we do got to get out on the road at some point, probably after the release, maybe after South By. That's the loose plan, but...
Leslie: Yeah, that's the plan. She nailed it. We're working on it. We don't have a tour booked yet, but its in the works. We're saving it til after South By Southwest and it's going to be kind of like our first tour because essentially when you play South By you're touring Austin, so we don't want it to be too soon after. It'll be great. So you'll see a lot of us.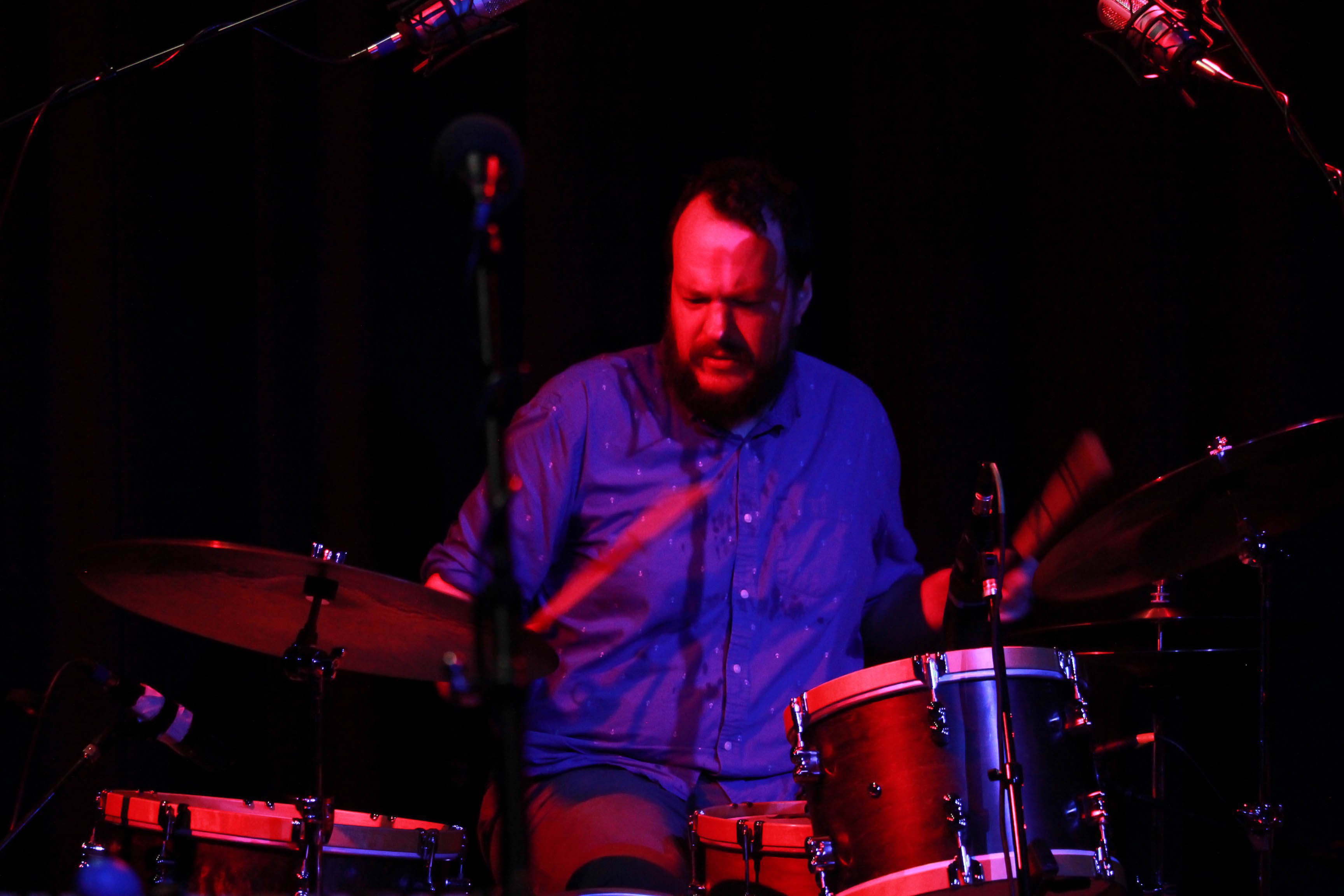 Just DRUMMING.
So word on the street is that you started your education career at UNT in Denton. We've seen a lot of bands come from the Denton house show scene. Since you've been in both, what's your take on the Denton's music scene versus the Austin music scene?
Cara: So that's a good question. Living in Denton changed the whole trajectory of my musical vision. I learned everything I wanted to know about where I want it to be musically from that town.
There was a crew of us, this kind of a group that we all hung out the porch right off Fry Street. We would just exchange music and mix tapes. And my friend Jeff lived in that house and gave me mixed tapes like every week and it was like, Stereolab, American Analog Set and Bedhead. Actually I discovered Bedhead when I was in high school, and that band changed my life.
But because of Dallas bands and Denton bands, I became a songwriter. I tried writing songs before that, but it was at that point where I realized that texture in sounds made a huge difference.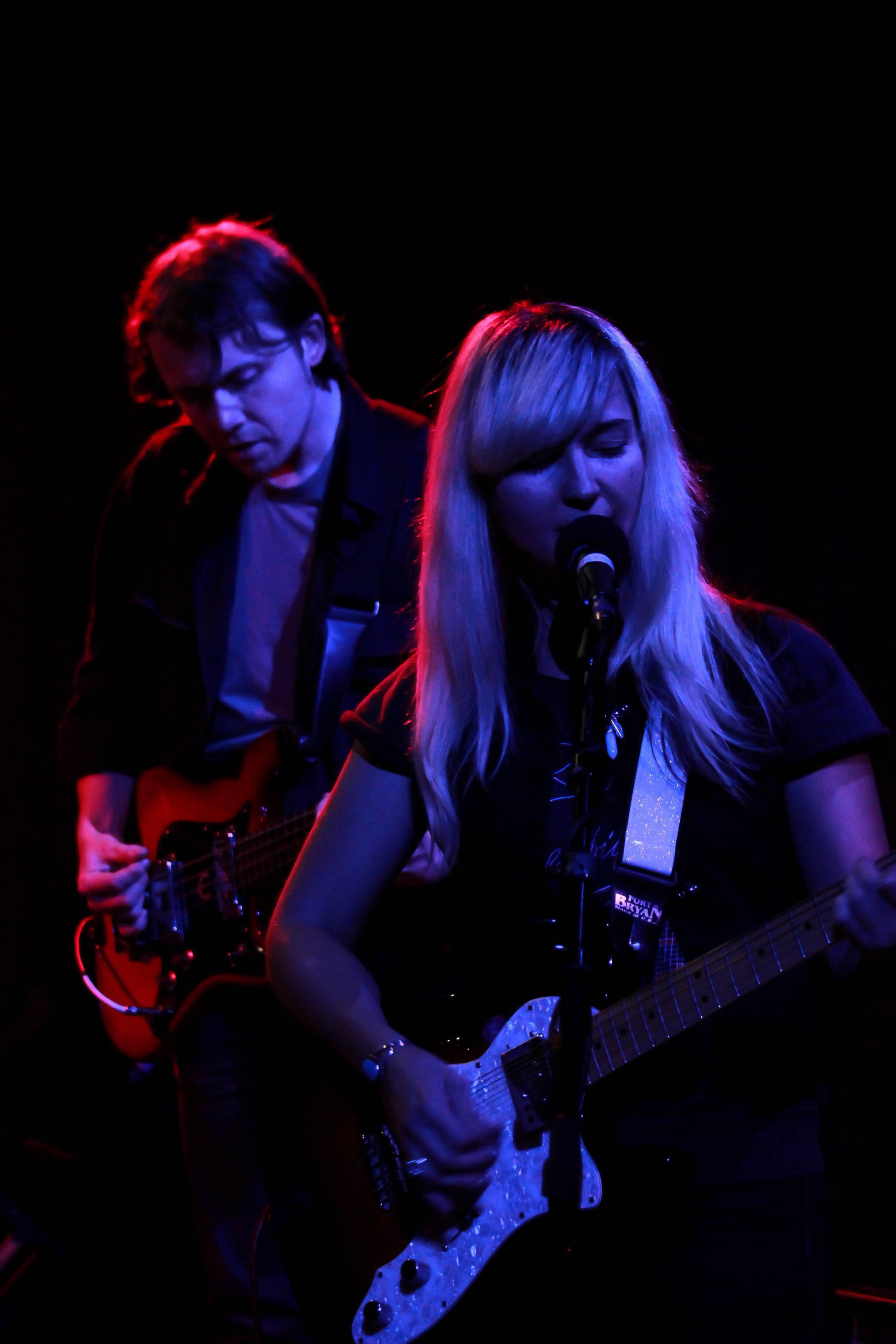 Like, just check out the concentration
.
Leslie: So I went to North Texas to study music and I originally wanted to do composition for film. Then I started taking film classes and decided I just want to make films and make music for those of my own. When I came to Austin, it was a totally different world. I came here to study film, but obviously American Analog Set was from here and I dated the drummer of that band for a long time when I was in my early twenties. He worked at Waterloo records.
So it was kinda like Denton just expanded when I moved down here. I wish there was express train that went between Austin and Denton at that time. I mean, things have changed and grown in both places. There's condos all over the place in Denton now too, which is crazy. But I attribute every nfluence that I have and all these songs that we're going to play after this to my Denton experience. And so that's my little Fry Street/Normal Street experience in Denton. Those bands shaped the future of my songwriting and seriously shaped Moving Panoramas. So it was awesome. Yeah, I'm glad that you dug that fact up.
Awesome, Thank y'all so much. We look forward to seeing y'all grow.
Thank you. Thanks again for having us. We had a great time.
---
Local Live is every Sunday at 10pm on KVRX and TSTV. Keep up with us on Facebook and Instagram.
---