Classic College Radio is a look back on KVRX's expansive music library and its the decades' worth of DJ-reviewed albums. The library is home to scathing reviews of records that went on to be absolute classics, whereas other times an artist's work does not age so well. How exactly do the perspectives and contexts surrounding albums change over time? Well, our DJs are on it.
---
2018 Rereview of Oh Me Oh My:
To begin this review, I want to allude to this one video of Devendra Banhart that I learned about from a quirky ex-girlfriend who saw this on a plane from Mexico City. In the video, Banhart gives tour of his eccentric Echo Park home, all while sounding like a Whole Foods-type.
In one peculiar, colorful and the more kaleidoscopically varied scene in the video, Devendra lies ass down, face up on the floor of his scintillating restroom, its walls tattooed with squiggles and wooshes to give it a playful vibe. He talks of drunkenly staring at this wall at 6:00am while indulging in the dysphoria of waking up. While he lays, he imagines patterns and images, while identifying shapes like "an eye or a vegetable fence."
I think this speaks numbers on the sound and man behind this music.
There's a lot to unpack in whimsical singer songwriter Devendra Banhart's debut Oh Me Oh My. The soft, fragile embouchure of his is like the shakiness of an uphill rollercoaster, which compliments his acoustic, almost baroque-ish, sound. I think his playfulness and colors really blossom in the toybox-like feel of track 6 "Cosmos and Demos," as well as in the discourse between Devendra and a bee about becoming cityfolk in track 16, "The Thumbs Touch Too Much."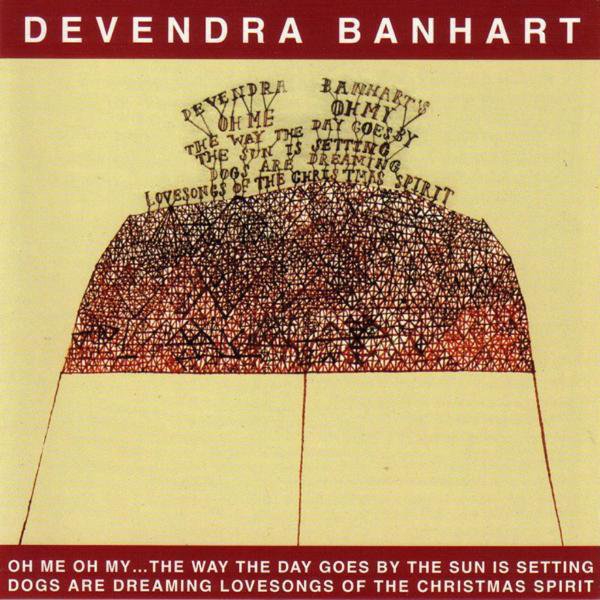 I think the previous reviewer was absolutely spot on about how Devendra can blend this kiddie and endearing playfulness with serious topics à la Daniel Johnston or Calvin Johnson. I think this became a consistent theme in his later albums, and a recurring archetype in his songwriting. In Devendra's critically acclaimed 2013 record Mala, there is a song named "Daniel" which conjures up the sound and lyrical rhythm of many tracks on Daniel Johnston's Songs of Pain.
It's interesting to observe how Devendra went on to slightly drop the previous reviewer's said Pink Moon-era Nick Drake acoustic nature. His later albums go for a more surf rock/psych pop influence with more prevalent use of synthesizers.
Altogether, one can easily distinguish how much of an improved songwriter Devendra became. Nowadays, he still maintains that Syd Barrett-esque lyricism, but incorporates those layers of synth, acoustics and reverb to create an artistic sketchbook of an interesting, lanky man.
My favorite line of this past review is that this record is one of those rare records that manages to be familiar yet utterly distinct, and as such it deserves your attention. And I'm glad it was attention grabbing. Devendra set the tone for being your welcoming neighbor in the alternative songwriter canon of the 2010s. If there is a beach outing anytime around, expect your boy to be bumpin' Devendra.
---
2002 Review: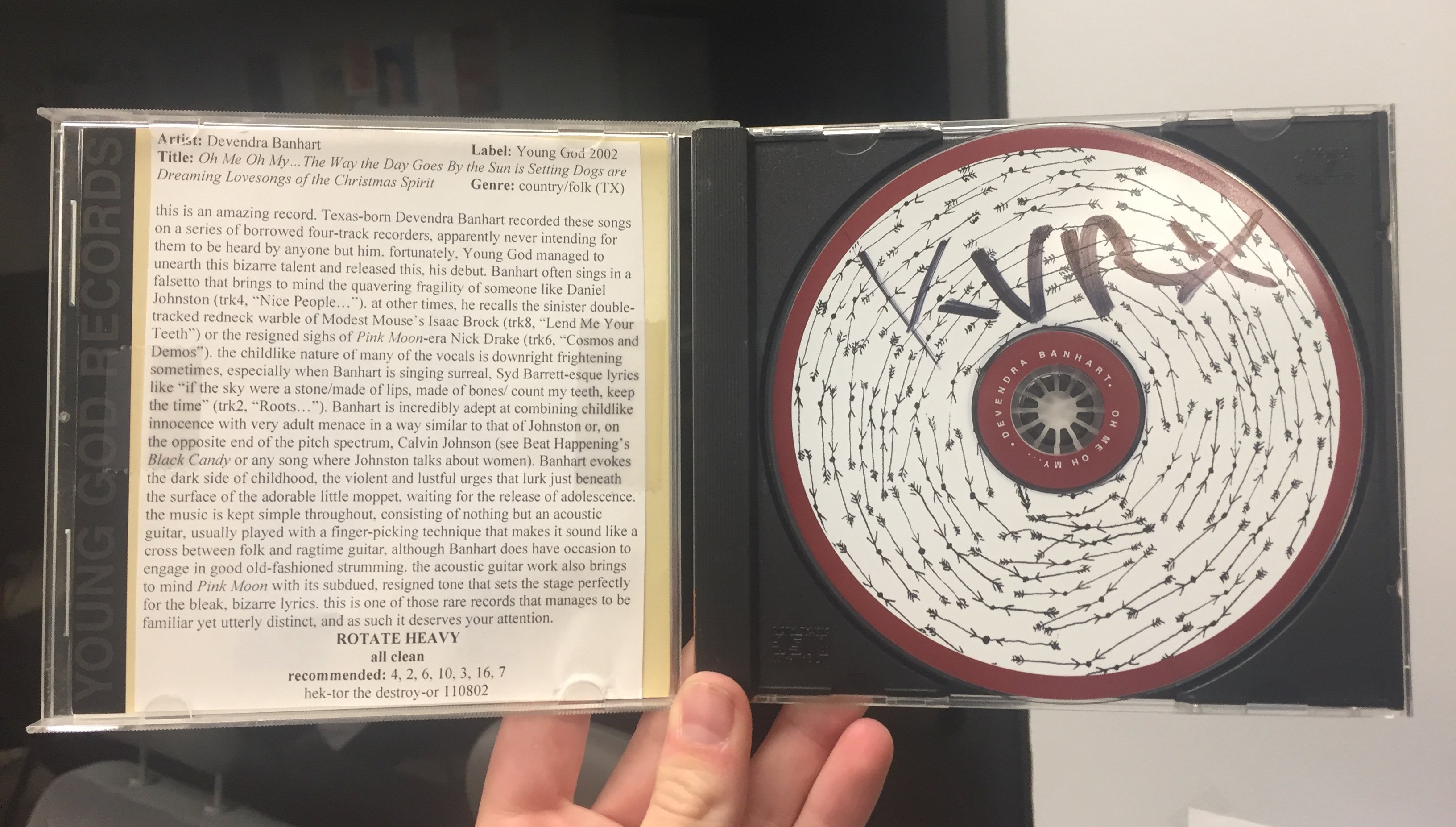 This is an amazing record. Texas-born Devendra Banhart recorded these songs on a series of borrowed 4-track recorders, apparently never intending for them to be heard by anyone but him. Fortunately, Young God managed to unearth this bizarre talent and released this, his debut.
Banhart often sings in a falsetto that brings to mind the quavering fragility of someone like Daniel Johnston (trk 4, "Nice People..."). At other times, he recalls the sinister double-tracked redneck warble of Modest Mouse's Isaac Brock (trk 8, "Lend Me Your Teeth") or the resigned sighs of Pink Moon-era Nick Drake (trk 6, "Cosmos and Demos"). The childlike nature of many of the vocals is downright frightening sometimes, especially when Banhart is singing surreal, Syd Barrett-esque lyrics like, "if the sky were a stone/made of lips, made of bones/ count my teeth, keep the time" (trk2, "Roots...").
Banhart is incredibly adept at combining childlike innocence with very adult menace in a way similar to that of Johnston or, on the opposite end of the pitch spectrum, Calvin Johnson (see Beat Happening's Black Candy or any song where Johnston talks about women). Banhart evokes the dark side of childhood, the violent and lustful urges that lurk just beneath the surface of the adorable little moppet, waiting for the release of adolescence.
The music is kept simple throughout, consisting of nothing but an acoustic guitar, usually played with a finger-picking technique that makes it sound like a cross between folk and ragtime guitar, although Banhart does have occasion to engage in good old-fashioned strumming. The acoustic guitar work also brings to mind Pink Moon with its subdued, resigned tone that sets the stage perfectly for the bleak, bizarre lyrics. This is one of those rare records that manages be familiar yet utterly distinct, and as such it deserves your attention.