Classic College Radio is a look back on KVRX's expansive music library and its the decades' worth of DJ-reviewed albums. The library is home to scathing reviews of records that went on to be absolute classics, whereas other times an artist's work does not age so well. How exactly do the perspectives and contexts surrounding albums change over time? Well, our DJs are on it.
---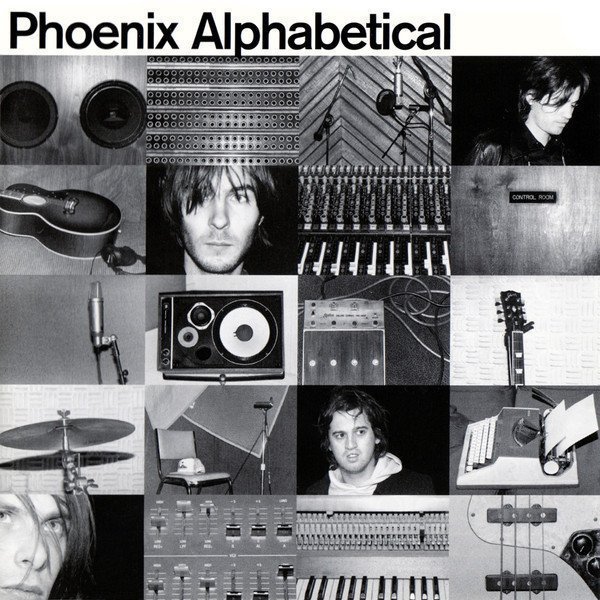 2018 Rereview:
I had the great privilege of seeing one of my all-time favorite acts recently: Phoenix, the French four-piece that has been slinging indie-pop hits for nearly 20 years.
Phoenix is one of the bands that everyone seems to know as one of the key players in the indie scene. It was their second release, 2004's Alphabetical that served as an entry point for many of us indies back in middle school/early high school. Though their first album, United, is still my all-time favorite, it's amazing to see how far this band has come, and Alphabetical was a unique checkpoint in the evolution of their sound.
The record brings together layers upon layers of sound, all laying against the safe constant of Thomas Mars' Frenchie croon with the occasional splash of his sparkling, sweet falsetto. The album is just smooth altogether, keeping only a single foot in the door of 80s inspiration.
Since Alphabetical was released, Phoenix's albums have weaved through different sound inspirations, from more rock to indie to both. Their more recent release, Ti Amo, has a more poppy tone, with sparkly gems like "J-boy" and "Goodbye Soleil" that incorporate their nationality into their songs, singing partially in French for an added dreamy effect.
Speaking of dreamy, the band themselves have attributed their songs' dreaminess to their nationalities: singing in English is no purposeful departure from their French origins. Composing lyrics as bilinguals is part of the reason their subject matter allows fans to create their own attachment to the songs; they aren't boringly frank nor straightforward. In a past interview about Alphabetical, Mars explained this further by comparing their songwriting process to living in France: the winding roads with "a lot of detours," that are somewhat of "a maze." As long as the French-quartet continues to keep navigating said maze, fans will be ready to listen and traverse the band's continued evolution of sound, equipped with open minds and the desire to groove.
---
2004 Review: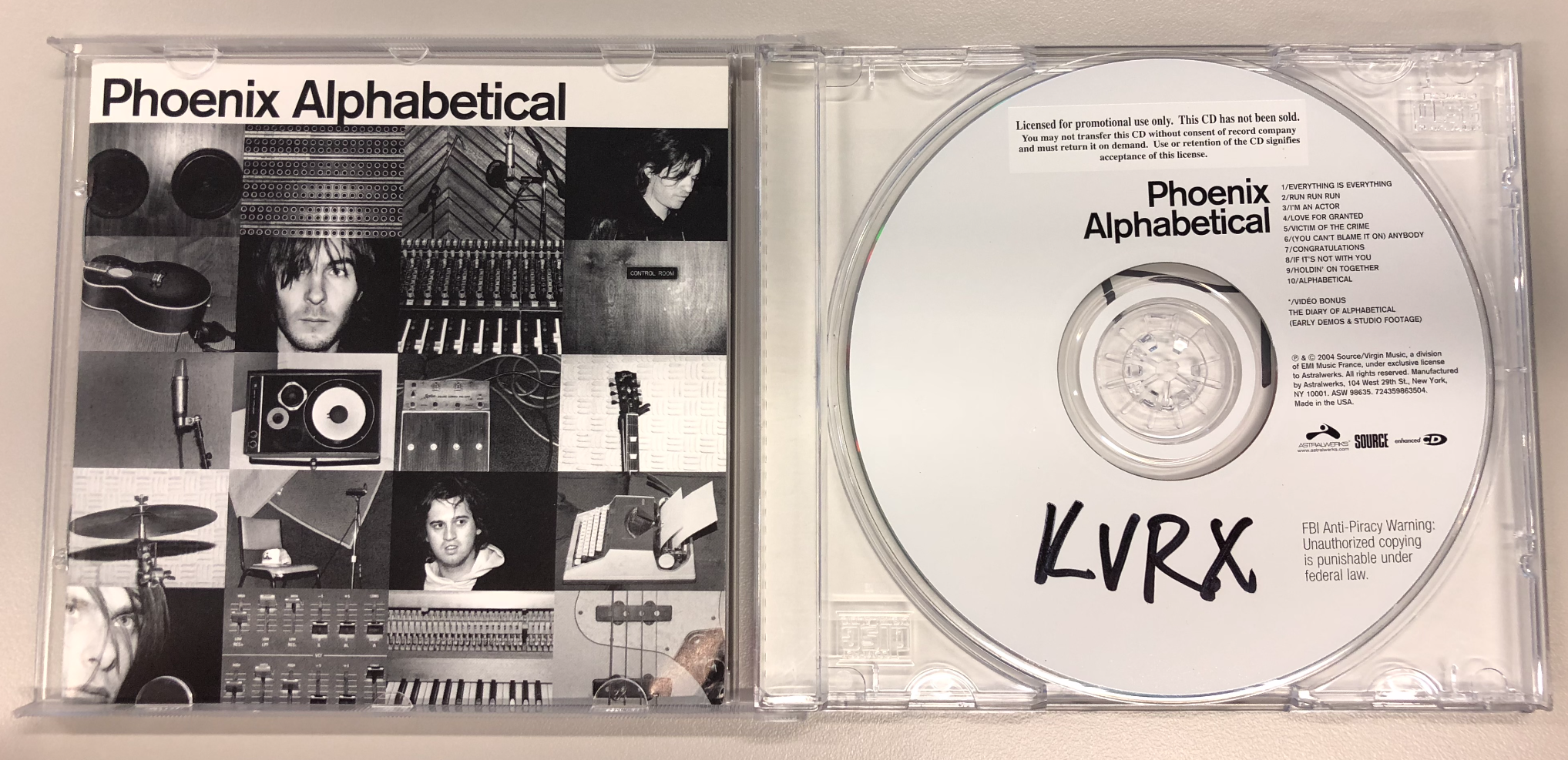 Phoenix - Alphabetical

Astralwerks/Source

2004

Reviewed: July 2004
Imagine if Badly Drawn Boy or Sondre Lerche gorged themselves on old New Order 7-inches to create wide-eyed, sun-streaked pop music accented by neon-bright keyboard melodies and rattling instrumentation. That's a fairly accurate way to explain the sound that Phoenix tries to cultivate to wondrous aplomb on Alphabetical.
The album manages to meld folk, rock, and dance music without recalling Beth Orton, The Chemical Brothers or 1997. You (like myself) may have first heard of this group on "Too Young," an homage to new wave, Japanese pop and 70s AM radio from the soundtrack for Lost in Translation. They get the party started with the glitzy roller rink disco of "Everything is Everything," a sublimely bittersweet track that sees Badly Drawn Boy's spring love song "All Possibilities" as it faces the affair's pending winter.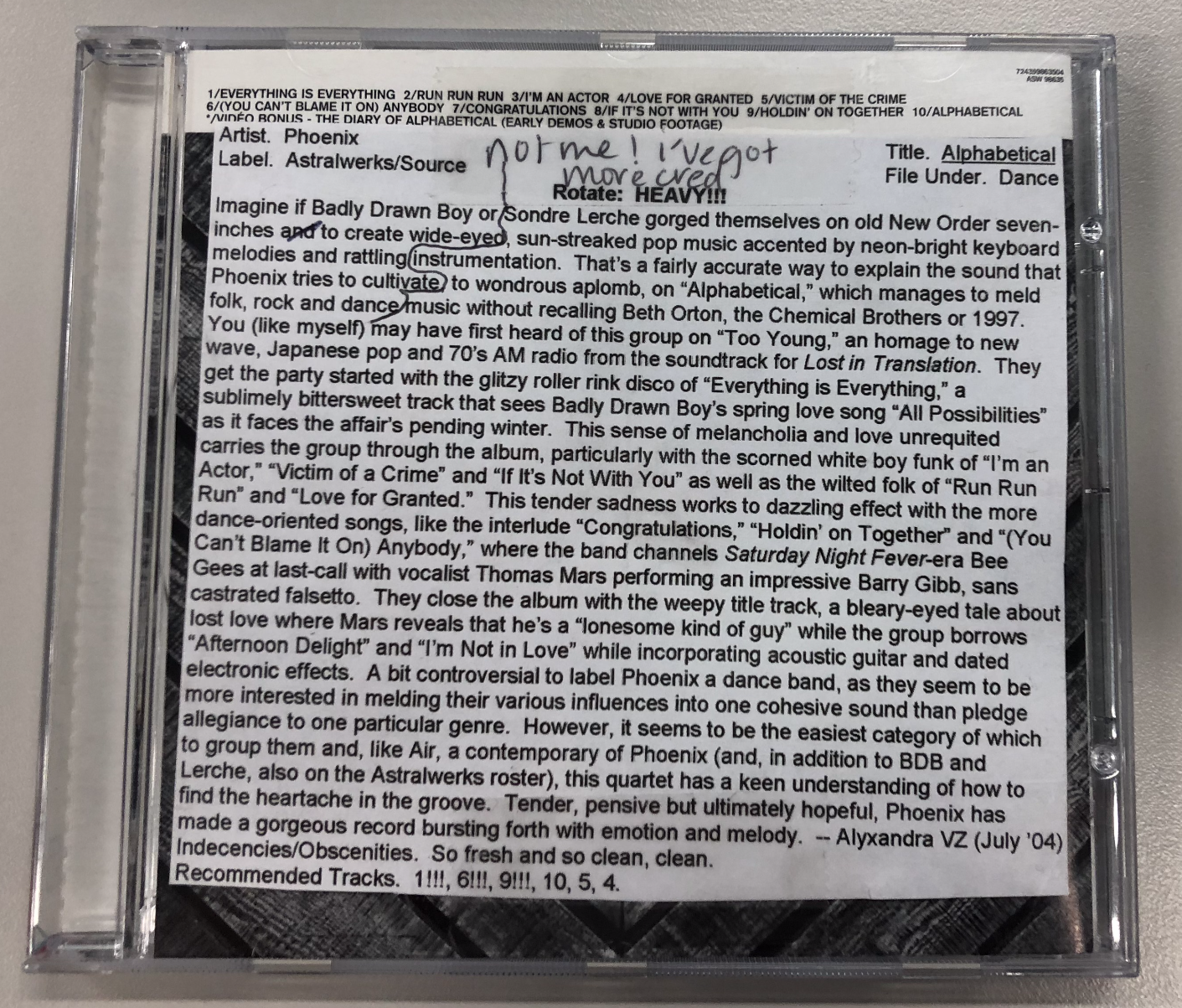 This sense of melancholia and unrequited love carries the group through the album. Particularly so with the scorned white-boy funk of "I'm An Actor," "Victim of a Crime" and "If It's Not With You," as well as the witted folk of "Run Run Run" and "Love for Granted."
This tender sadness works to dazzling effect with the more dance-oriented songs, like the interlude "Congratulations", "Holdin' on Together" and "(You Can't Blame It On) Anybody", where the band channels Saturday Night Fever-era Bee Gees at last-call with vocalist Thomas Mars performing an impressive Barry Gibb, sans castrated falsetto.
They close the album with the weepy title track, a bleary-eyed tale about lost love where Mars reveals that he's a "lonesome kind of guy" while the group borrows "Afternoon Delight" and "I'm Not In Love" while incorporating acoustic guitar and dated electronic effects.
It's a bit controversial to label Phoenix a dance band, as they seem to be more interested in melding their various influences into one cohesive sound than pledge allegiance to one particular genre. However, it seems to be the easiest category of which to group them and, like Air, a contemporary of Phoenix (and, in addition to BDB and Lerche, also on the Astralwerks roster), this quartet has a keen understanding of how to find the heartache in the groove. Tender, pensive, but ultimately hopeful, Phoenix has made a gorgeous record bursting forth with emotion and melody. So fresh and so clean, clean.
---
Alumni! Have an album you think we should revisit? Send us a message on Facebook or at pr@kvrx.org.
---