---
Water the punks and they'll go! Mid-way through Parquet Court's late night set, a biblical rain fell upon the sea of bodies at Mohawk's outdoor stage as they launched into "Wide Awake," which sounds like someone gifted the band a copy of Talking Heads' Remain in Light and a cowbell. What resulted parallels a New Orleans style Hurricane party, a jig-thrash carefree hybrid with the precipitation only fueling the bedlam.
To be fair, the pit erupted on the first beat of the Texas natives/New York transplant's first song and never fully stopped until the show ended an hour and 15 minutes later.
I have to give partial credit to local opener SASS, who began the rumblings of the buzz early on in the night. For the entirety of their 20 minute set, the post-punk outfit's guitarist turned toward his amp for full distortion and a throw-in of cheeky disrespect to the audience who began to sardine their way onto the floor. Meanwhile, the lead singer marched across the top third of the stage, only pausing momentarily on her queue to wail, and then picked the parade back up in the other direction. Especially looking the part, swathed in a ripped and sleeveless Germs t-shirt, sat the drummer center-stage, whose punchy drumming fastened the whole damn thing together. Like their songs, short but incisive, SASS' performance made good on their representation as our local punks, the face of Austin to the Big Band coming home to Texas.
And though they've long left residence in the Lone Star State, Parquet Courts still know their audience. Swapping out their song-ending condemnation of Tom Brady in "Total Football," band-leader Andrew Savage chimed in for a timely Texan political PSA, fit for midterm season and lambasted Ted Cruz instead. You don't need to be told what happened next.
Besides a fair chunk representing their latest LP, the headliner's set slanted toward their early discography, mostly from Light Up Gold and Sunbathing Animal, particularly performing those tracks optimum for full on audience chaos, rife with college rock riffs on amphetamines and word-vomit verses equipped with a back pocket degree in post-modern literature.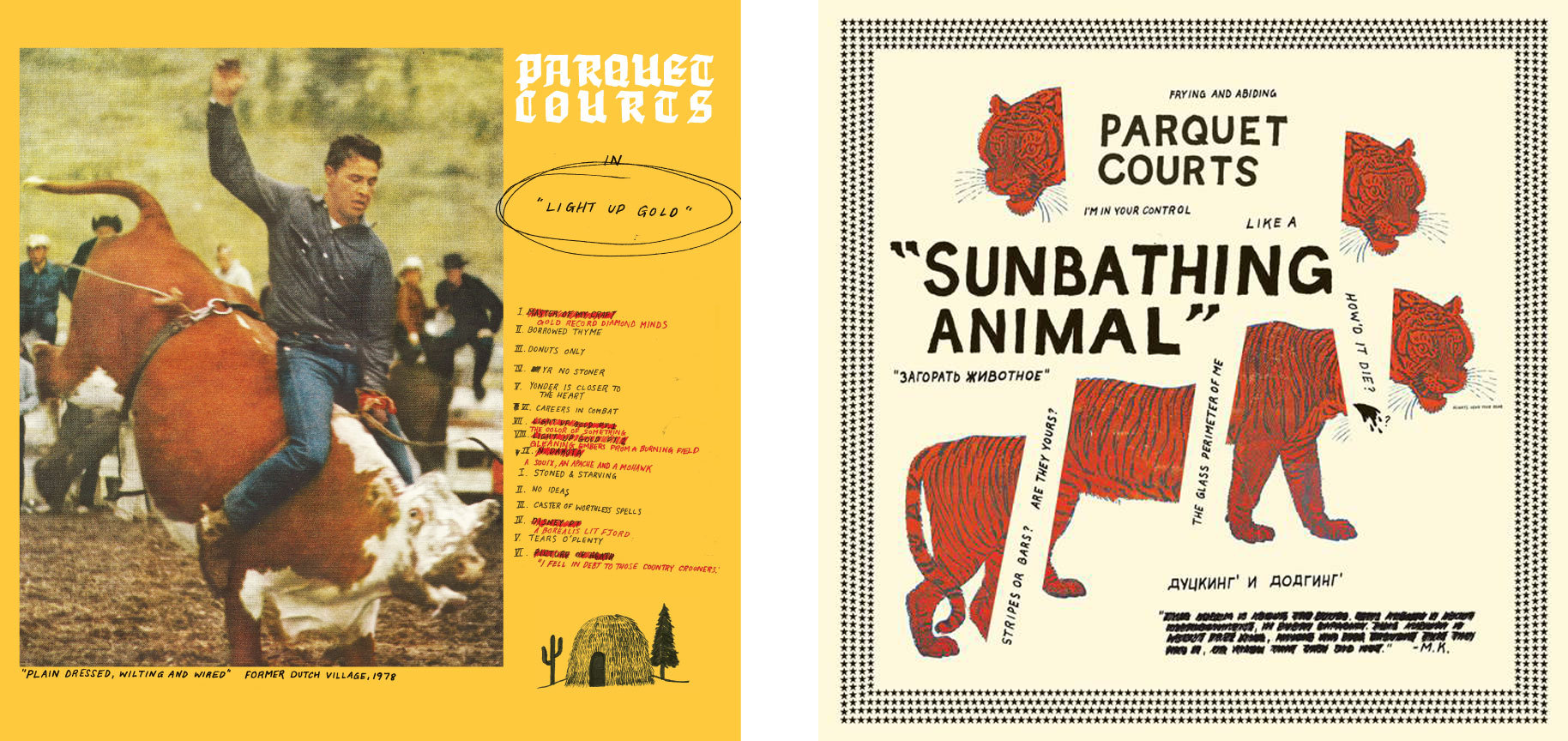 Parquet Courts' first two records, Light Up Gold (2013) and Sunbathing Animal (2014).
Parquet Courts are The Clash of contemporary times, matched at their most political and most riotous, both products of punk swirled into and out of dub, funk, new wave, garage, you name it. The group's political consciousness revealed itself most evidently in a back-to-back block of a seamless cover of The Ramones' heil of "Today Your Love, Tomorrow the World" and their own climate change apocalyptical hymn, "Before the Water Gets Too High,"
Regardless of sound, there's no modern equivalent who embraces the honest-to-God punk ethos like Parquet Courts: Play loud, find some joy and "fuck Ted Cruz."
Setlist:
"Total Football"
"Dust"
"Almost Had to Start a Fight/In and Out of Patience"
"Freebird II"
"Before the Water Gets Too High"
"Today Your Love, Tomorrow the World" (Ramones)
"Dear Ramona"
"Master of My Craft"
"Borrowed Time"
"Wide Awake"
"Back to Earth"
"Normalization"
"Mardi Gras Beads"
"Bodies Made Of"
"Black and White"
"Vienna II"
"One Man No City"
"Light Up Gold"