---
The Brian, Texas born psych garage rock outfit Cosmic Chaos plays with the energy of a supernova. Composed of main members Laura Mendoza (vocals/guitar), Ian Myers (bass), and Trey (drums), the full five piece band slams down a sound the echoes the iconic buzz of the Austin psych responsible for groups such as The Black Angels and The Brian Jones Town Massacre. We sat down with the intergalactic garage rockers before their Local Live Set to chat about their recent successes and future goals.
---
Thank you all for coming in and playing for us. We know you guys have been pretty busy recently. It's been about over a year since you guys formed in March of 2017, in Bryan, Texas. Since then you guys have been making moves, playing local shows, going on tour, and releasing an EP. Looking at back from where you all started, is this where you saw the project going? If not, where? Have you surpassed your original goals?
Laura Mendoza: I think we have. I always wanted to be on local live so this was a goal here, so thanks for having us. I never really knew where we were going to go when we started in Brian, just because I didn't even know I was going to move here for sure and we didn't have a drummer for a long time. We were on and off different people and it was definitely chaos. But now we're here and it's awesome. It feels good.
So it's not just you three in the band, you have two others.
Joe and Sam.
Ian Myers: Chris used to play with us and then now we have Joe and Sam. Joe plays bongos and Sam plays a guitar and keys.
Cosmic Chaos in the studio. Photos by Abhi Velaga.
When did those additions get thrown in?
Laura: Joe started playing with us probably in around March of this year or maybe May of this year. And then we met Sam through him as well. This is the first time he's playing with us live. We've just been rehearsing with him and working on stuff. The next show he'll play live for Halloween at Cheer Up's. So that'll be fun.
I never expected a band with you're sound to come out from such a little Texas town. What would you say that they have a well developed DIY scene? What role did living there on the band?
Ian: So basically we met at this one bar called Revolution that's kind of like what, what most of the music scene in Brian revolves around. There's an open mic there on Wednesdays and that's where Laura and I met. That that was really big for me personally, just developing as a musician. I started going there every week playing music in front of people and then meeting a bunch of other musicians. The scene there isn't very big, but there are there are a handful of really good bands that come out there. It's one of those things where everybody knows everybody and everyone plays in each other's bands. Everyone's in a couple of different projects.
Laura: There's a lot more punkier of a music scene, but there's pretty much any genre that you could think of. There's like super cool folk musicians, there's some really rad metal and we just happened to be on the psychier sound. I mean (Ian) is from Brazil and Colombian so the tropical just comes from our blood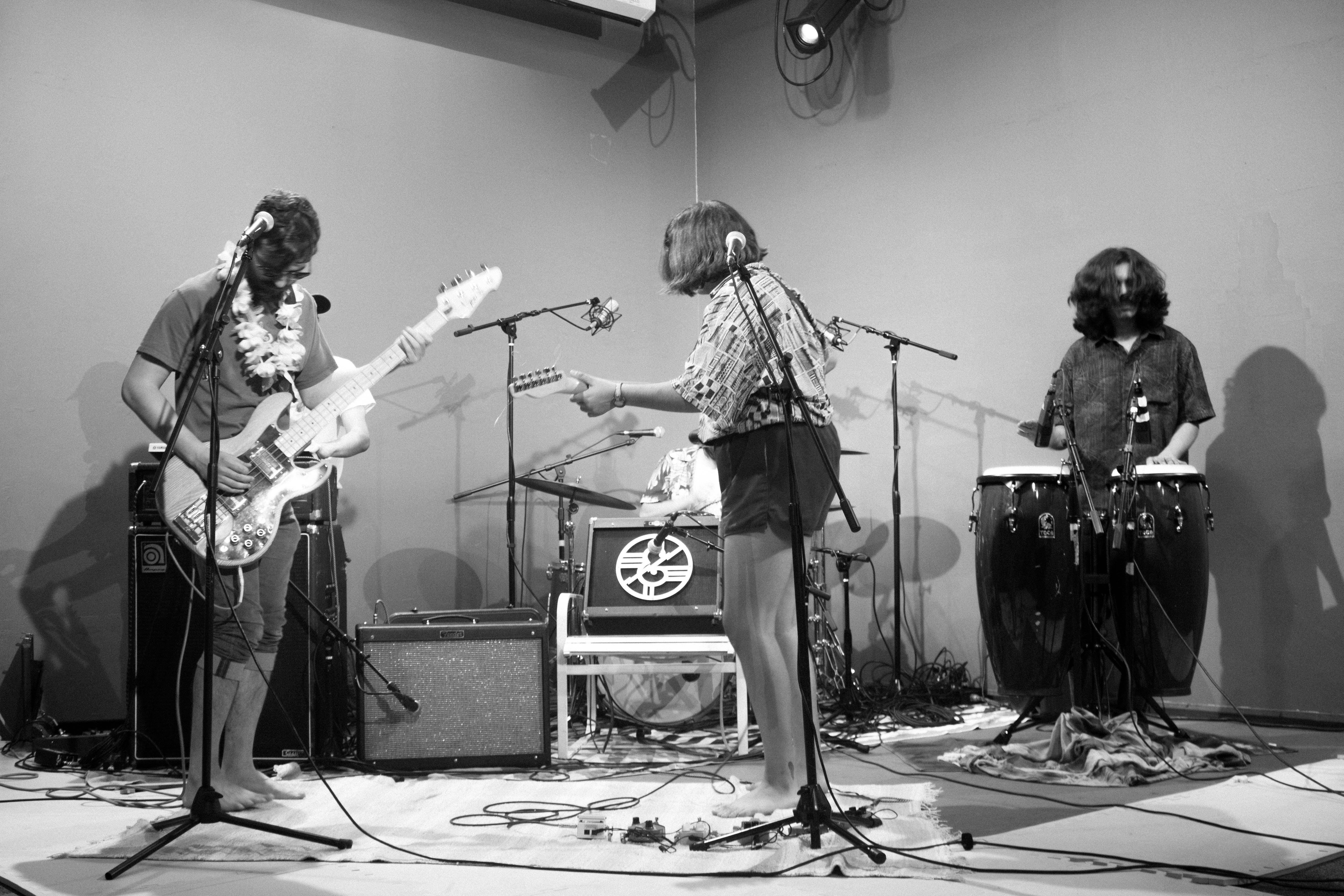 Just grooving.
That's awesome. Your psych sound really fits Austin's scene. Laura, you went to school in Austin before going to Brian, right?
Oh, no. I went to school in Brian and then moved here to go to school here. I was studying international relations there, but... it was not it. Now I'm studying sound and audio production.
Following your dreams, sounds good. What prompted the move to Austin? How long after you guys formed as a band that you decide you had to change home base to Austin?
Laura: Well, Ian still lives there.
Ian: Actually I still live there yeah,
Laura: Yeah But I decided to move here that summer. We started playing in March and then I was like, "Dude, Brian's really cool, but Austin is where I need to be." And so I moved here and we kept playing shows back and forth. We even played in Houston a lot at first and when we finally found Trey, it just became more of a home base here because the two of us were here. Ian comes to practice all the time so yeah.
Does that limit the number of shows you can play?
It honestly hasn't been a big problem at all. We scheduled everything really far in advance and I make sure everything is steady going. I have a couple people here that play bass for us and know the whole set and are just ready to go whenever. We have a pretty full sound now with the whole band, so it's never been a big problem now.
You got it all locked down! So this summer was your first tour, right?
Our first tour was as actually in January and the second tour was in the summer.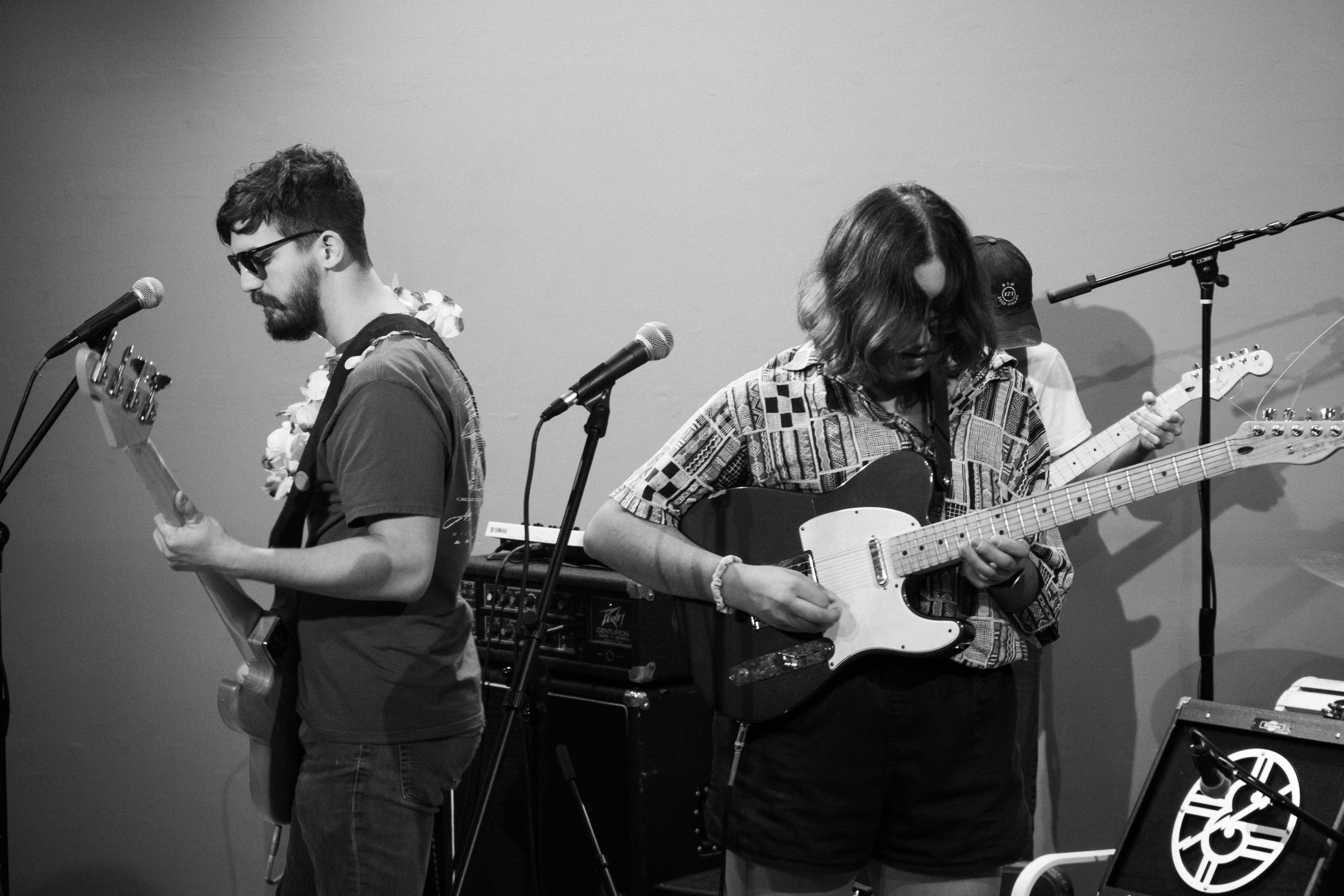 The band in black n white.
How have all these tours been a for you guys? Has that experience changed anything for as a band or is there anything you guys would have done differently?
Ian: Both tours I think were a really fun experience.
Laura: It was a lot of just super fun and successful experiences. I felt like we went on tour, we felt like rock stars. We had a lot of fun. Nothing big happened, you know, there weren't any big mishaps. We had a light go out though.
Ian: Yeah, my headlight went out. We got stopped all the times in the world, but we still made it to Colorado and back. We had a great time. I think it's only made the band grow. I mean the first tour we did was with our other drummer and I think for him that tour was a realization that he needed to pursue his own music and do his project. He went off to do that and then we found Tray so it was just a blessing all around and then this tour just made us grow so much stronger as a band because it was just us three and it was beautiful. That was like right after Chris stopped playing with us. It was nice to just grow together.
What's the key moment or highlight from the tour and besides the headlight?
In Kansas City, we played a place that's a venue by night at a motorcycle shop by day. So just a big courtyard with a bunch of bunch of choppers and bikes and stuff. Then when the show's over, they wheel them all in and lock up. It's a really cool place.
Laura: Yeah, that was really rad, just going out in Kansas City because I didn't know that it was right on the border of Kansas State and Missouri and apparently the Missouri side is the cool side.
Ian: That we're told. At least from the people who live on the Missouri side.
Laura: That was really fun. I think the coming back show was the most fun show whenever we came back to Austin. That's where we met Lydia and. It was just beautiful to be home and that show was such a fun night. It was a great lineup. The first show we played on tour and I think those Hotel Vegas. That was a really good show too. I just love Austin.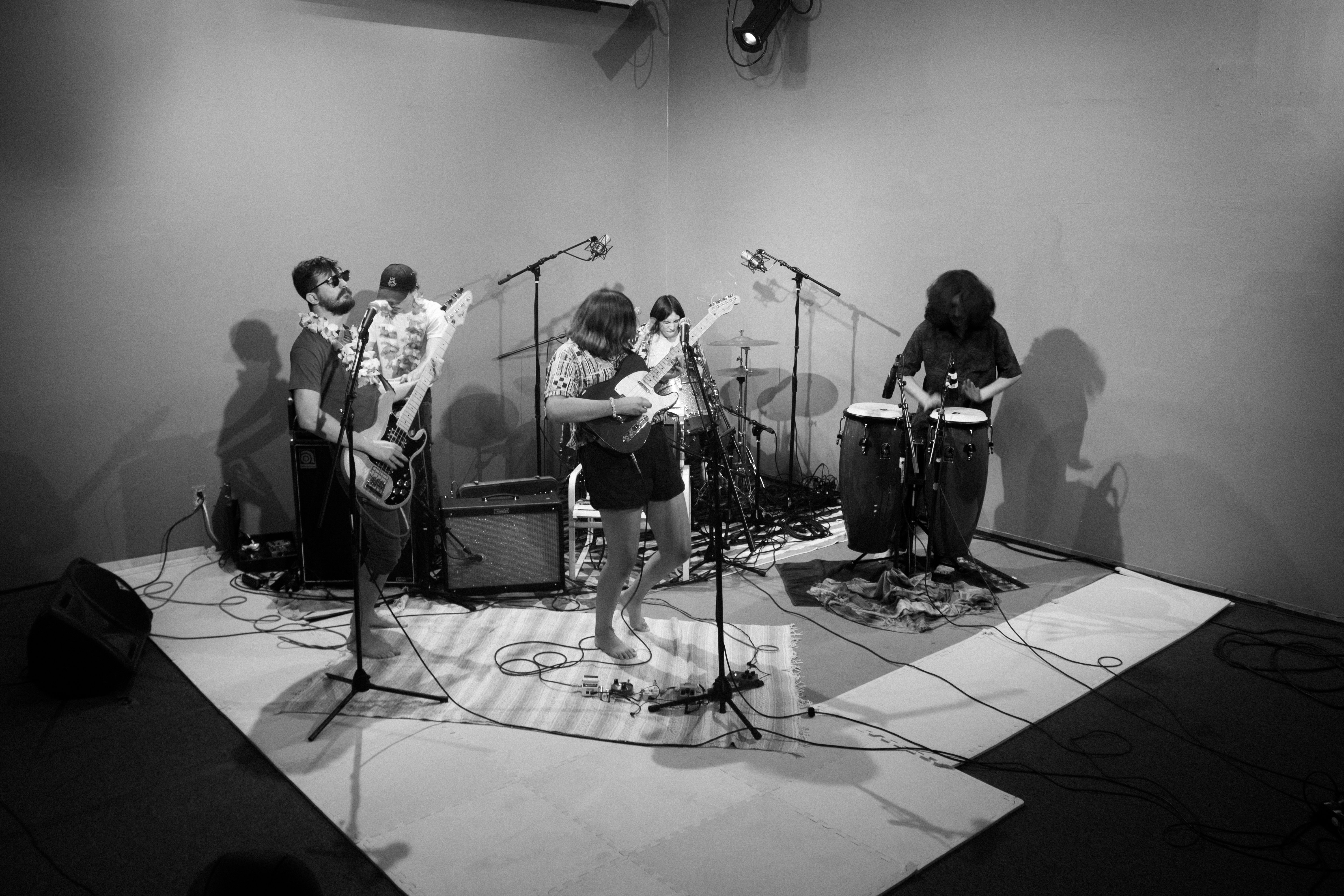 Leis and bongos and and funky shirts.
You guys are still expecting to come out with an album in the fall?
Yeah, we are going to put out an EP that's a bunch of garage songs that we've written this year. That'll go out soon, probably before next year, hopefully, this winter. And then next fall it'll be a big record we're working on.
Is that going to be under your label, Secret Soup?
I don't know, maybe this, this coming EP for sure, It's just gonna be us recording us releasing, but this record, we might try to launch it honestly. See, send it out to some people and see what it can do.
Can you tell me more about Secret Soup? The label/recording studio.
Trey: It's me, Laura and this other guy, Jason plays in Modular Sun. Laura books, a lot of shows. We'll record people, mostly just us for now, but hopefully more people soon. And Jason makes all the posters, just for our friends and stuff like that.
Photo courtesy Cosmic Chaos.
Laura: Booking is what we've been doing the most of. I think when we first started it was just a release Cosmic Chaos' stuff. Actually, it started with Trey a long time ago in his project and then we just launched Cosmic Chaos on the too. Then I just took the name to book under because I already booked a bunch of shows all the time and it didn't really have a direction, but I really enjoy that part of music. The marketing and business side of things is really fun too. So yeah, that acid test series is going to be really fun. We launching that on November 23rd at Swan Dive and then every third Friday of the month they're going to be psychedelic bands playing. there will be cool stuff happening.
Are you going to be playing every other Thursday there as well? Or are you going to be curating a bunch of different bands?
We're playing the first a show of the series, but we probably won't be playing another one till next spring maybe. I have most of the lineups curated and I don't want to give out too much, but it's pretty good. There's a couple of bands from LA that just confirmed, so there's going to be a lot of good psych rock happening on Red River Street.
Anything you want to say I didn't get to ask you?
I think just as a closer, we're really grateful. I'm really grateful to have these people play in a band with me because they're extremely talented and they bring so much to the table and Joe and Sam to are so incredible to have been so incredible to work with. They've been so patient and especially Ian and Trey, just like sticking with it no matter what and we just keep playing and keep going and it's really fun. I hope we keep getting to do this for a long time.
You sounded very natural together. We're very excited to see you grow.
Thank you.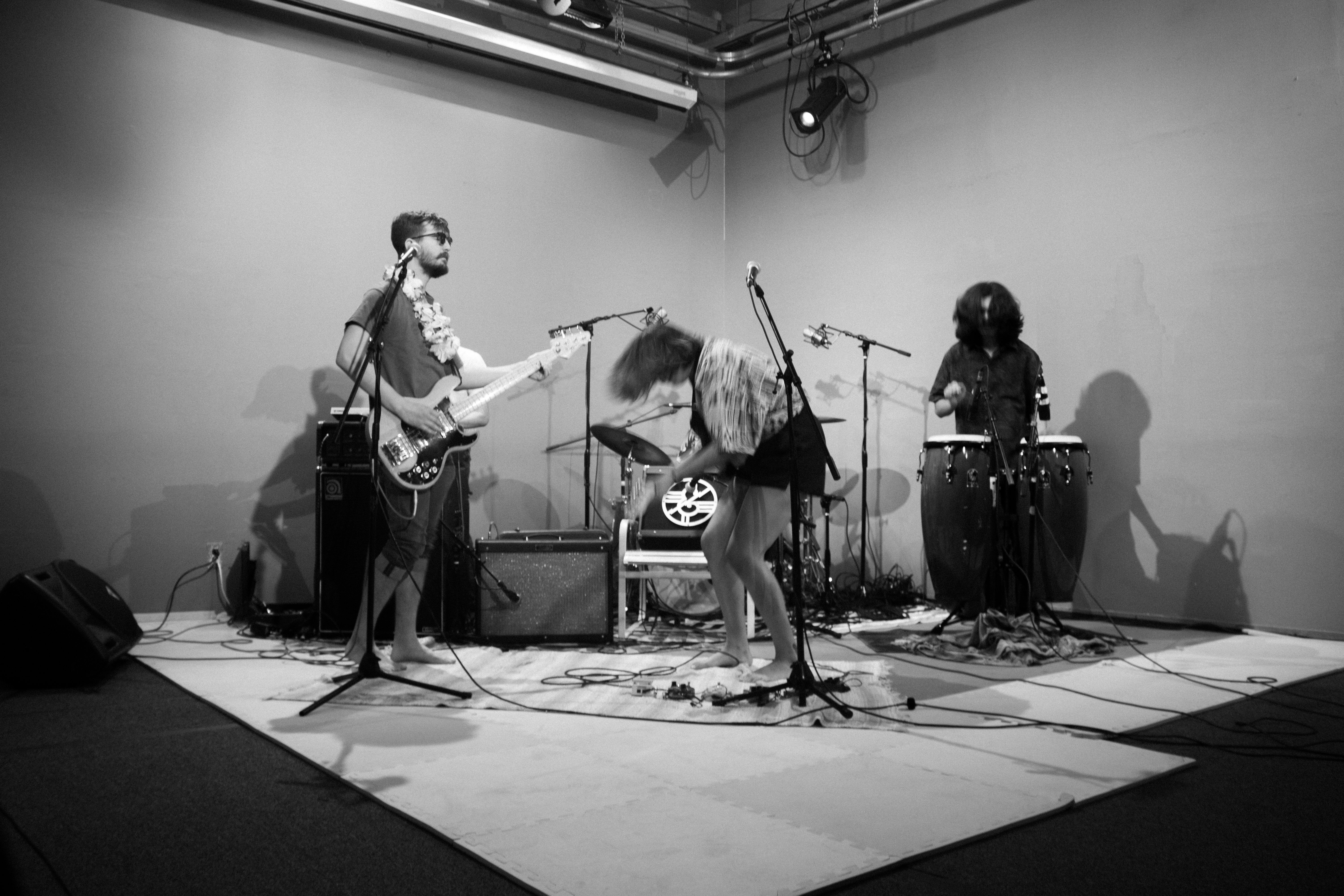 Photos by Abhi Velaga
---
Local Live is every Sunday at 10pm on KVRX and TSTV. Updates are always on our Facebook and Instagram.
---