On September 28th, I was able to sit down with New York based band Rebounder after their set at Antone's.
Rebounder has been described as genre-bending nostalgia pop-rock, starting from the bedroom of Dylan and Noah Chenfield's apartment in 2017. After their newest EP "Disco Ball Soul" they have taken on a nationwide tour with Quarters of Change.
The show started with a rockin' opening with "Slow Angel", then delved into more techno based pieces with their hit single "Japanese Posters". The crowd mirrored the band, energy bursting throughout Atones. The brothers seemed more in sync than ever with their guitar and bass duo, while Zach (Guitarist) and Cobey (Drummer) stole solos. They surfed through genres but the energy never went down with funky songs like "Disco Ball Soul" getting a crowd sing-a-long, and the synth-rock track "Dreamland" kept everyone jumping. If I had to describe the night in one word I would say it was vibrant.
Here's what they had to say about it.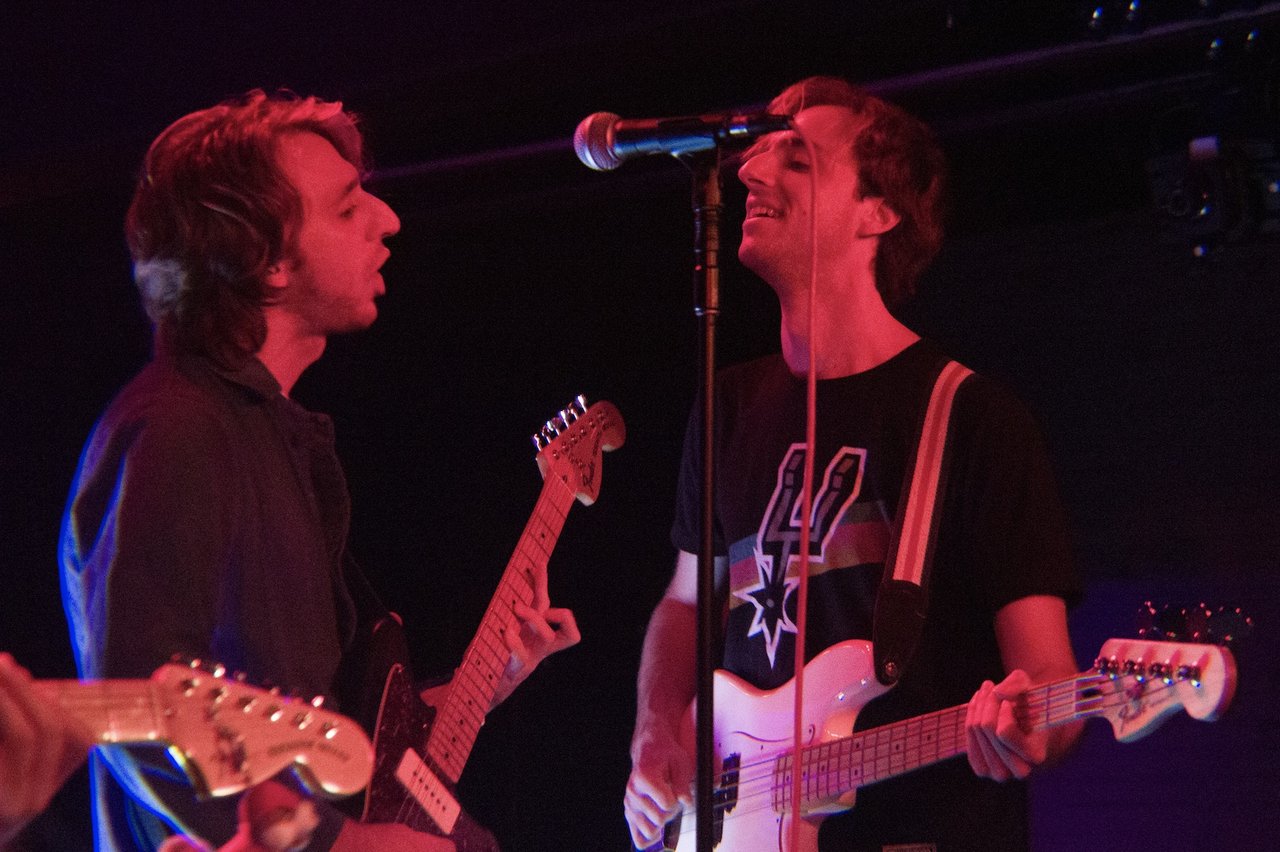 photo by Rachel Green
How was tonight's performance? 
Dylan: It was awesome! Not every crowd is into it from jump street, or for band's they don't know, but the fact that people were screaming up front, it was really great! When the crowd is into it, so are we.

You've been described as many genres, from indie pop to alternative rock. On your new EP "Disco Ball Soul" I sense a bit of a shift to more techno and synth in the instrumentation. I this a new sound for you? 
Dylan: When we started recording, we didn't know how to layer keyboards, and we were recording in our bedroom and kitchen. Noah who plays bass, and is also my brother, is an amazing keyboard player, so I think it's more of a natural progression for us. 
Noah: I would say the keyboard is a big part of our sound. We always joke that there's actually five members of Rebounder, the fifth being the keyboard. I think Dylan and I love bands that have been able to incorporate keys and synth in new ways, whether it's Phoenix or Leonard Cohen. What can I say, we're a sucker for the ivories!
What can I say we're a sucker for the ivories!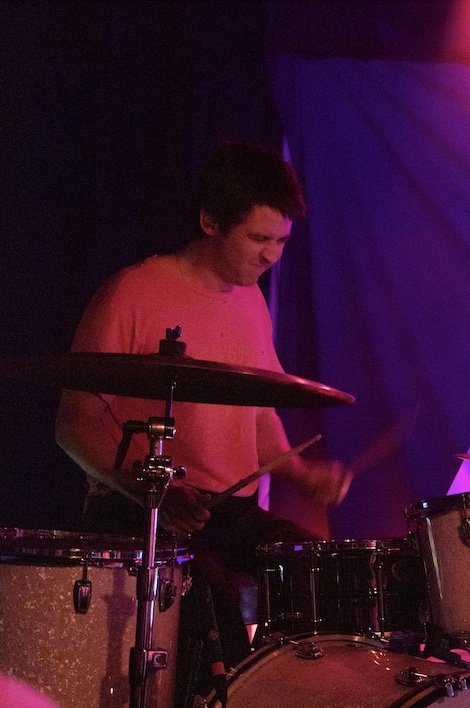 photo by Rachel Green
Would you ever consider making an album of your unreleased tracks? 
Dylan There's a reason they're unreleased. We have a bunch of finished pieces that are B-sides. There's only 12 Rebounder tracks out so far. After we put out another EP, we'll go from there. A lot of people put themselves out there and don't have it. We don't put ourselves out there very much, but when we do, we want to have it. 

My peers and I have been talking about your music sounding like the soundtrack to an y2k coming of age movie. How does that feel?
Noah: I love coming of age art in general, and it's one of my favorite genres of film. I think so much joy and mystery and magic can happen in "coming of age" media, so to be associated with that is really cool.

You have cited quite a few people for your inspiration, namely Bruce Springsteen as well as New Order. 
Dylan: Yeah, put them together you get The Killers! But right now it's Lykke Li, especially on stuff we are working on right now. In terms of modern works, there's this band Parcels from Australia, as well as this Nancy and Lee record we've been listening to. In general, I find we are very inspired by French rock as well. 

I think so much joy and mystery and magic can happen in coming of age media.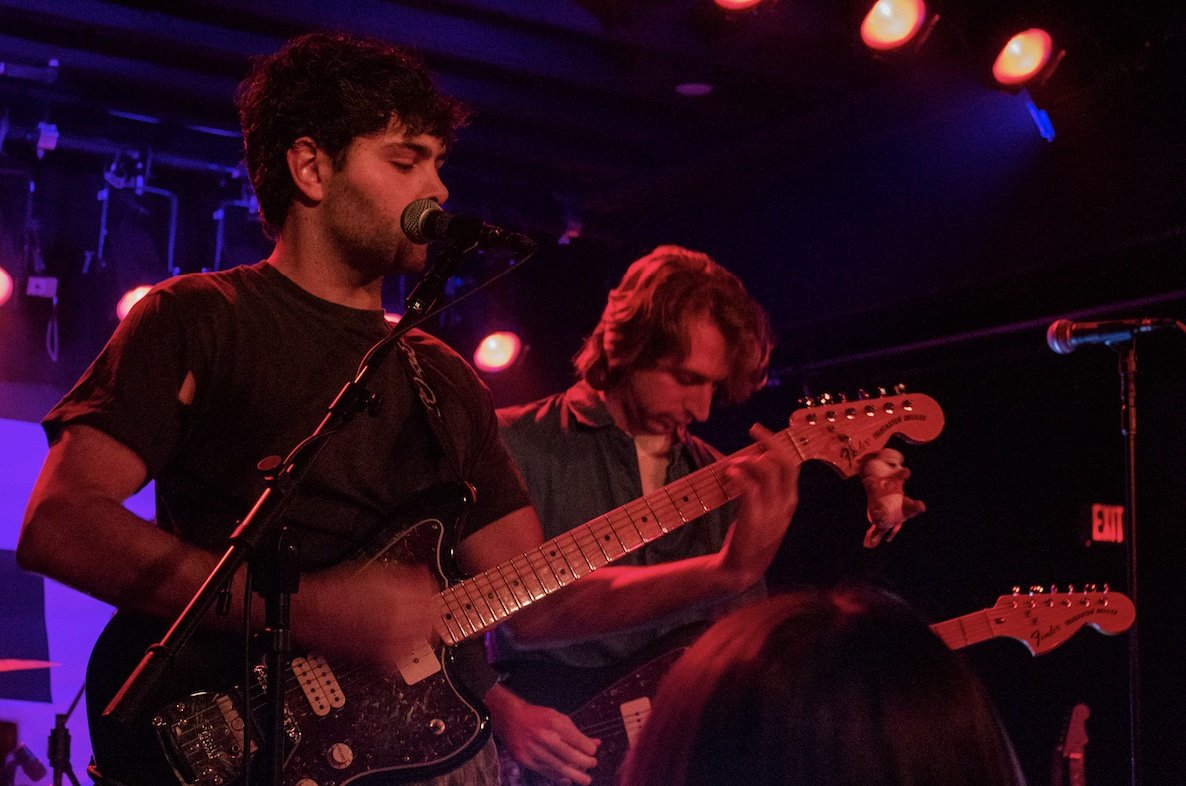 photo by Rachel Green
Some of your songs have a definite New York energy like "Meet me at the bar." What song would you pick for Austin?
Dylan: Probably the rowdiest one, "Slow Angel", the one we opened up with. It's a rock song that really gets everything going. My impression of Austin outside of this room is rowdy. Our friends in Austin were really excited to hear that one. 

This has come a long way. From the bedroom to the studio, to going on a nationwide tour, how has that journey been?
Dylan: We're all childhood best friends except Noah and I, we're probably enemies, but Zach and I went to preschool together. Even though it's a relatively new band, we've wanted to do this for a long time. We've played a lot of other bands, assisted and backed up other people, so to be doing it for and with ourselves has been really cool. 

Do you have any advice for aspiring musicians?
Dylan: Work really hard and have a really talented brother who can do those parts you can't do. In all honesty, you have to love it, and we were doing it long before we were touring and playing shows, and we will be doing it long after we're touring and playing shows.
photo by Rachel Green